Laundry rooms can prove to be the most common multi -functional space for a family; you can do other tasks while you are waiting for the machines to finish the work, finish the unread book, help kids to  finish their projects, it can also be a small entertainment area. These rooms can be turned into both beautiful and efficient space with these simple Laundry Room Décor Ideas.
Give your laundry room a fresh look, conceal under the sink area, open storage with accent fabric, easy and inexpensive way to give instant boost to dead space. Pic Courtesy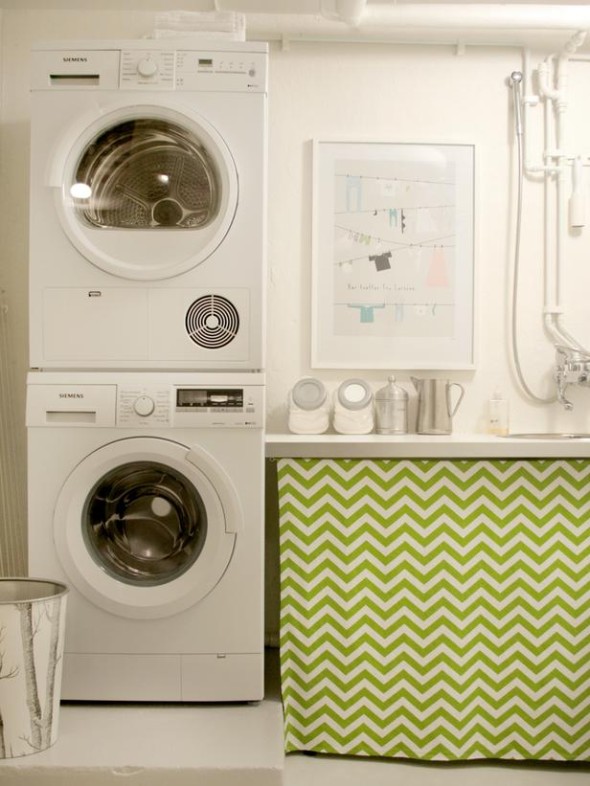 Contrast of natural textures and neutral color palette is a nice way to bring life to  laundry room, glass jars for storing laundry products is stylish and functional decoration idea.  Pic Courtesy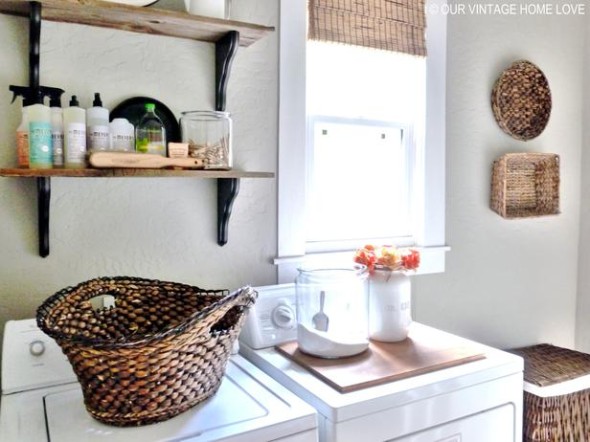 Using lighter colors and right lighting will make small space look bigger, add personal touches like baskets covered with peppy fabric, area rug and mirror. Pic Courtesy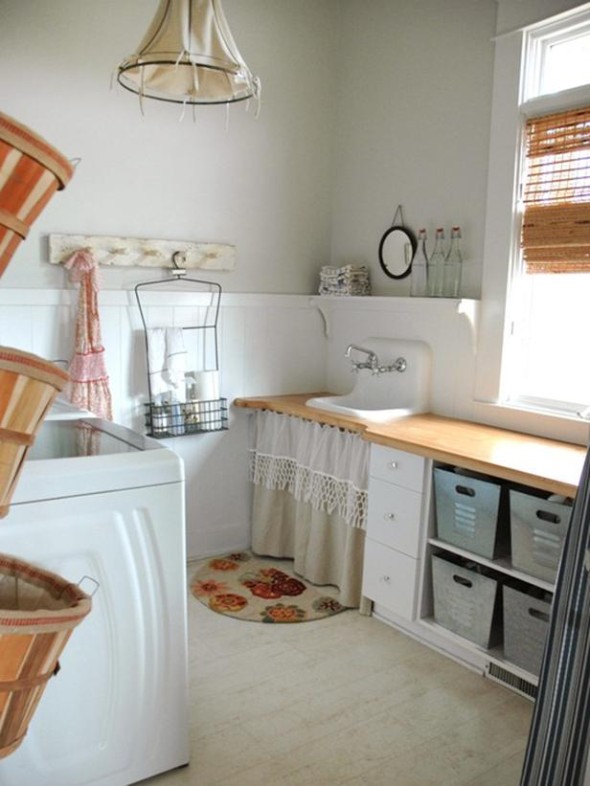 Adding chic decor will make laundry an easy task, as simple as using a eye catching color and pattern for the walls and chandelier for extra lighting and decoration. Pic Courtesy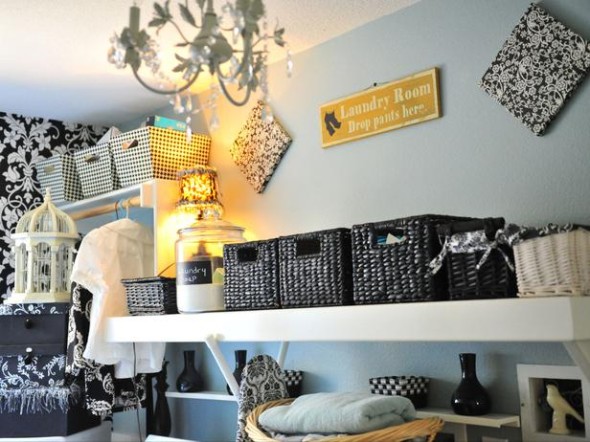 Make it colorful, generous storage space, marble topped table and a built-in-television makes laundry an easy chore. Adding colors like orange and green gives this area an energy and calmness at same time. Pic Courtesy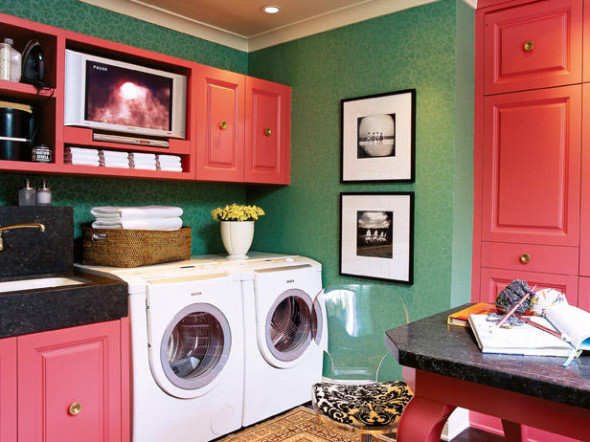 Give a maximum exposure to storage system, Ikea's storage system comes with adjustable shelves, a folding table, drying bars and movable clothing racks. its quick and convenient solution for a modern laundry room. Pic Courtesy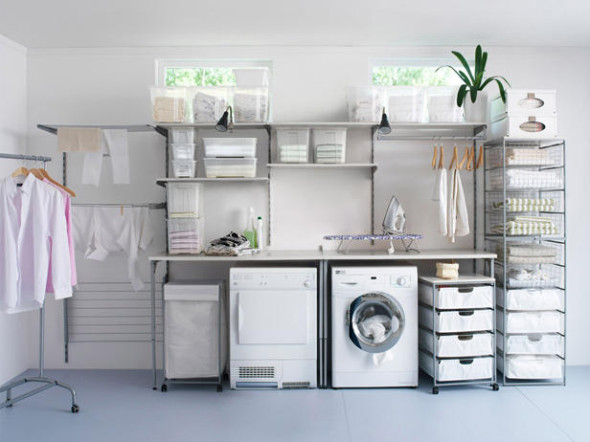 Add cuteness to the laundry room with simple and colorful things such as the lamp and the signage in the click, these small decorations adds a personal touch to the space. Pic Courtesy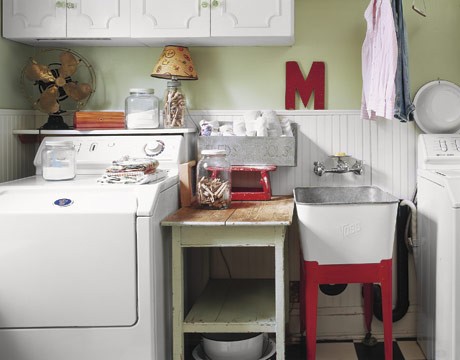 Even the smallest of the spaces can be turned into a colorful corner, wicker baskets, line of small drawers, colorful ribbons and accessories makes this laundry area a welcoming space. Pic Courtesy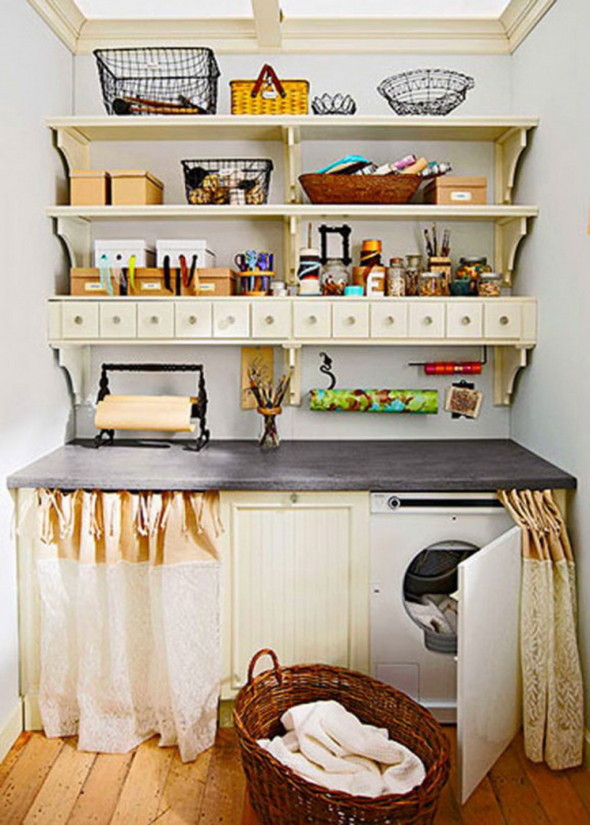 Adding a colorful patterned wallpaper will give instant lift to a boring laundry room. Pic Courtesy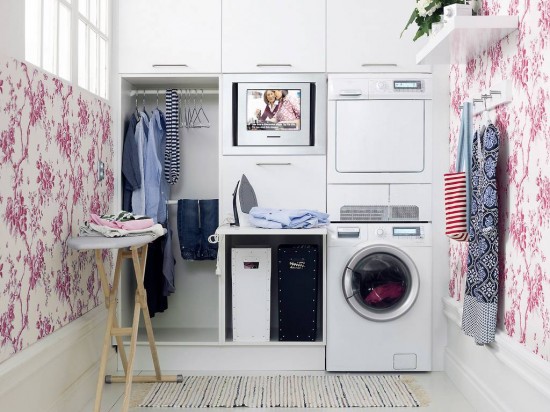 Ironing Board takes lot of floor space, this DIY ironing board hanger with laundry instructions adds a personal touch and as well saves floor space. Pic Courtesy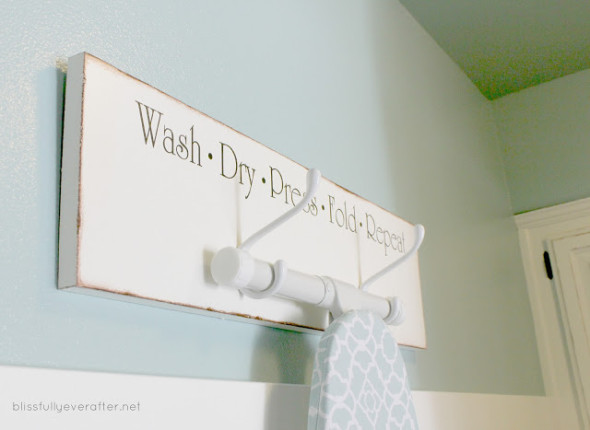 Also Checkout: Cool Attic Bathroom Designs
Lets Live Impressive!!