Spruce up your home with seasonal cheer and warmth with fall season centerpieces. A centerpiece  can make your table more warm and inviting, go with bit of traditional setting.Pumpkins look pretty cool, you can get plenty of pumpkins and squashes in weird shapes, textures and colors, pick them for a traditional autumn centerpiece.  Nothing says autumn quite like brilliant red, orange and gold leaves, experiment with them and you can use candles and flowers to add little extra touch to the setting. Let nature inspire fall centerpieces. These fall arrangements include gourds, flowers, fall leaves, nuts, and more to create gorgeous tabletops that will brighten your table decor.
Pumpkin shell can be creatively used as vase for an arrangement of roses, daffodils, calla lilies, tulips and berries in fall colors. Smaller pumpkins can be used as votive candles fill the space around centerpiece. Pic Courtesy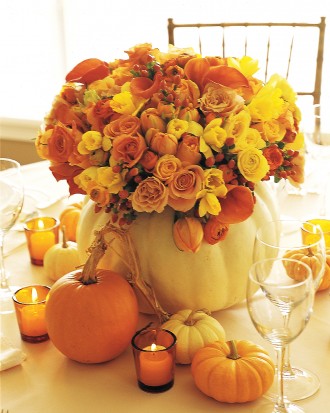 Create a rustic vessel for floral arrangement by stapling birch bark to a pine box, create a custom piece in fall colors. How to do it?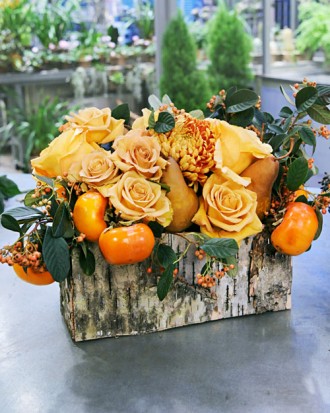 Use branches from your backyard to create a beautiful autumn branch centerpiece. Pic Courtesy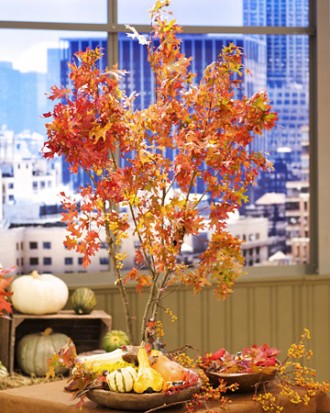 We have seen centerpieces for spring, which looks marvelous when put in layers, create a beautiful centerpiece with gourd vase by sculpting them into vases for small layered flower arrangement. How to do it?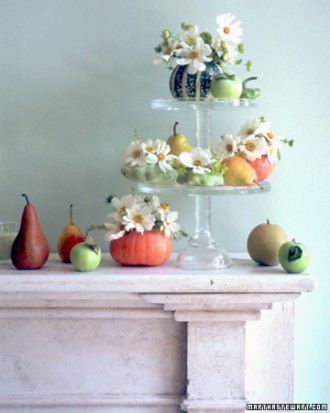 Who says fall is all about warm colors, give fall leaves a sparkling touch by adding glitter to leaves. Pic Courtesy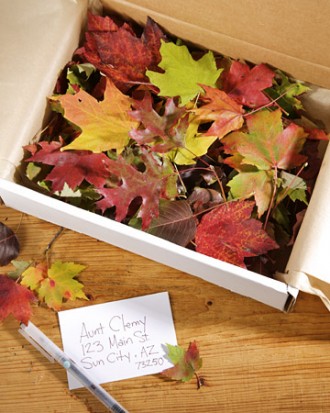 Make a autumn vase by filling them halfway with small nuts, miniature pine cones, cranberries and dried beans, tie a twine around the vase to hold the leaves at place. This autumn vase filled with natural elements and matched with rustic table runner is perfect setting. Pic Courtesy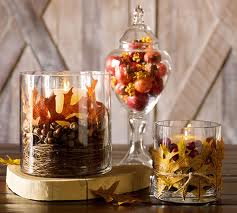 Turn your mismatched stemware into a centerpiece, inverted stemware can be used as the candle holder and the top is used to cover mini pumpkins. Fill the space in between with pinecones and leaves. Pic Courtesy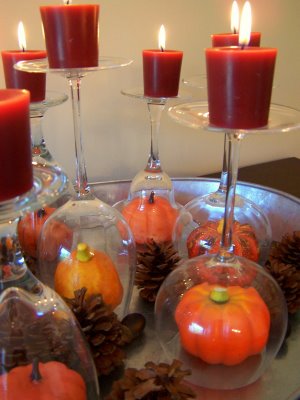 Set a shallow, bowl-shaped basket on the table. Fill the basket with miniature pumpkins, tiny pinecones and walnuts or other nuts. A bowlful of bounty makes a simply stunning centerpiece for your fall table and takes just minutes to put together. Pic Courtesy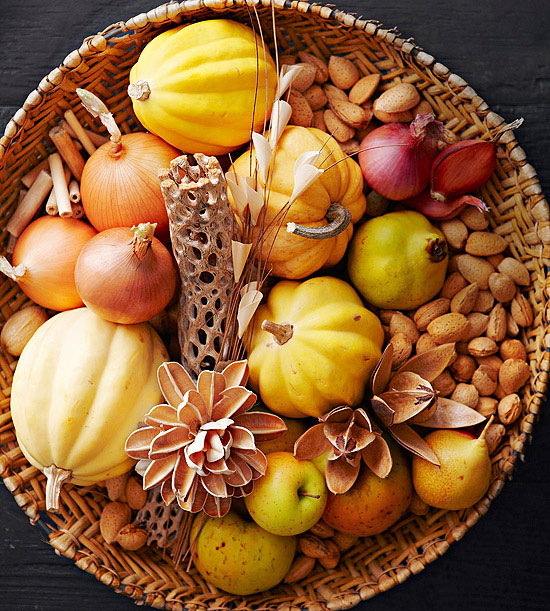 Wheat in a copper napkin ring, a touch of copper turns garden variety grasses into long lasting elegant bouquet, display it freestanding with help of couplet holder. Pic Courtesy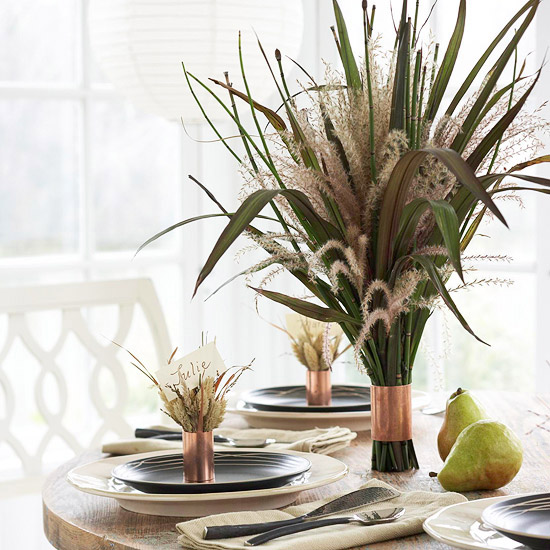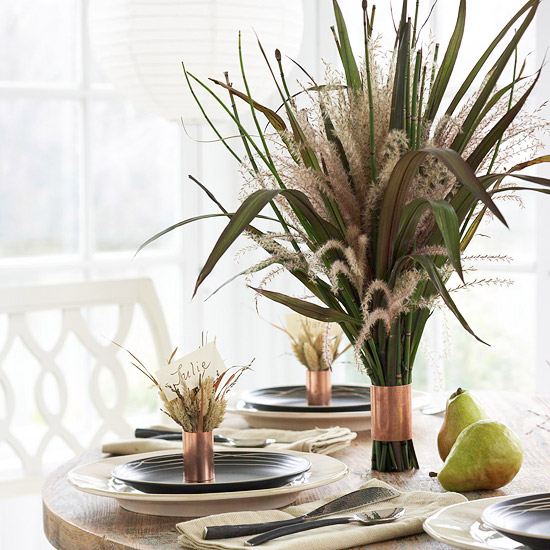 Simplicity always top the charts when it comes to decorating, fill a cylinder glass vase with two inches of white dried beans and add a branch of yellow berries to complete the centerpiece in minutes. Simple and attractive. Pic Courtesy
Lets Decorate Impressive!!