Bathrooms can easily attract clutter and you might have to bear the trouble of moving things in and out on daily basis. By creating "active" storage and organizing plan in your bathroom you'll minimize the efforts spend in the day to day chaos and giving you more time to organize another space in the house. These simple tips will help you organize your bathroom in an attractive manner. Enjoy!!
Keep like items in their own labeled storage bins underneath the sink or in the linen closet. Gels, sprays, curlers, combs and hair dryers take up a lot of space in the bathroom. For quick organization, buy a plastic tub for under the sink and load it up with your supplies. You can easily slide the labeled container when required without creating any mess in the area. Pics Courtesy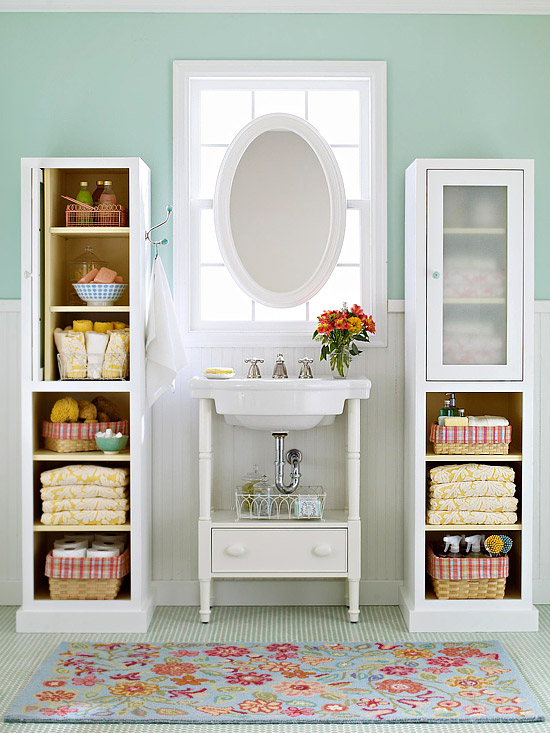 Best-dressed storage options can be easily created with optimum use of furniture, turn a dresser into a vanity. You might lose some storage room inside the dresser due to plumbing, but a shelf between the cabinet and vanity can add back the storage.
Reuse a coat rack from an entryway as a towel rack. You can also add hooks to the bathroom, they are inexpensive and are easy to mount. Create a label and space for each member of the family to hang their towel. It takes minimal space and can hold several towels at one place.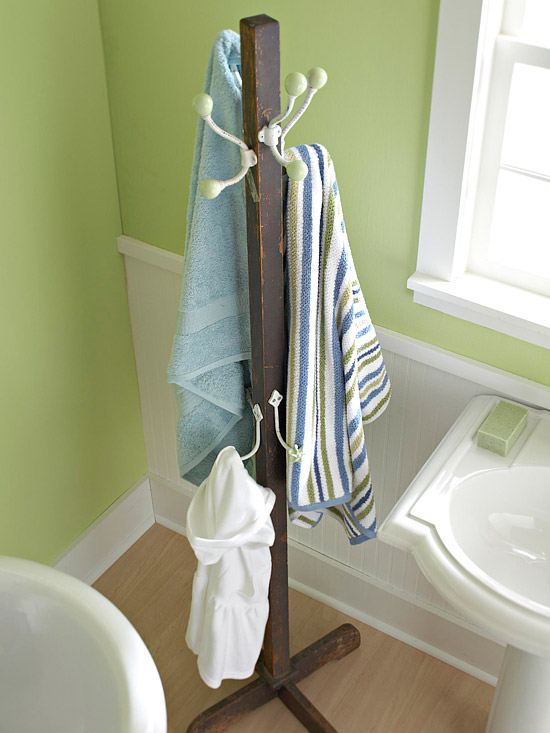 An expandable cosmetic drawer organizer fits in a shallow drawer and can remove the space used in keeping the bulky cosmetic bags. As you organize your makeup, be sure to throw away anything that smells or is expired. Old makeup contains bacteria that can irritate your skin. If you like to show off your collection then recessed china can be put to good use.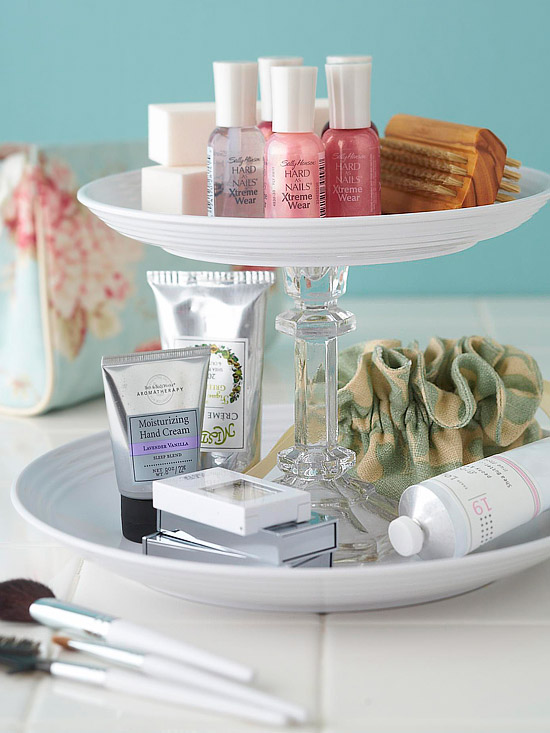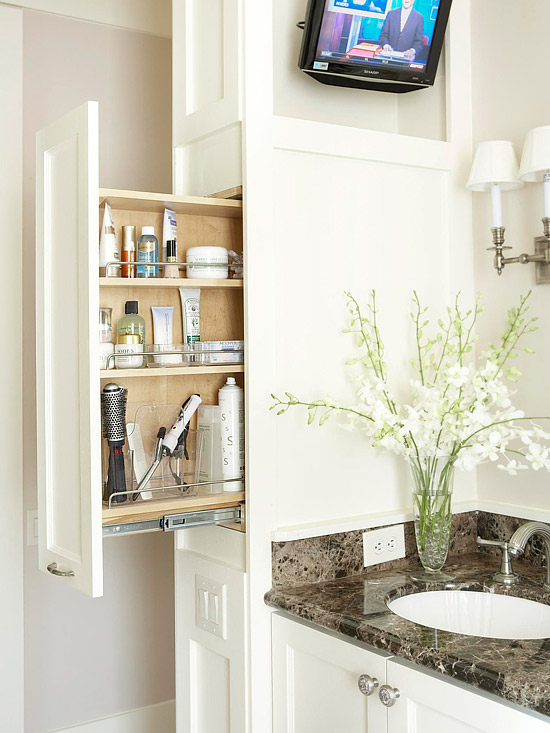 Don't let narrow spaces go to waste, slender cabinets are must have in small bathroom. They are perfect for stashing washcloths, hair dryers, toiletries, and many more. Make it an easy task by labeling and keeping separate drawers for makeup and skin care, cloths and daily use items.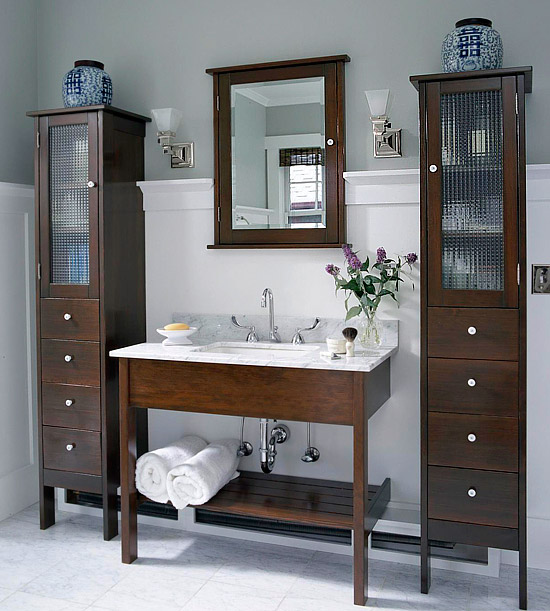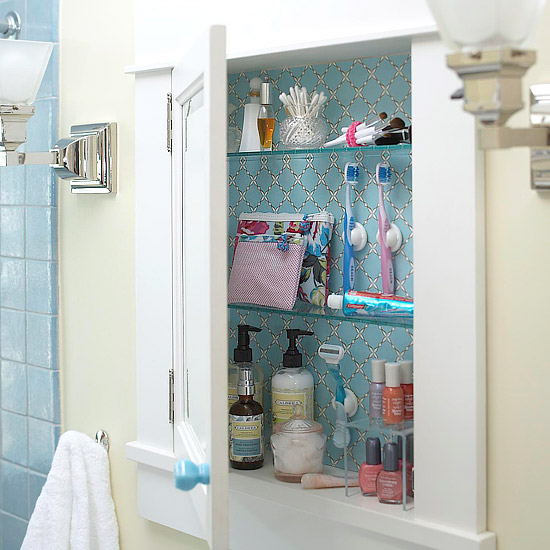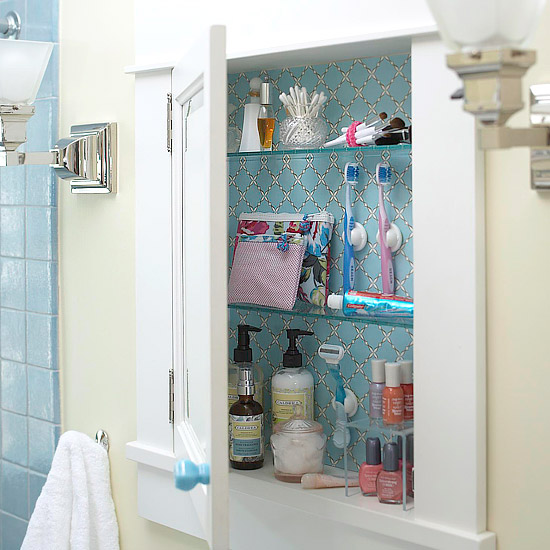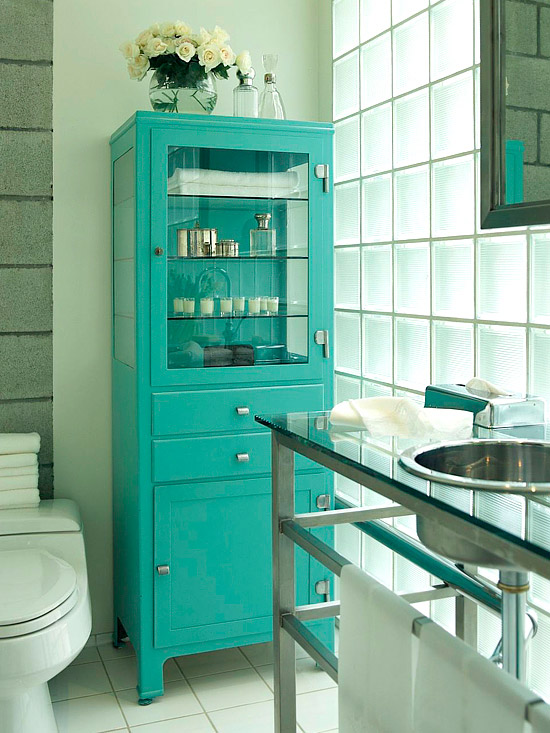 Over the toilet bath furniture is a great place to put extra toilet paper, toiletries and even towels. Opt for a unit with cabinets or closed shelving. You can find attractive shelving at major home stores. There are plenty of options from over the suction shelves to corner caddies. If you don't have enough room, one solution is to pare down your toiletries.
Make the most of space behind the doors; add shelving, hooks and hanging baskets on the back of existing closet doors, if you have an extra counter space invest in some stylish apothecary jars to hold necessities. They are handy when you have guests as they can help themselves without interfering in your cabinets. Pic Courtesy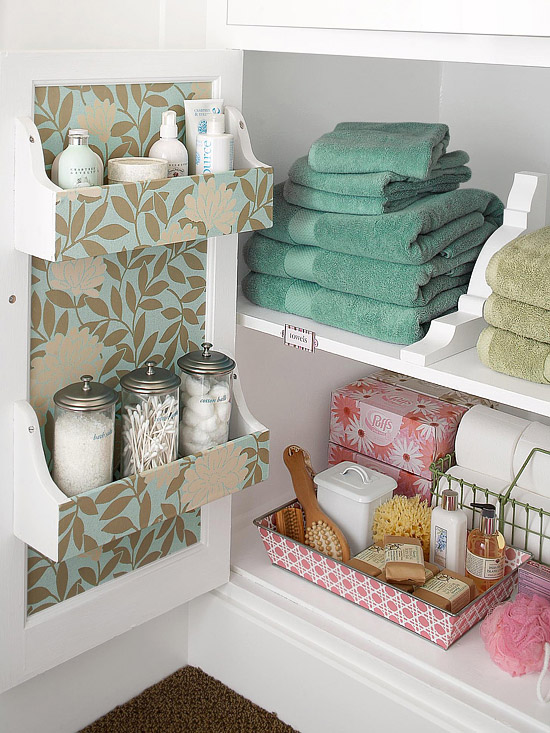 Also Checkout:- Organizing Ideas for Garage
Lets Live Impressive!!