Small changes can have big impact! Making over one piece of furniture can give your whole room a new look and feel. You can easily transform old furniture into new, functional pieces with DIY furniture makeovers. Uncover the hidden charm of cast- off furniture by adding a color to them, with little paint, fabric and creative thinking you can convert old piece into brand new and attractive furniture. These simple furniture makeovers using bolts will rejuvenate old and aged furniture easily; in fact you can make it look like new. Give it a try on small pieces at first and you can move on to bigger pieces with experience, don't be afraid to experiment!
The Flip-Down Desk Makeover
Paint, use paint techniques to update a dresser, table, chair, or bookcase, and take items from bland to beautiful in less than a weekend. Try out a stencil, faux finish, or painter's tape design to create a furniture piece that reflects your personal style. Do-it-yourself ideas such as drawer pulls,storage built-ins, and even headboard projects will get you started and help you gain the confidence to complete large-scale furniture projects. Pic Courtesy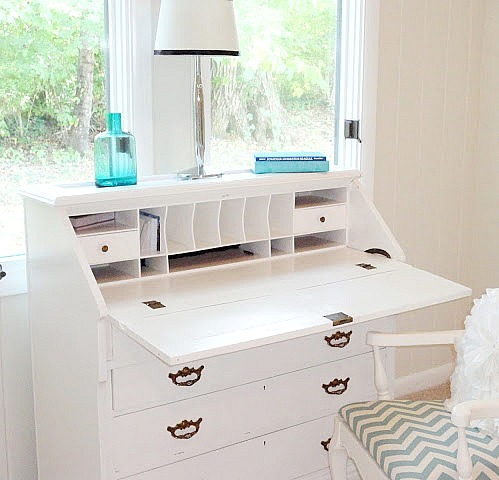 Pot Rack
Give a makeover to an old sled, turn it into a unique pot rack. Suspend the sled from the ceiling, being sure to screw into the joists for a firm anchor. Use jute rope to suspend it for a rustic look, or you could use chain or cable as well.  Make sure that you secure it by using rope clamps. Pic Courtesy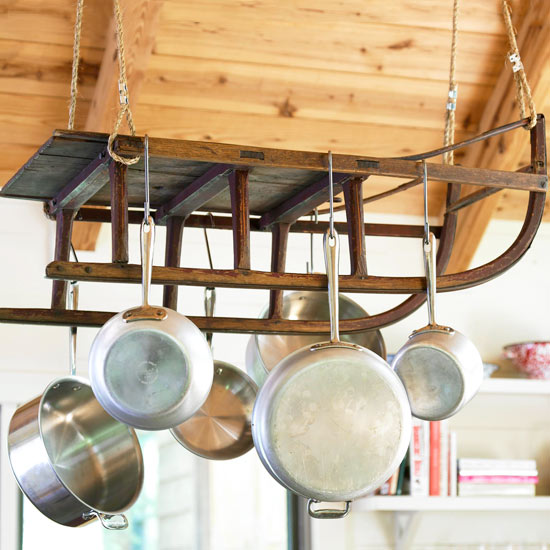 Pamper the Pets
Turn an old chair or an unused side table into comfortable space for your cat or dog. Remove the unwanted pieces of the furniture and keep the chair/table to the ground level. Apply fresh coat of paint and don't forget to add a washable cushion bed. Pics Courtesy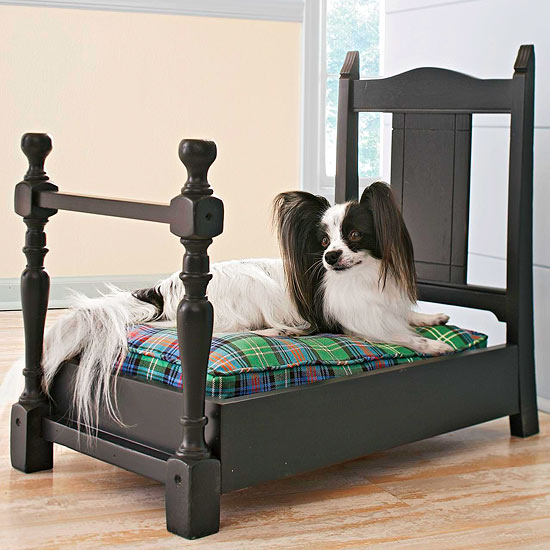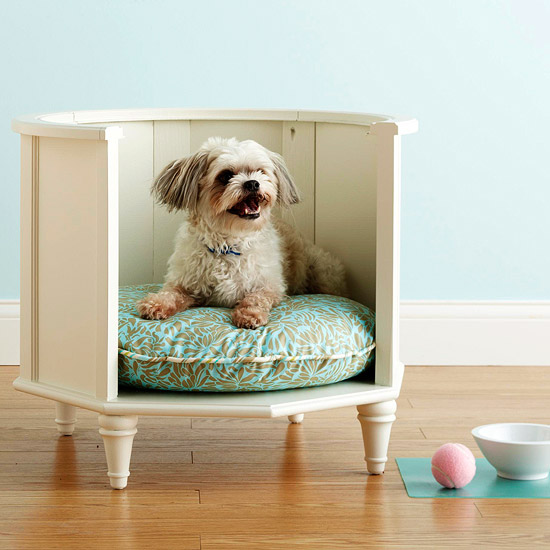 Bookcase to Coat Rack
Paint and wallpaper can easily re -purpose your old bookcase and turn it into cute coat rack. Perk up its tired appearance with a bright coat of paint, wallpaper and stylish doorknobs. Pic Courtesy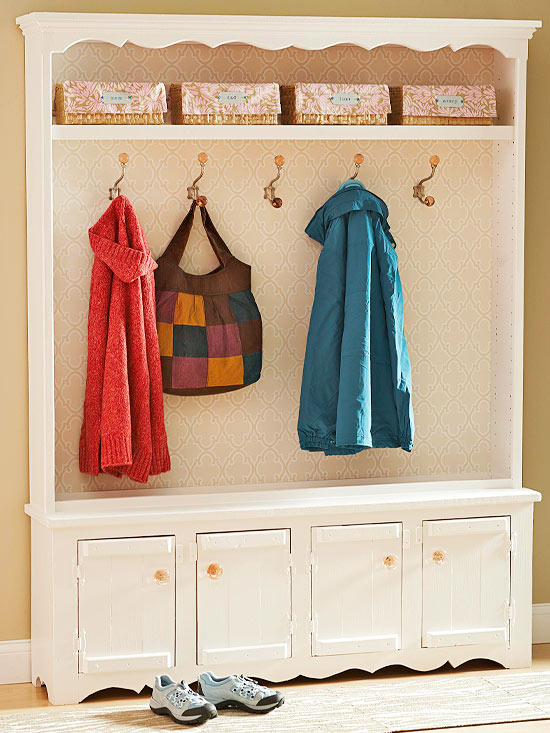 Linen Basket
Create a handy catchall with an old fruit crate and two camping stools. Choose an inexpensive and sturdy clothing to redo the canvas seats. Don't forget out to check the base, I prefer the rustic look of this one but you can use a neon color to make it an eye catching piece. Pic Courtesy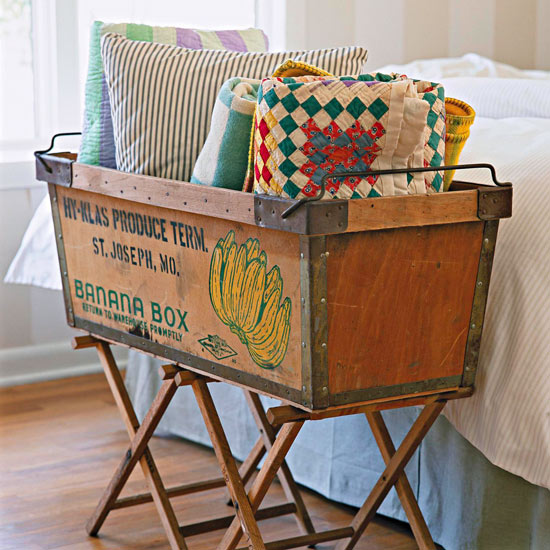 Headboard or Pillow
Exchange your headboard with homemade headboard made of floor pillows. Buy floor pillows which fit the width of your bed, place them side by side and secure them with nails or screws on the wall above the bed to hang the loops. Pic Courtesy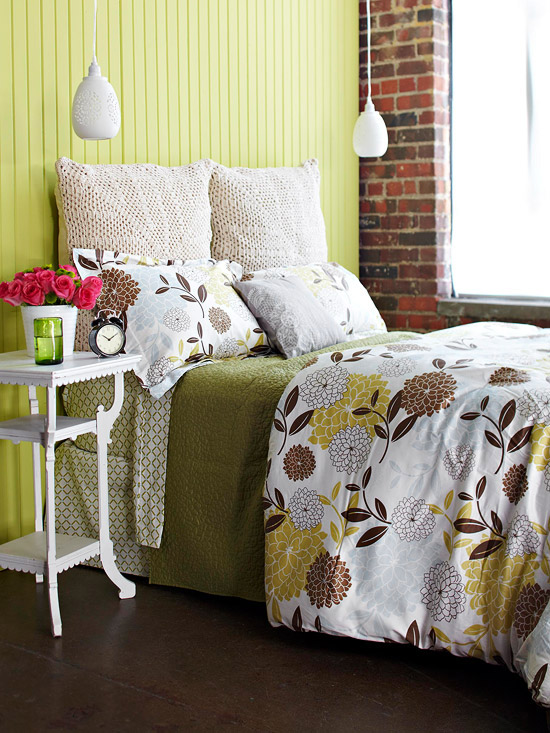 Dining with Comfort
Make your dining area  a comfort seating, combine an upholstered headboard with a seat-height bench. Use anchor bolts to hang the headboard a few inches above the bench. Finish by adding a comfortable cushions. Pic Courtesy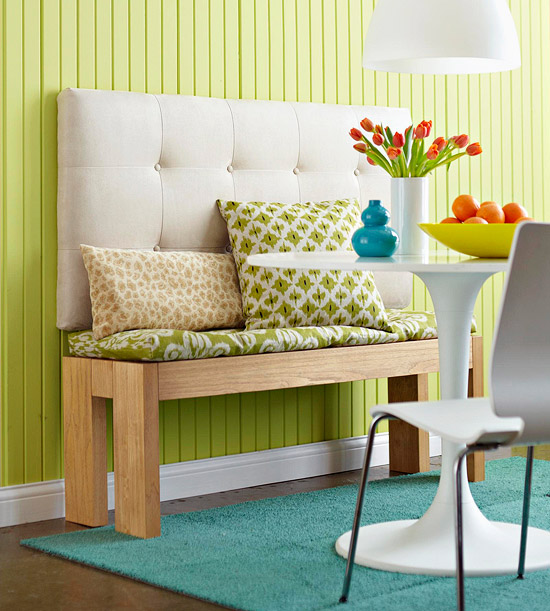 Mirror on the Wall!
Mirrors with fancy frames can be real expensive buy, construct a custom frame using mirrored closet door. If you are fan of rustic looks, avoid adding any extra paint or decorations. Pic Courtesy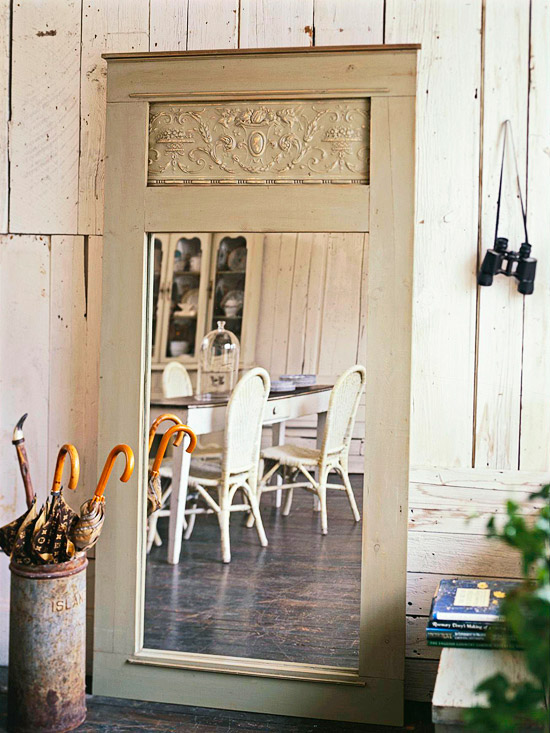 Fabulous Furniture Makeovers – I
Lets Live Impressive!!