Kids enjoy bright colors, unusual and adventurous room decor! Kids room decor is a fun task and unique ceiling designs encourage to dream and add fun to kids life. Inexpensive vinyl sticker printing Melbourne, traditional painting ideas and modern lighting fixtures designed for kids rooms create beautiful atmosphere of childhood.
Ceiling Designs Tips
There are many different decoration patterns and style for ceiling designs. Use lighting fixtures which match the room theme and colors of the room decor. Pic Courtesy
Tip: For a dramatic change consider painting your ceiling the same shade as the walls.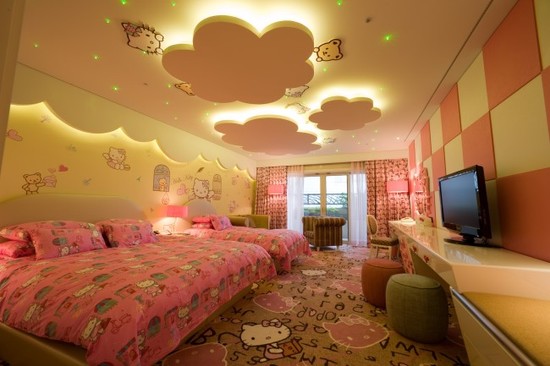 Think of something unusual, cheerful, funny and off course eye-catching. Tree branches with leaves or tall stems of grass, butterfly in the corner of the room or princess dancing on clouds. You can choose suitable theme for boys and girls. Pic Courtesy
Tip: If your remodel includes construction, consider a vaulted ceiling to add both drama and light to your bedroom.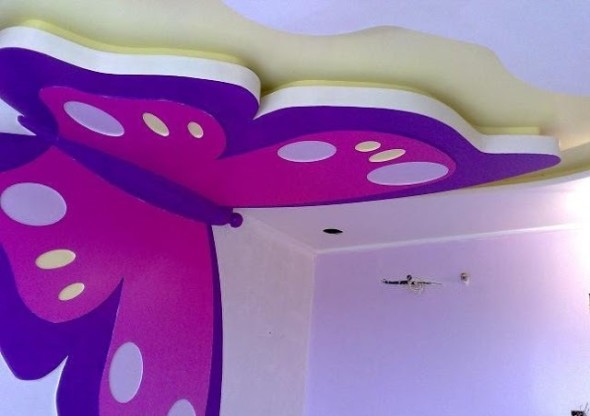 There are many different decoration patterns and style for ceiling designs. Clouds, flowers, butterflies, planes, cartoon characters and birds are wonderful decoration patterns for children bedrooms. Pic Courtesy
Tip:Skylights between the beams of a vaulted ceiling will help create the feeling of sleeping outdoors.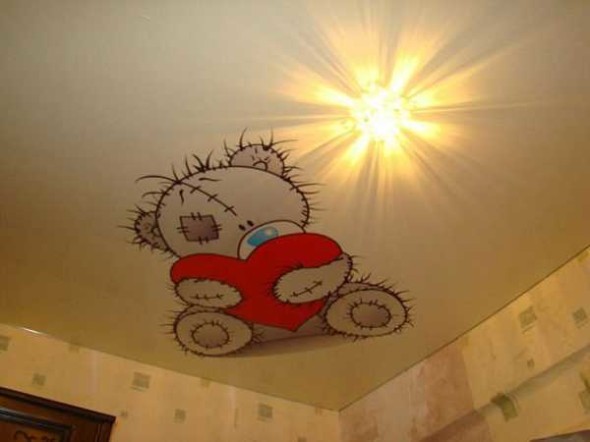 Creative Ceiling Designs
A extended design theme from floor to ceiling will give a cozy feel, use pastel colors to make room look open and spacious. Add bright accessories or recessed lighting  to keep the brightness in the room. Pic Courtesy
Tip: The spaces between the beams provide opportunity to add interest to your bedroom.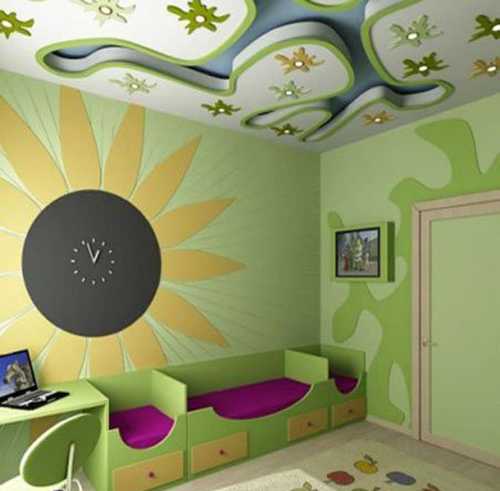 Floral designs that match ceiling lighting fixtures, or cityscapes, combined with the sky are great decoration patterns for teenage bedroom and older kids room ceiling also. These ceiling designs change the perspective, giving a surprising touch to ceiling designs. Pic Courtesy
Tip: Place lighting behind a gossamer canopy for a dreamy effect.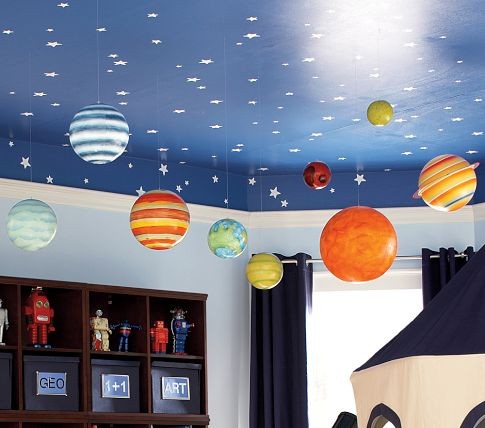 For more Kids Room Decor Ideas Visit www.livingimpressive.com. Lets Decorate Impressive!!