Give a warm welcome to your guests with prettiest outdoor decorations this holiday season, fun and easy ideas which can be used for Thanksgiving and Christmas. With lack of time, it only makes sense that to decorate your porch, garden, or steps with these gorgeous outdoor decorations. Whether you're looking for outdoor lighting, winter wreaths, or Christmas door decorations these simple ideas ensure that you make a holiday statement outside.
 Holiday Outdoor Decorations – DIY
Wreaths are important part of holiday outdoor decorations, create a natural fall wreath, pair rustic with elegant, these handmade wreaths will look great and last from Thanksgiving to Christmas.  For making wreaths you need foam ring of desired size, ribbon to wrap the ring, wires, glue, ornaments, berries, pine cones, cedar leaves etc. It all depends upon which type of wreath you are going to make. You can hang it on your front door or wall of porch balcony or lawn. Pic Courtesy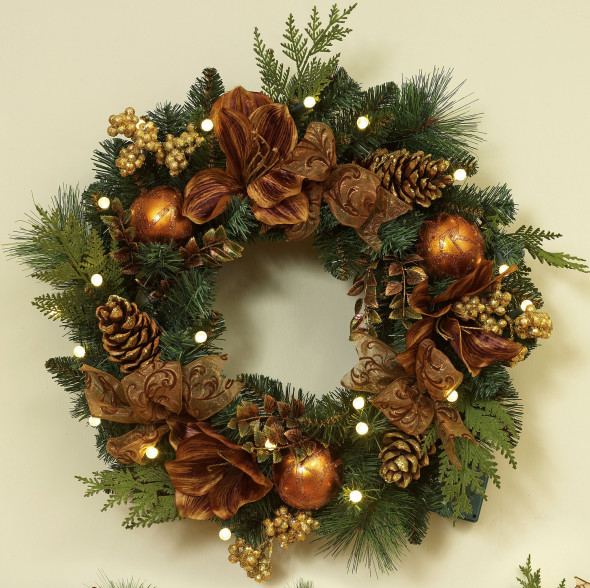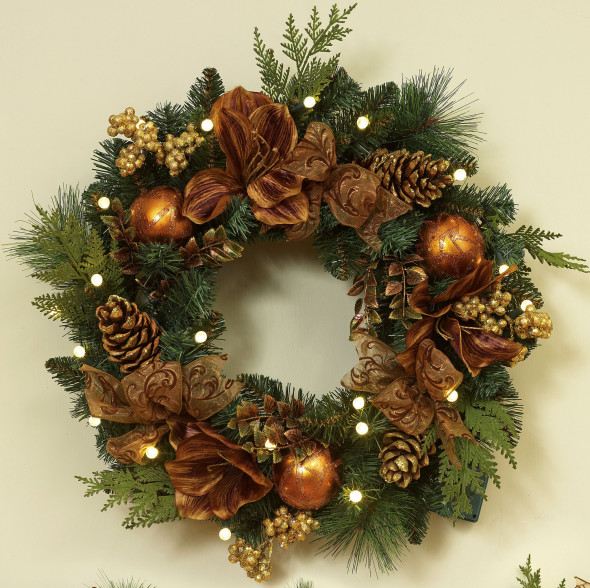 Decorate your home exterior with cornucopia of fresh decorating ideas. Be it Thanksgiving or Christmas a colorful flower arrangement can never go wrong, outdoor decorations are need not be in the traditional setting, welcome guests with pretty front door decorations. Pic Courtesy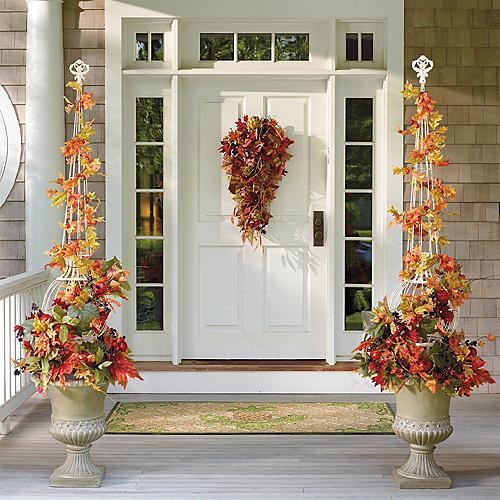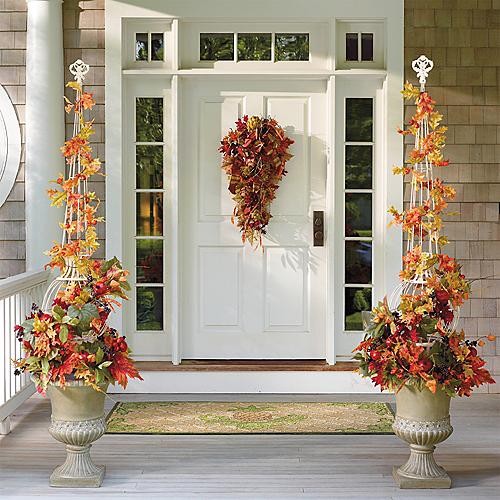 Add an unexpected accent color to your outdoor decorations for a fresh front door.  Tangerine is the new hot color and gel with the fall season as well, but you can use this accented decor for Christmas as well. Here, ripe oranges and a tangerine-color ribbon make classic pine green pop. Pic Courtesy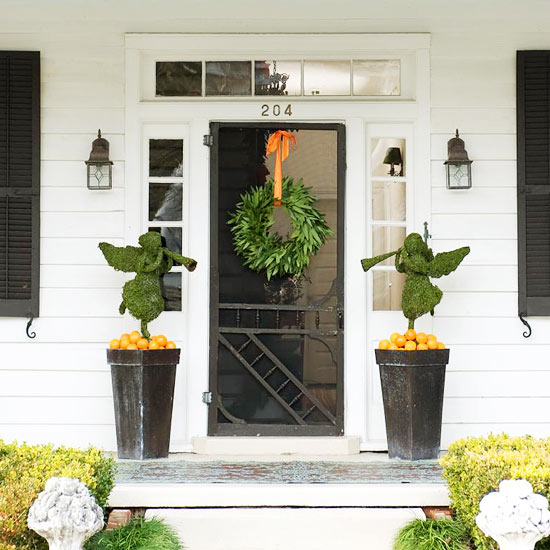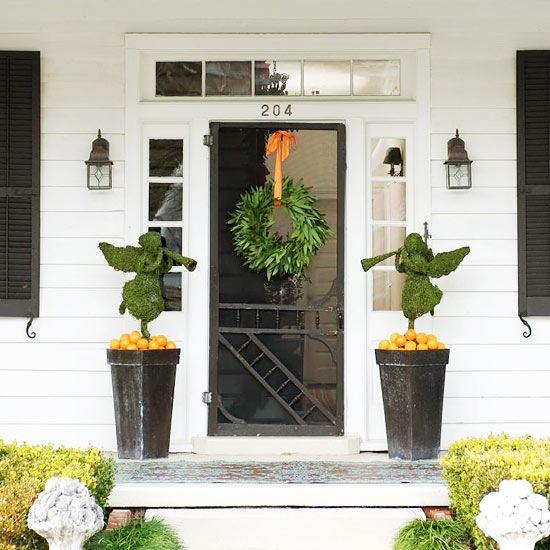 This inexpensive outdoor Christmas idea is easy to execute and fits right in any budget. Simply layer a glass vase with faux snow and cranberries, place a pillar candle and place them on the walkway or front porch, don't forget to place natural elements around these pretty luminaries. Pic Courtesy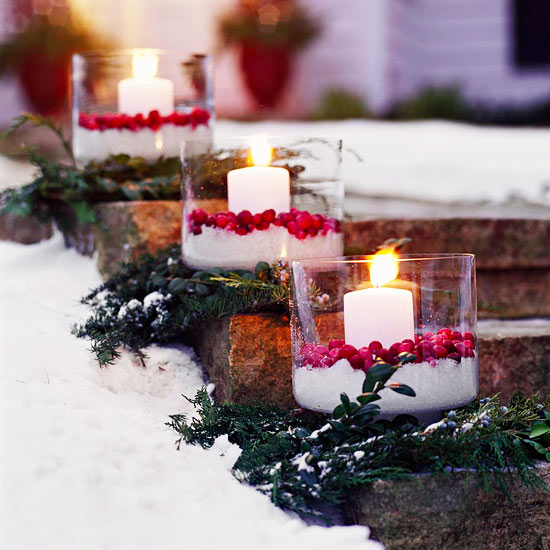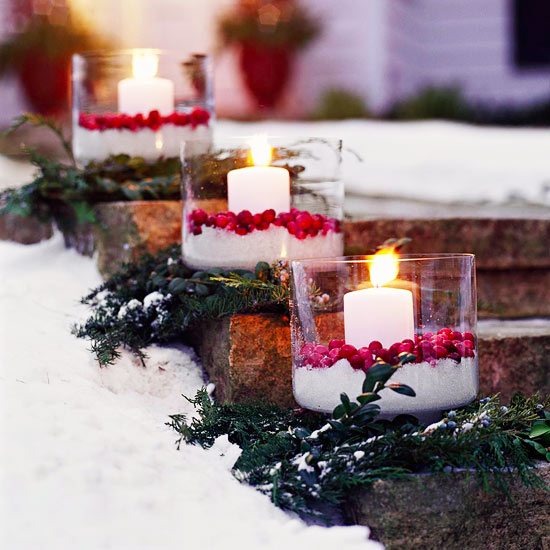 Outdoor Decorations with Mini Lights
Make the best of dried weeds and branches to create a bushlike appearance, insert or wrap the tangled Christmas lights on the strands or simply place them in the setting. Easy way to light up your walk through. Pic Courtesy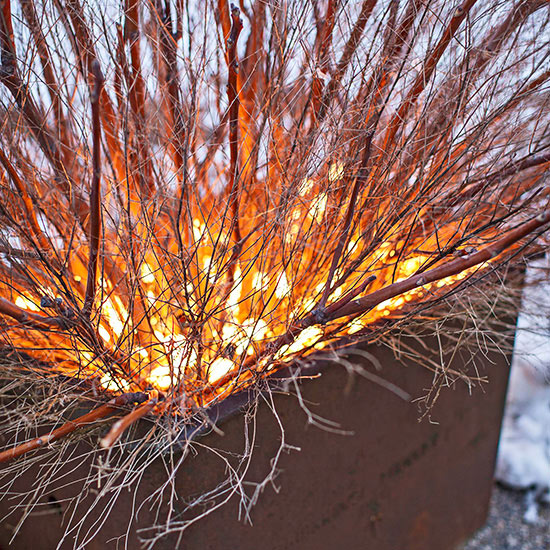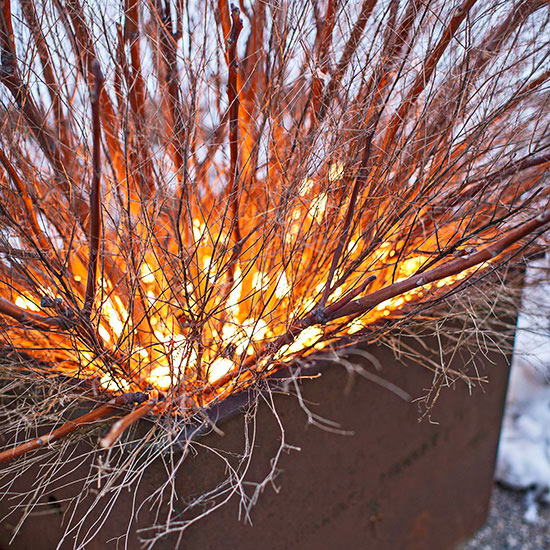 A mix of bistro and mini lights is perfect to create beautiful outdoor decorations. Strands along with evergreen magnolia leaves, place the lights tangled around these strands and place them on porch or stairs. Make sure you secure the setting before placing them. Pic Courtesy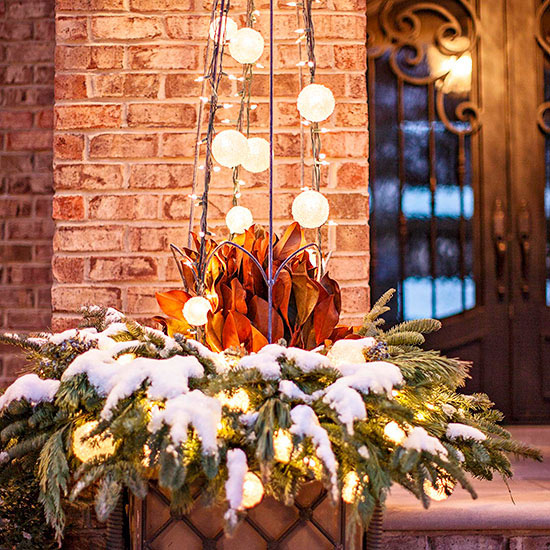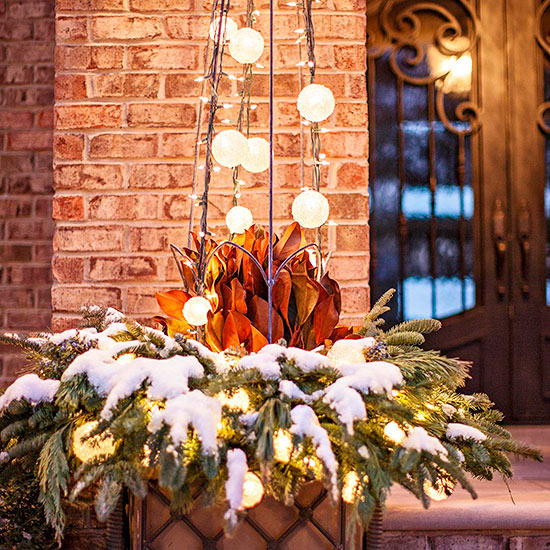 Those with large front entryway have more options for outdoor decorations; add pretty holiday accents such as these simple hangings. Unify the look by wrapping the base with grapevine and mini lights, place the any decorating elements you feel like. Pic Courtesy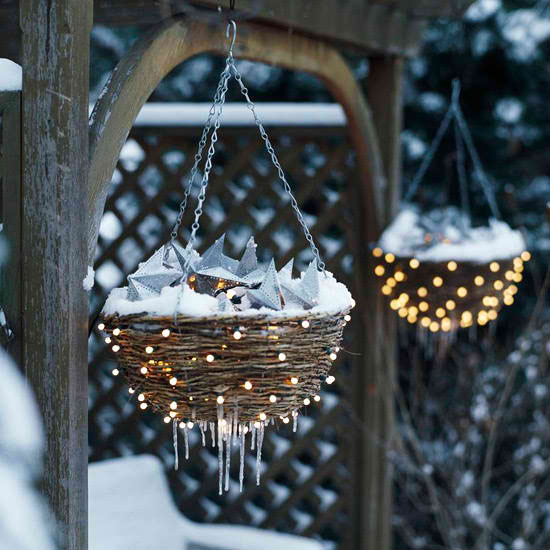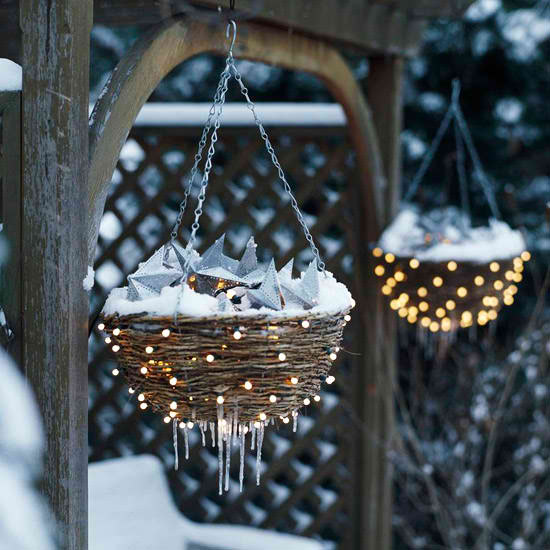 Add festive glow to your usual outdoor elements, window planters, patio furniture. Any element can be turned into beautiful outdoor decorations with simple wire stars, lights and festive glow. These simple and budget friendly are DIY. Pic Courtesy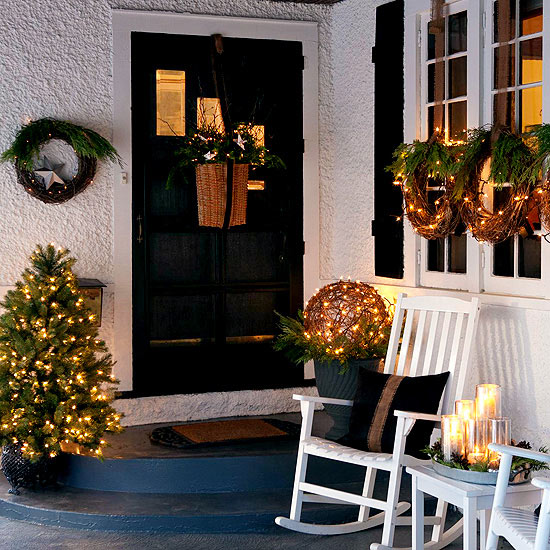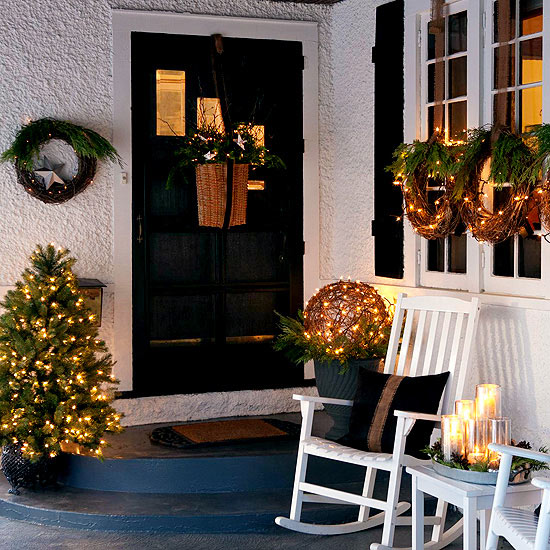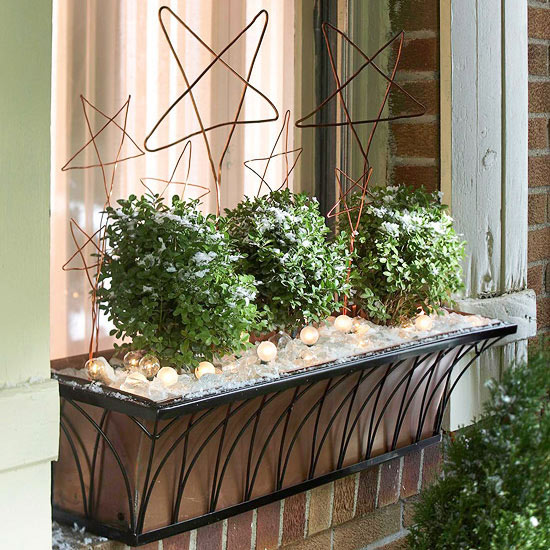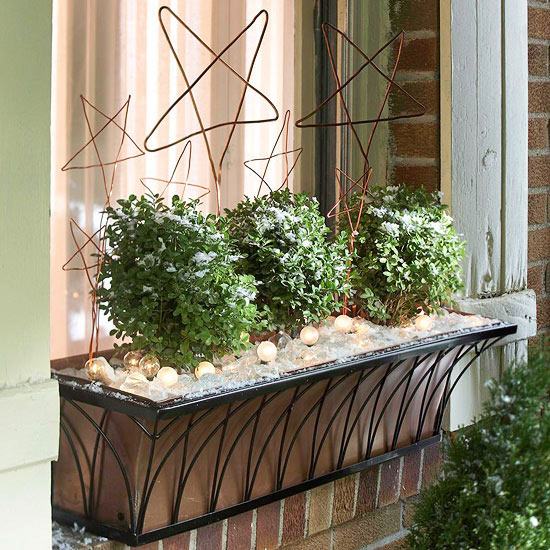 A large leafy garland made from evergreen branches, pinecones, berries, magnolia leaves can be used as thanksgiving as well as Christmas decor. Thanksgiving is all about natural elements and for a Christmas feel adds ornaments and red ribbon. The intertwined lights add a cozy, cheery glow. Pic Courtesy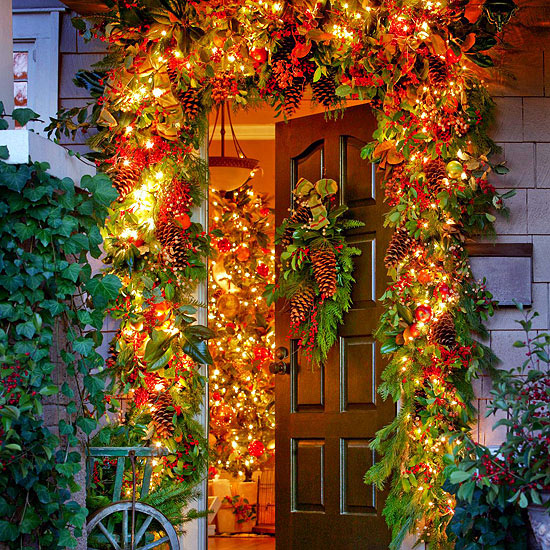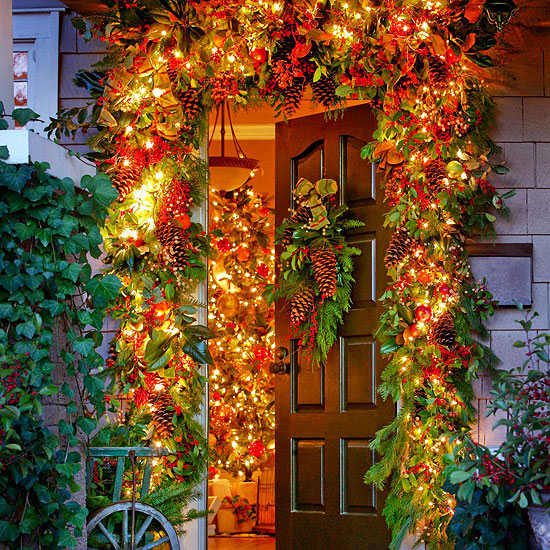 These DIY outdoor decorations and budget-friendly, most of the decorating material can be gathered from the nature and for sure boosts your holiday décor appeal from Thanksgiving to Christmas. Lets Decorate Impressive!!