Add bursts of bright color, energetic patterns, and give your home a lively transition with these 10 Spring Decor Ideas.  Get those heavy winter fabrics with refreshing spring patterns,  Bright and cheerful colors, with modern graphic pattern or classy one, refreshing window treatments, and floral centerpieces will give your home instant Spring feel. Here are 10 Spring Decor Ideas that will add sublime to your pad.
DIY Spring Decor
1. Add Fresh Feel
Give your living room, brightly colored vases, spunky patterned pillows and rugs will give an instant uplift to the room and fosters a "Spring"feel! Pic Courtesy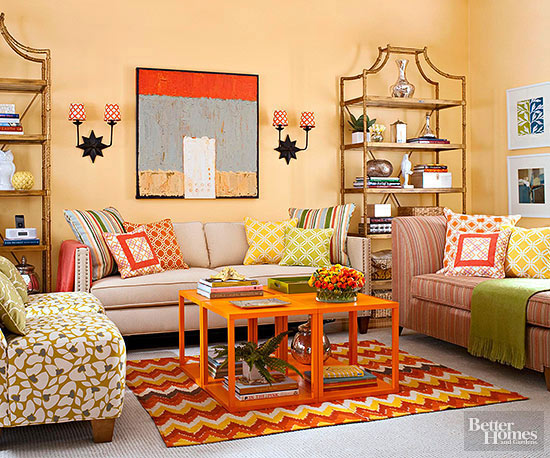 2. Change the Fabrics
Inexpensive, sheer or light window curtains are attractive ideas for spring decor. It creates an elegant and airy look and allows to see first blooms of spring season. Pic Courtesy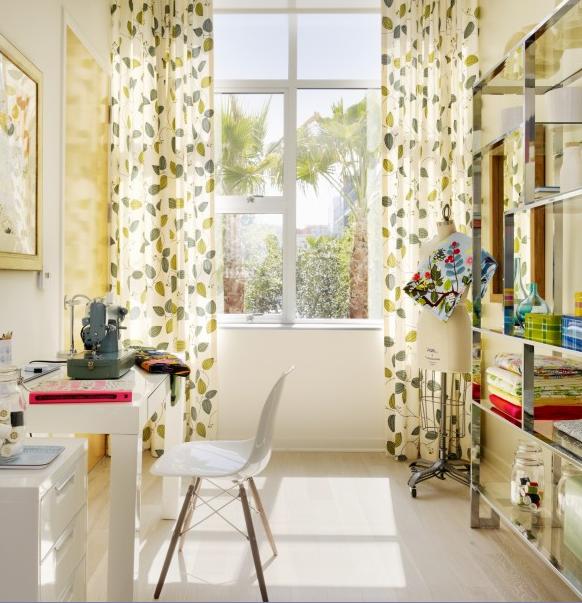 3. Play with the Patterns
Don't be afraid to play with patterns, bold cheerful patterns with light colors and bright contrasts. Use your favorite bright colors along with pastel, soft and neutral shades. Orange and sunny golden, light blue and turquoise, green and citrus yellow, lilac and honeysuckle red-pink shades are modern spring season trends. Pic Courtesy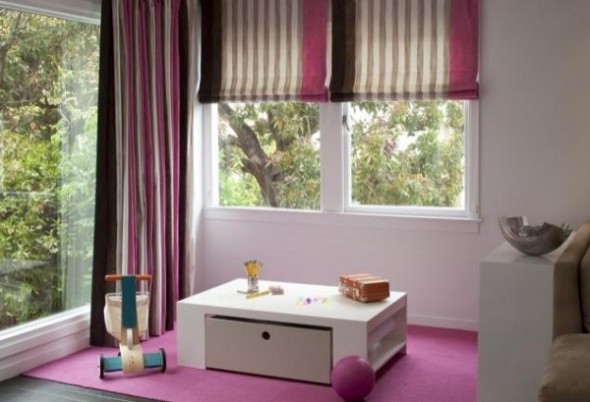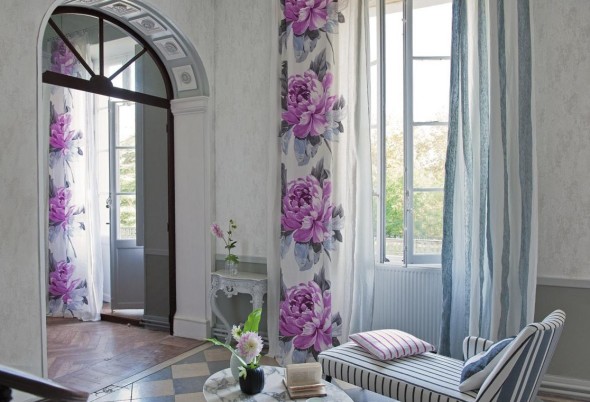 Spring Decor
4. Spring Centerpieces
Bring in a little spring with a peppy green centerpiece. Simple ruffled bird's-nest fern fronds make a striking statement. They are budget-friendly and easily accessible. Pic Courtesy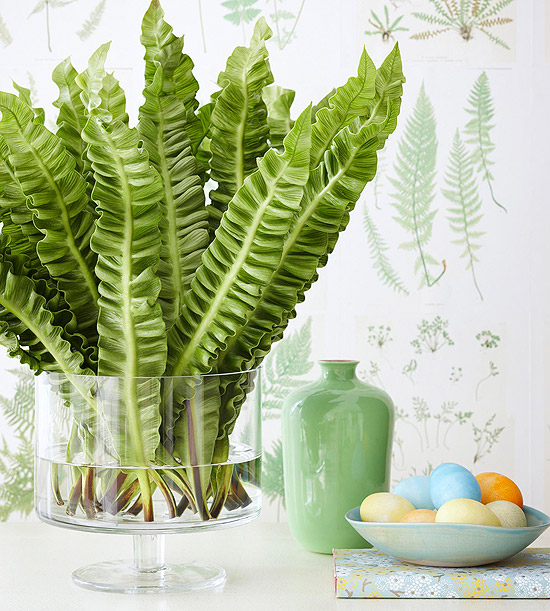 5. Easy on Furniture
Get that lovely heavy sofa out of the way, remove any furniture you don't need, A single contemporary piece in the focus can change the feel. Pic Courtesy
6. Accessorize It!
Don't hold back when it comes to accessories, sometimes a neutral shade curtain can be given bright touch with a simple yet elegantly colorful curtain holder. Pic Courtesy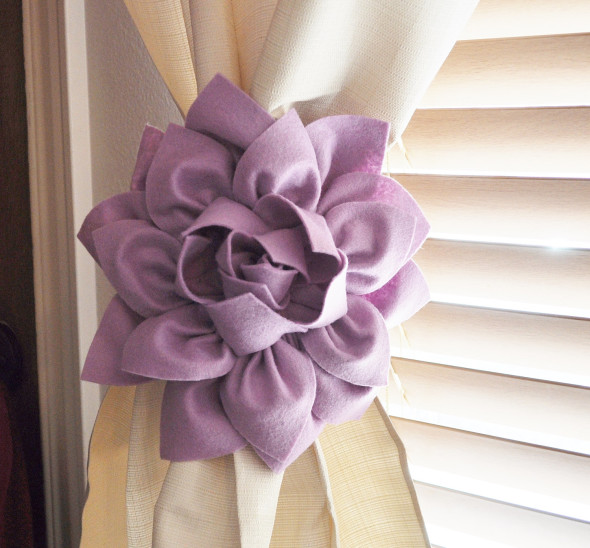 7. That Colorful Room!
The fabrics that sport boldly represent the season that welcomes the new. The color palette uses a patterned yet classic designs to create a mood that reflects the fresh feel of spring. Pic Courtesy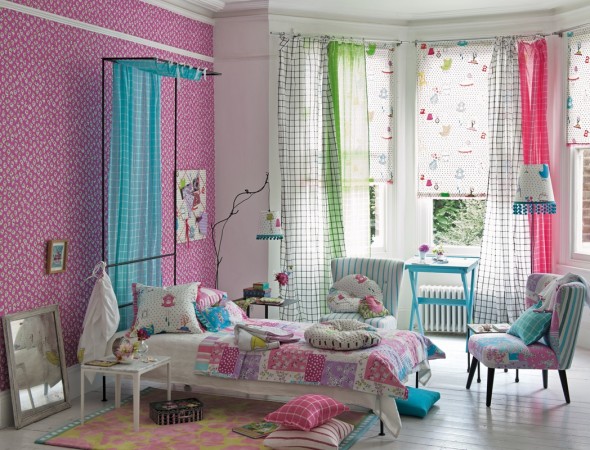 8. Sticker on the Wall!
Wall decals are hip and a fresh breath of Air! Go for neon colors, Peel-and-stick wall decals are a quick and simple update for any plain surface. Pic Courtesy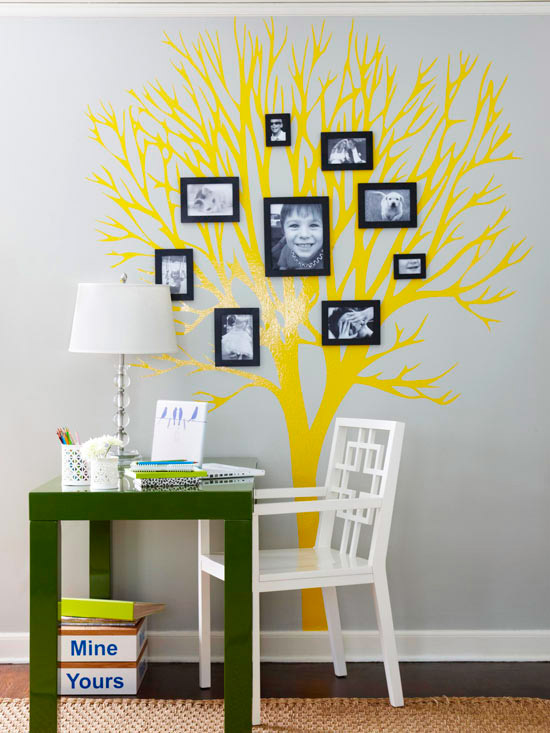 9. Love those Patios!
Make your patio a cozy spot to relax ,arrange furniture around a table to hangout, accent pillows to add a touch of color. A metal screen creates a faux wall that separates the patio from yard next door. Pic Courtesy
10. Mirror on the Wall? Well it Looks good on Mantle!
Mirrors are the least expensive way to light up a mantle decoration, you can make your own colorful mirror frames or buy it from local home store.  Add elements such as twigs, green stems, candles, colorful vases with your favorite flowers to welcome spring in style. Pic Courtesy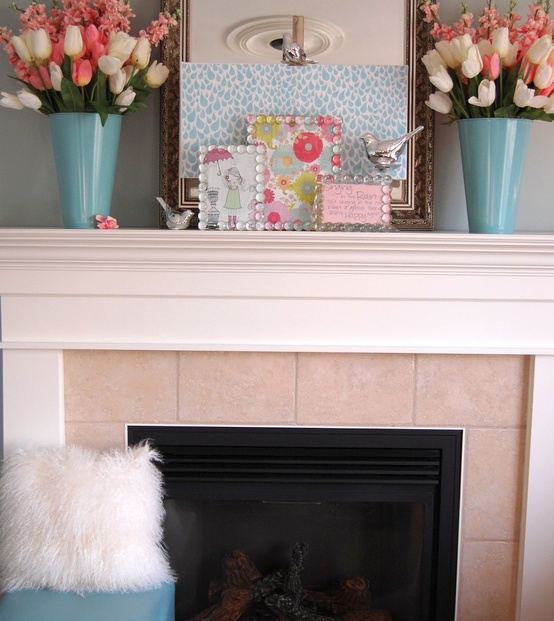 These amazing spring decor ideas are easy on pocket and require less than an hour. Lets get ready to welcome the colorful season of Spring! Lets Decorate Impressive!!