When you have guests stay over, you want them to be comfortable and have all the things they need in the bathroom.
According to the size of your guest bath, whether it's only a sink and commode or if you have a full size guest bath which includes a shower or tub, you want the bath to look relaxing, while giving your guests a bit of luxury. You may also plan a Residential Tub remodel to make your bathroom even more luxurious.
Yes, you can actually give visitors a bit of luxury in the guest bath that will not empty your wallet or bank account.
The top ways to give your guests a bit more than just a bathroom are listed below.
1. There is nothing like getting out of a shower and of course getting that chill that we all get. You can find top rated towel warmers that will certainly give your guests a luxury item that will not only make them feel cozy but will get rid of that chill faster. You can choose from different styles and types that will add to the luxury feel of your guest bath and make your guests feel extra special.
2. In the majority of cases, too many times, guest baths only have a small mirror over the sink. This does not help your female guests see their outfit and if they look the way they desire. Adding a full length mirror on the bathroom door adds a bit of class. This way you still have the mirror over the sink, so the male guests can shave and the ladies can put on makeup and then they can use the full length mirror to ensure they are ready for the day.
3. For those that have a shower, which is always an added treat, a glass shower enclosure can level up the luxurious feel of the guest bathroom. You should also have a showerhead that can be adjusted. There are many different types of showerheads from ones that are in the center of the ceiling of the shower and offer a larger amount of water to rain down on your guests to those on the side that allow you to even enjoy a nice massage type shower. You can also do bathtub refinishing to give your tub a new look. Make sure to have the contact number of reliable plumbers townsville for plumbing emergencies.
4. Be sure you have a cabinet that offers extra towels, washcloths, and even shower caps are nice. In the cabinet you could also add a few personal items that your guests may have forgotten especially if they left in a hurry. A few nice items to add to the cabinet include toothbrushes, toothpaste, lotion, deodorant, floss, hair dryer, and even various types of soaps, shampoo from https://www.barbieinablender.org/antifungal-shampoo/, and conditioner.
5. Lighting is also very important. A dark guest bath will certainly not make your guests comfortable. You can easily install a light switch that allows your guests to adjust the amount of lighting in the bathroom. Adding even more lighting around the mirror above the sink is an added bonus so women can see to put on makeup. Dark bathrooms are certainly not convenient when you are trying to apply eye liner.
6. A rubber mat, to place in the shower should also be provided. This is a great idea especially if your guests are children or seniors as it will ensure that no one slips and falls in the shower, if someone does, contact a slip and fall lawyer in Providence where there are lots of experts. You could just add a few of those tub non-slip stickers such as ducks or flowers, but if it does not go along with your décor, just use a rubber mat that can be placed in the shower for those that might need to use one. It can also be stored in the cabinet with other items that you have provided for your guests.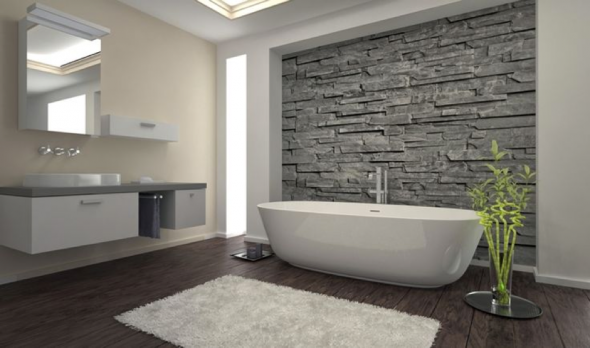 7. A shower radio that can be attached to the showerhead is also a great idea. This way your guests can listen to their favorite music while taking a shower which will of course add a nice touch that most will not expect.
8. A soft comfy rug beside the shower that has a rubber backing so it will not slip is also a nice idea. No one really likes to get out of the shower with that cool chill and step on a cold tile floor after their shower, even if they do have a warm towel.
9. Do not clutter the counter with all kinds of decorations. You can add a soap dish and maybe even a plant but make sure your guests have plenty of room for their own items or room on a shelf in the bath for their personal items. A cluttered counter is not going to help the ladies put on their makeup or the men to shave.
As you can plainly see, just by adding a few unique items, you will provide your guests with a luxurious guest bath that will make them feel comfortable while visiting your home. These are truly inexpensive ways to spruce up your guest bath and also create an awesome guest bathroom.