We're all searching for our own little part of the world; somewhere that feels safe, secure, and far away from the stresses and pressures of work, friends, family, and finances. We all want a slice of the planet that can soothe our busy minds, which is why so many people invest their time and money in gardening. With a finely manicured and beautiful yard, you're not just creating a practical space, you're carving out a private haven.
The only problem is that privacy can be hard to come by these days. Your backyard might be close to a busy road, share a border with a nosey neighbour, or just feel a little too exposed for your liking. The good news is that there are plenty of simple ways to increase its privacy and shut it off from the world outside. Then, you can barbecue, play with the kids, play football, read a book, or tend to plants in blissful, tranquil peace.
Keep reading for some smart and stylish ways to increase the privacy of your backyard today.
Use Trees as Punctuation
With help from professional landscaping services in Perth, you can learn how to use trees and shrubs as punctuation. We tend to restrict tall trees to the borders of the garden, but they also add dimension, colour, and extra screening when carefully placed further inwards too.
A top tip is to stick with narrow columnar varieties if your yard is on the small side. Then, make sure that a regular tree trimming is done to maintain their healthy appearance. Rich's Tree Service, Inc is located in Portland, OR for those who need tree removal, tree pruning, or stump removal.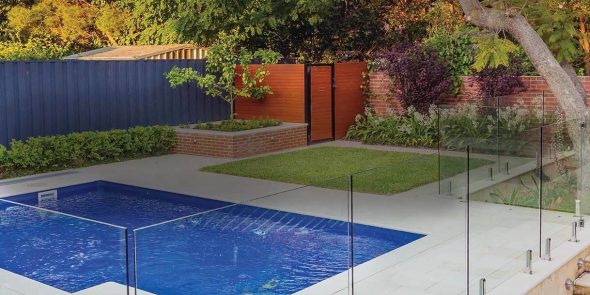 Start Gardening Upwards
Another thing that few of us think about when gardening is height. After all, who said that flower beds have to be laid out flat on the ground?
In fact, raised mounds and berms are a great way to elevate interesting plants and increase that sense of seclusion and tranquility. It makes your yard feel less like a static, fixed place and more like an exciting, diverse jungle. Should you decide to execute this particular style, it is important to consult an erosion control expert so you can keep your backyard in the best shape possible.
Give Yourself a Little Corner
For those who haven't yet got the budget for a full landscaping job, there is always the option of focusing on one key corner. If you take your favourite spot, you can transform it in any way that you like. For instance, find two sturdy, fall trees and attach a soft hammock.
It is best to either pick a shaded, private spot or start planting lots of tall trees and shrubs for seclusion. Trees are beautiful and they can add a lot of value to your home, but they also need regular maintenance. Tree trimming is essential for their health and longevity. But it's very hard to find a good Mackay tree services company that you can trust in Queensland with the safety of your trees. At Dam Services we provide high-quality tree services at affordable rates.
Chain-link Fence or Latticework
A lot of homeowners don't really like having tall fences, but they see it as a necessary compromise for keeping their yards private.
The problem is that big, block fence panels will end up reducing the amount of sunlight that reaches the garden. With chain link fencing, your yard can still get enough sunlight while keeping your property secure. To increase the security and privacy of your backyard even more, you can also install security gates.
As an alternative, you can also use latticework panels. Then, plant climbing vines and other plants as a way to increase privacy, but still invite the light to peek through.
Create Some Peaceful Sounds
It is not just the visuals that count when it comes to backyard privacy, because noise pollution can be a real pain too. While it won't always be possible to completely shut out traffic and other sounds, introducing a little natural 'white noise' is a good way to disguise.
Water is the most effective option, so you might want to consider a small fountain or miniature stream.
Add Some Rustling Grasses
To remain on the topic of noise; gently rustling grasses like quaking aspen are great for masking unwanted sounds and creating a peaceful, tranquil vibe.
They will distract you from the noises outside and help you relax when trying to read, garden, or enjoy the space in any other way. Ornamental grasses like little bluestem and purple millet are also good options.
Why Peace and Quiet is an Important Part of a Backyard   
Between hectic work schedules, busy family routines, and endless social responsibilities, there is often little time for relaxation. This is why it's really important to have an outdoor space that can restore your mind and soothe your senses.
If your backyard is noisy, cluttered, or just plain ugly, spending time there will only increase your tension and the environment will be largely redundant, so take care when planning your next landscaping project.