Whether you are looking to reinvigorate your backyard or have moved into a new house and the backyard is a mess – you need to attack a backyard renovation with a plan in mind.
While it might be tempting to just go in gung-ho and start ripping out overgrown shrubs and tearing away at trees, you might just live to regret it, depending on the kind of style you want for your garden. After all – that thicket with the shady ivy all entangled in it might be just the thing if you decide you end up wanting a garden fit for a fairytale.
We want to offer you advice on everything to do with making a new start on your backyard – from choosing the perfect irrigation system through to styling and design. Take a look!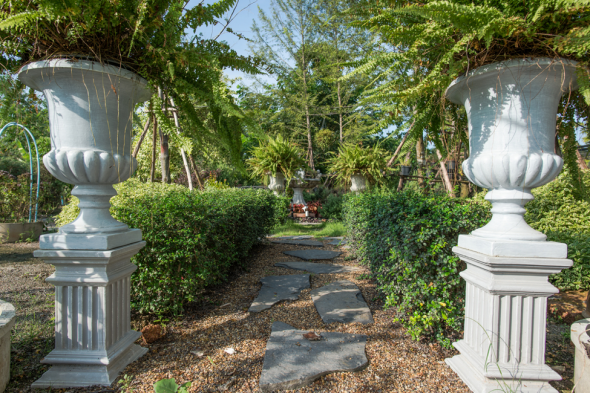 Figure out your style
So no surprises that tip one is obviously to figure out what kind of style you want for your garden. You need to take the time to think about the spaces you have in your garden, and think about how they are going to work well with each other. Do you have an outdoor dining space? You might want to consider having some lights and shrubs around this area to create extra ambience.
Also think about what you're going to be looking at when you're dining outdoors. Do you have a compost bin for your garden? Where will these be located in regards to your dining area? Are you going to be staring at it when you eat? You need to think about these things.
If you have an irrigation system that you're going to be installing, will it impact on your dining area? In your garden, nothing is nicer than a lot of leafy green plants and a lovely lawn, so think about this when you're choosing the plants for your garden.
Head to the nursery
Once you know what kind of design you're looking for, it's time to head to the nursery and time to get some plants for your garden! If you have a friend who has a particularly green thumb then by all means, drag them along. They will probably be able to advise you on the right kinds of things to be planting at certain times of year. Failing a garden-savvy mate, the friendly nursery staff should be able to help you out with plant choices!
Keep things watered
It's very important that once you spend the money on new foliage and plants for your garden that you are keeping your plants hydrated and watered. Install an irrigation system as a best-practice way to keep your new plants healthy and lush – and save yourself the time and effort required to water every day or every few days.
Get colourful
A key part of any garden makeover is adding colour to your backyard. Whether you achieve colour with flowers or you paint your fence a bright yellow – colour will do wonders for the overall aesthetic of your backyard. Consult design blogs or head to your local hardware store for some advice on paint (or flowers!).
Get people out there
When you have created a garden that you love, you need to ensure that people are drawn out there to enjoy it. Think about investing in a stunning piece of furniture that's going to get your family out into the garden. Pergolas are a popular way to spend time outdoors, as are daybeds. Think about what you want to use your garden for and then make a feature of it.
We hope that you have drawn some inspiration from this list of potential ways to invigorate your garden. Remember to have a style in mind – that way, you will have direction guiding you when choosing plants, furniture, decoration and style.