We tend to think of luxury in terms of designer brands, rare materials, and one off designs.
It is expensive and reserved only for the few. Yet, is this really the case? Is true opulence all about money or are creativity and innovation more important? The greatest designers and artists in the world attract praise not because they produce expensive things, but because they offer a new perspective on the familiar.
It is something which homeowners should keep in mind when decorating. Another thing to keep in mind is home affordability for those who have not yet started to build their home but will do soon.
It is entirely possible to create lavish interior spaces on a budget. You just need a little planning and lots of passion. Don't be afraid to think outside the box. Pair old furniture with contemporary patterns. Combine simple home comforts with fancier bits and pieces. Let your home be a reflection of yourself.
Keep reading for some great interior decorating ideas that will take your home from drab to fab in an instant.
Treat Yourself to Leather
Few materials are as sumptuous as leather, and the good news is that it is more affordable than ever. Leather lounge suites are hugely popular right now, because they provide quality and a classic aesthetic, without being overly showy. Leather is a must have for those who like their luxuries understated. It is timeless and guaranteed to stand the test of time, whether it finds a home with kids and pets or sophisticated singletons.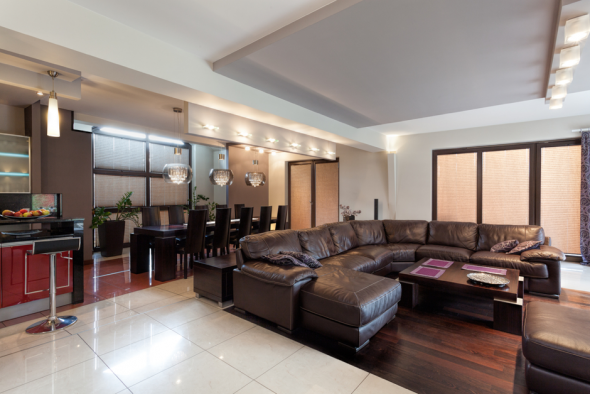 Invest in a New Showerhead
Even the most indulgent showerheads are available at relatively modest prices.
They are worth the investment too, because the difference between a powerful and a lacklustre dip is huge. Having access to a satisfying shower can make the morning easier, help you relax at night, and gives you more pride in your home. If you struggle with really low pressure, you can pick up showerheads which force the pressure to build and create a satisfying stream.
Decant Your Bath Products
One easy way to boost the appeal of your bathroom and get that spa vibe is with fancy decanters and containers. They cost a couple of dollars and, after you pour your shampoos and lotions into them, they look really elegant. It is the kind of detail which seems small, but makes quite a big visual impact, particularly on guests. The same applies to having huge, soft towels and buying high-quality hand soap.
Only Use Sharp Kitchen Knives
All cooks need good kitchen knives.
In fact, they are an affordable essential, rather than a luxury. Why battle with vegetables and put up with your meat sliding all over the chopping board when you can cut out the hassle and do things the easy way? Just make sure that you store them up high or far back on the countertop if you have little ones running around. Professional grade knives are not for underestimating; they can slice through cans as easily as butter.
Start Filtering Your Tap Water
Integrated water filtration devices are inexpensive, and they offer a wealth of benefits. According to many health experts, filtered water is much better for the health. It contains fewer chemicals and lowers your exposure to substances like fluoride. While the jury is still out on precisely how they affect the body, lots of people still prefer filtered tap water. It also tastes better, because the balance of minerals is naturally regulated and balanced. If you are used to having metallic tasting water, a filter might work for you. Have a plumbing expert install one for you. An alternative to filtering devices, binchotan charcoal sticks can naturally purify your drinking water. Plus, they're organic and biodegradable!
Why Affordable Luxuries Are So Important
Often, it is the little details which make a house feel like home.
They do not have to be expensive or carry swanky designer brands. They just have to make life easier and more enjoyable. Whether it is your favourite fluffy bath towels, a plush leather armchair, or a summery makeover for the bathroom, pick with personality and take pride in your abode.