The interior of your home is a place of self-expression.
It's where you spend your quiet moments; one of the few places in your life that you truly get to design based on your tastes. With that said, there are still an abundance of areas within our houses that tend to get overlooked when going for a majestic home makeover. Today, we're here to discuss 4 underrated areas that deserve to be revamped within your home.
Upholstery
A fantastic piece of furniture will never go out of style, however, the same cannot be said for the fabric coating. As tastes change and trends shift, getting your furnishings reupholstered can be the perfect way to maintain the pieces you love while still updating your living space for the modern era. For those that are hoping to take this task on themselves, there are an enormous variety of colours, fabrics and textures to choose from across an abundance of upholstery suppliers.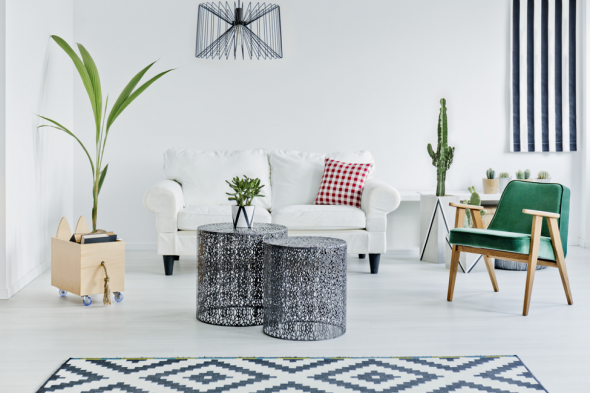 The main thing to keep in mind during this process, aside from simply choosing a fabric you adore, is ensuring that it is durable enough to withstand the needs of your home. Children and pets can be a deathtrap for finer fabrics; quickly leading to holes, stains and a trip back to your local upholstery dealer for a second try.
Window Furnishings
If you're going to have something between you and the outside world, then it better be worth the view. A brilliant set of window furnishings can completely revitalise a lacklustre space, and give you an enormous amount of options when it comes to natural light.
When deciding between blinds and curtains, you need to take into consideration how much effort you're willing to put into maintenance. Flowing curtains may look luxurious draped across your windows, but the amount of dust that can accumulate within them will likely turn off those that aren't prepared for a monthly tidy. On the other hand, the dust and dirt that accumulates within blinds is easier to see, but it can be easily wiped away from the smooth, firm surfaces.
Floor Facelift
When doing a living room redesign, we often look at our floors and think "what can I put over this to make it look presentable". However, while an excellent rug can add quite a bit to the style of a room, there's more that we can to to make sure that we are walking around on something we can be proud of. Simply giving your floors an intensive scrub can make all the difference, whether it be carpeted or floorboards.
Not simply competing with dust and dirt, the constant walking around and movement of furniture that your floor has to endure can leave it looking less than lavish. For carpets, there is a wide range of shampoos and "Shake N' Vac" options for those that aren't content with a simple scrub. You might also want to consider hiring a carpet cleaning company for expert carpet cleaning services. When discussing hardwood flooring, there are a large pool of options to choose from, but even a dash of water and a wipedown can be all that you need to return your foundations to their former lustre.
Cupboard Clutter
When deciding to sculpt your ideal interiors, an improperly curated bookshelf or cupboard can completely ruin an otherwise flawless room. When deciding to tidy up your tidbits, ask yourself:
Which of these objects actually benefits the room I'm in?
Books and records can create an air of comfort, but only when they are placed in a way that presents style instead of stress. To avoid a clutter of culture, sort through your books, CDs, records and knick-knacks and store the ones that don't feel like they fit the look you're going for somewhere that doesn't draw the eye. This can also be a fantastic chance to invest in a large, tasteful box or shelf space to keep these objects in; allowing you to hide them, while still having them at your disposal whenever necessary.
The home fixup isn't for everyone, but for those that are willing to put in the effort, there are a wide abundance of benefits to keeping your interiors in pristine condition. Good luck!