Not everybody dreams of a clean, white home with crisp furnishings and super contemporary features. In fact, most homeowners are on the hunt for ways to add extra warmth and personality to interior spaces. However, the assumed divide between modern and vintage styles often limits design creativity.
It convinces people that it has to be one or the other – shabby chic or modern cool. Fortunately, this is not the case. It is more than possible to combine two distinct interior styles and still create a beautiful, cohesive space. All it takes is a keen eye for detail and the confidence to make a style statement with your favourite features.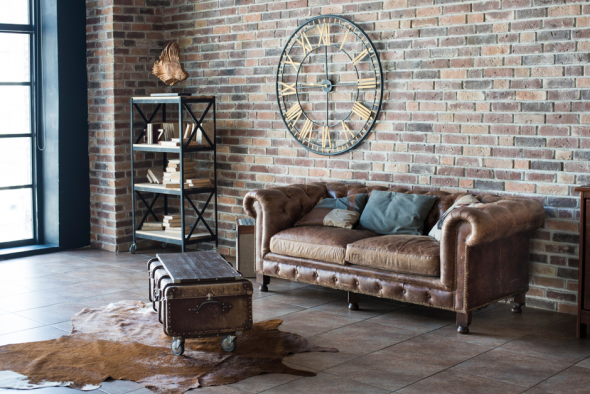 The Power of Opposites
According to designers, there is a golden rule which makes it easier to combine vintage and modern styles. You have to play to the power of opposites. Match soft with hard. Balance leggy items with blocky ones. Pair splashes of colour with more subtle shades. One great example is investing in quality blinds for the windows and enhancing them with rich, sumptuous tapestry curtains.
Use 'Found' Objects
Another clever trick is to add objects which are unusual.
If they do not have a function, that is even better, because they will stand out more. Think ageing cart wheels hung on the dining room wall or striking blown glass pieces stood proudly on the mantle. The trick is to limit yourself to just one or two per room so that the eye is drawn right to them.
Manipulate the Modern
You can change the look and feel of modern features just by combining them with traditional design elements such as grainy pine floorboards and beaded board wainscoting. Try to embrace a slightly less formal vibe, by leaning pictures on shelves (rather than hanging them) and incorporating storage solutions which allow for flexibility. You can get that sophisticated gallery aesthetic with low furniture and distinct but minimal trinkets.
Create a Focal Point
One of the easiest ways to fit an antique piece (like a grand armchair) into a more modern space is to give it dominance over the colour scheme in the room. Pair everything else back, allowing the older piece catch the eye because it is the boldest and brightest. It is a really effective technique, especially if you add pops of complementary colour elsewhere too.
Learn How To Upcycle
Upcycling is hugely popular right now, as many homeowners are still feeling the squeeze after the recession. All it refers to is finding an old (sometimes shabby) piece of furniture, artwork, and ornaments in flea markets and second-hand stores. Then, you take the home and give them a makeover.
Voila; you have got yourself a 'good as new' piece for a fraction of the cost, and it is entirely unique and bespoke. The easiest items to upcycle are antique dining chairs because you only need to replace the fabric and seat backs.
Break All the Rules
It can look exceptionally striking when interior designers take items out of the rooms we traditionally put them in. So, for instance, they might find an antique wardrobe and use it as storage in the lounge or dining room. Similarly, an old armoire or chest of drawers could become a worktop in a rustic kitchen. Designers from http://www.seamless-worktops.com/ advises new homeowners to don't be afraid to experiment and try new things like that acrylic worktop you really like, because you never know what kind of quirky masterpiece you will create.
Why Quality Pieces Are the Secret to Design Success
When trying to create a warm, cohesive space, prioritise the quality of your furniture, accessories, and décor. The resurgence of flea markets and upcycling proves you do not have to spend lots of money to get great items. So, spend more on fewer finds and use them to bring out the fire and personality in your home.