Just under a decade ago, the world experienced a financial crash of epic proportions.
It made life harder for the vast majority of homeowners because the cost of everyday essentials began to soar. Fortunately, markets and economies are back on track now, but prices remain high and people are still tweaking and changing their lifestyles to fit.
It is one of the reasons why the interior design industry has evolved so quickly in recent years. Rather than letting inflation discourage them from renovation and transformation, homeowners have embraced alternative ideas. The popularity of vintage furniture and upcycling continues to rise, with many people choosing to replicate high-end designs from luxury homes for a fraction of the cost.
It is easier than you think to create a sense of luxury in your living room and you can do it without breaking the bank. Keep reading for some inspirational ideas.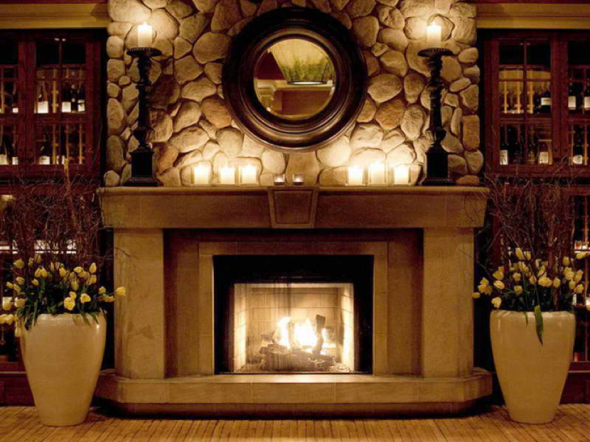 Invest in a Fireplace Surround
Fireplace surrounds are always a valuable investment, as they add design-drama to the central feature in the room. When you think of a beautiful fireplace, it isn't really the brick or iron shell that you're imagining, it's the frame around it. The right surround can turn even the smallest, dullest fireplace into a serious style statement. When shopping for an electric fireplace, think about proportions. Oversized surrounds  for your vent free gas logs create a feeling of grandeur and richness.
Keep It Chic and Simple 
The mistake that people make is to assume that luxury and abundance are the same thing. The truth is that living spaces look far more elegant when they've been put together carefully, with an eye for signature details. This means that you should avoid filling the room with furniture. Pick up a few key pieces and allow them to stand out in a neat, stripped backspace. Make sure that you have plenty of storage options so that you can maintain this aesthetic.
Add Metallic Surfaces
If you're looking for that old Hollywood glamour, try adding reflective surfaces.
Mirrors are a great idea, but you don't want to go overboard. Instead, combine a gorgeous mirror with a handful of shiny, metallic accessories. This could be a vase, a picture frame, a coffee table dish, or a glitzy chandelier. Not only do reflective surfaces create the illusion of more space, they also add a little design drama.
Conceal Your TV Set
You can amp up the luxury factor in your living room with just one simple move.
Taking steps to either conceal or incorporate the television set into the general design of the room is highly recommended. You can do this in a number of ways and they don't have to involve super expensive 'disappearing' frames. You can visually minimise the presence of a TV by creating a gallery wall or building a salon style art arrangement around it.
Go Hunting for Bargains 
It is easy to forget that real, old school luxury isn't always about perfection.
If you're trying to create a sense of vintage glamour, you need at least one piece with a distinct history. Head out to your nearest flea market or second-hand furniture store. Browse for elegant items (a coffee table, oversized armchair, or antique cabinet) and find something which ticks all of the 'shabby chic' requirements.
Why Luxury Living Doesn't Have to Cost the Earth
If there is one interior design trend which has defined the last five years it is 'faking it until you make it.' Homeowners are realising that they can create spaces fit for Vanity Fair without spending thousands of dollars. With a little imagination and solid, high-quality materials, you can transform even the drabbest of living rooms into a space fit for royalty.