The rattan garden furniture is extremely popular among home owners for reasons best known to everyone. The modern day outdoor rattan is a powerful combination of the old and the new world. The intricate weaving pattern of the traditional rattan and the sturdiness of the high quality synthetic rattan manufactured from high quality HDPE, the outcome is the very bold and stylish outdoor rattan garden furniture.
Well, when a lot of thinking goes into manufacturing it, even the buyers should pay attention to little facts when they make a purchase. So, here we bring to you the steps that could help you find that perfect rattan furniture for your outdoor recreational space.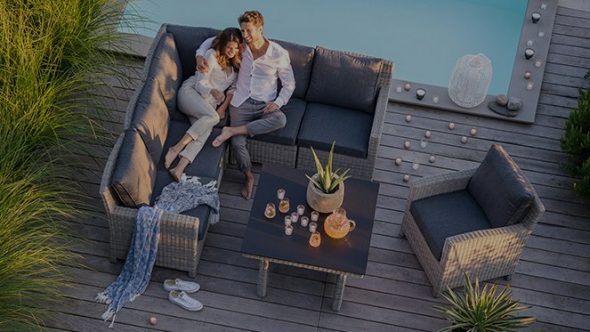 How much space do you have?
If you want to achieve that everlasting visual impact from your rattan furniture, it is important that you first measure the space and then make your choice. It is easy to get attracted to a dining set, but you may not have ample outdoor space to accommodate it. It is therefore important to make the measurement and then add around 3-inch space to each side to avoid any inconvenience later on. Think for a while, you buy the furniture only to know later that it is not fit for your space. So, don't rush and take your time.
Picking the right outdoor garden furniture that fits your space and is a standout piece of your landscaped garden, is therefore important.
What kind of style is best suited for me?
Today, the rattan garden furniture is no more about sofa or chairs, there are many style options available. You can pick from armchairs, dining sets, day beds, loungers, foot stools, benches etc. To add to the decor, you can add some cushions (today cushions come with almost all styles). If you are looking for rattan furniture to keep outdoors, go for weatherproof and fire resistant cushions that come with removable covers and you can clean them in machine as well.
Value for money
To look for value for money, does not mean that you opt for the most affordable rattan furniture piece, but choose a set that will last for a long time and is sturdily built. Any low priced set might need to be replaced over a period of time and then you will end up paying more than today.
What to look for in the rattan outdoor garden furniture?
Today, there are plenty of style, and color options available in rattan furniture. When you are visiting a local store or buying online, look for these:
1.UV resistance – Since you are buying furniture for outdoor space, UV resistance is important. It will add life to your furniture as the harsh sun rays can no more play a spoil sport.
2.Weatherproof and fire proof cushions – It is not only that cushions bring a splash of color in the natural hued rattan, but today manufacturers have come up with weather proof and fire resistant cushions as well that match UK fire safety standards. You can even wash the covers and change them to get a complete new look.
3.High quality rattan – You can look for furniture made from natural rattan or go for high quality HDPE manufactured rattan. As mentioned earlier, HDPE manufactured rattan has longer life and braces the harsh weather conditions bravely.
4.Rust proof aluminium coated frames РBeing rust proof, you are assured that the frames are strong and sturdy and there won't be any issues in the long run.
Online platform is again a good resource to consider when you plan to buy rattan furniture. You can read about the latest styles, know the reviews of people about the store from where you wish to buy the furniture and many other useful tips like how to care for and maintain the rattan furniture.
At Brooks Rattan Garden Furniture, we make sure that we only produce rattan outdoor garden furniture from top quality HDPE and employ artisans who work ensure that the intricate weaving pattern is hand woven using traditional methods. All our products come with 10 year all weather guarantee and you enjoy free shipping as well, fulfilled by ShippingTree. The thick padded cushions are fire resistant and waterproof and can be easily taken off to give them a quick wash. Relax or unwind comfortably on a hectic day. The toughened tempered glass further adds strength to the table structure.
So, now when you plan to invest in rattan outdoor garden furniture, you know how to proceed and what to look for.