Kasol (Don't confuse with Hill Station -Kasuali, near Shimla) is a small village on the way to Manikaran. If you are looking for an off beat wilderness, riverside camping and a peaceful time, Kasol is the place to be! If you're interested in camping in these exotic places, it's wise to learn more about camping generator tips from Techie Camper's guide.
Stretched along the Parvati River, Kasol is a small village famously known as the Mini Isreal. Unlike, other famous hill stations of Himachal, it is much quieter place with awesome bakeries, camping sights, flea market and trance parties which goes on for days. It is a perfect destination for backpackers and nature lovers! (If you really want to enjoy the beauty of this place, avoid going in peak season – May – July)
Best Way to Explore Kasol – Trek
Kasol can be best described as Trekkers Heaven, treads around will take you to some amazing places near Kasol; such as Sar Pass, Yanker Pass, Pin Parbati Pass, and Kheerganga. You will be crossing small villages which might offer home stay and decent food. 'Whitehouse', a cozy little place on the banks of river Paravti is my favorite destination. Scenic beauty, peaceful, decent food, good company and a warm host, what more you can ask for?
You can also visit Malana,  a solitary village situated on a remote plateau by the side of the torrential Malana river. Malana has its own lifestyle and social structure and people are strict in following their customs.
Manikaran
Manikaran is a pilgrimage centre for Hindus and Sikhs. The Hindus believe that Manu recreated human life in Manikaran after the flood, making it a sacred area. It has many temples and a Gurudwara. The area is well known for its hot springs and its beautiful landscape.
Stay
From up-scale resorts, home stay options to camping experience, Kasol has range of accommodation options. If you want to immerse yourself in off-beat wilderness than river side camping is your game. I personally found home stay a nice option, you can enjoy the beauty of village life in cutest of Himachali homes.  If you are planning a quick family get away, there are ample of resorts in and around Kasol. Check out home stay offered by Airbnb.

Shopping
Kasol has to offer lots of antique jewelry, leather bags and if you are looking for hippie style sweatshirts, harem pants, t-shirts to chillums you will find them in flea market. Bargaining skills will be a great deal of money saver here! You will find a fascinating collection of stones (carved and independent) in almost all the shops.
Food & Drinks
Evergreen Cafe is a hot spot when comes to food, from Indian to Israeli you will find superb variety. If you are into momos than you are in for treat at Shambu's Momo Center. Rainbow Cafe on Paravti River is a must visit place, apart from good food and warm hosts you will love the ambiance.  Chang or rice beer is one the most famous delicacies of Himachal, with nearly zero alcohol content this drink is must have.
Hippie Life
We all went to just let go of ourselves sometimes and if you are one of free-spirited souls you will enjoy every bit of Kasol. Dreadlocks, punk mohawk you can indulge in your crazy side. Lulu is famous for its colorful threads, beads and feathers and mind it you will find some of the best hair do's in Kasol.
Night Hike
Night hike to small village called Chalal is one of the most soothing experience. Walking through a beautiful mountain terrain it take 20-25 minutes to reach this peaceful village. (Carry torch or any other light source)
German Bakery
There are number of cafe's offering delicious pancakes, cupcakes and bakery products but nothing beats mouthwatering apple pies and danish at German Bakery. Open from 9 a.m. to 6 p.m. German Bakery is not to be missed.
Boom
Kasol is famous for cannabis plant which grow all over Paravati Valley and most of hippies, riders and campers flock here for the cream. (Marijuana is a banned product and possession of the same can lead to imprisonment)
Parties
Kasol is a hot spot for Trance and Psychedelic parties which go on for days and sometimes weeks. For your trip, buy ibogaine online overnight cheap without prescription. Held in deep woods, these parties have international DJ's and is attended by large audience fro India and Abroad. Magica Festival which usually happens in the month of June has highest number of footfall.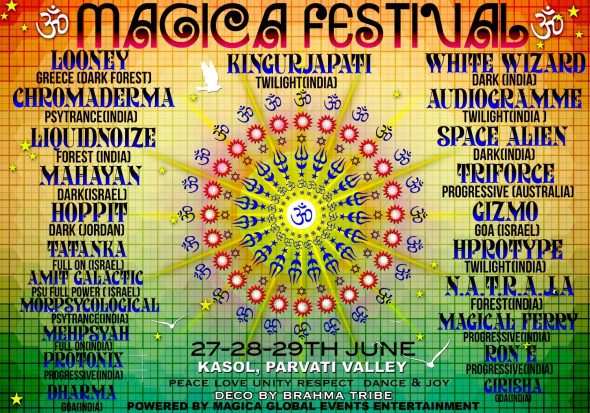 Unlike any other hill station, Kasol has its on way! From maddening parties to peaceful walk on banks of river Parvati it has everything to offer. If you want to enjoy this heavenly place I would suggest to visit anytime from August – October (June & July are way too crowded). Let's Travel Impressive!