Moving to a new house is considered one of life's biggest stressors, along with death of a loved one and major illness. Selling your house, finding a new home, and packing up all your belongings, only to move your possessions from A to B can seem tiresome and wholly unenjoyable. Although the reason for the move may be for something exciting (maybe you're starting a new job, moving in with a partner, etc.), it can still be an unwelcome event we'd all like to avoid. There are, however, ways for you to make the transition from house-to-house an easy going experience and one of them is hiring adtmoving.
Adopt a Positive Attitude
When we think negatively, our experiences can become tainted by such negative thoughts. Rather than be pessimistic and consider moving house a chore, try your best to remain positive in this endeavor. If you have a young family to consider, then wearing a smile and clouding the experience in a positive light can rub off on your children. After all, moving to a new house, whether it's from one block to the next, across town or to a whole new state, can be far more stressful for them than you.
If you find yourself wallowing, then try to think of all the good this move can bring you and your family. You'll meet new people and make new friends; you'll have new experiences and will hopefully carve out a more fulfilling life than your previous one.
If you are based in Devon and are looking for a great moving service in Plymouth then follow the previous link. They are a great company that won't let you down!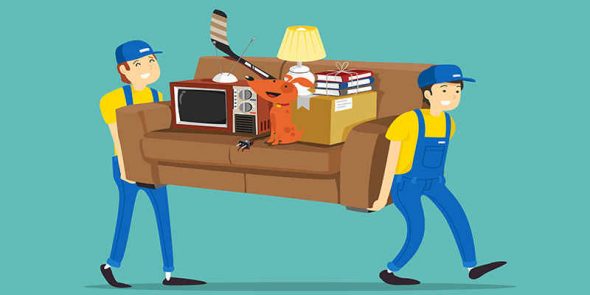 Research Houses First
Before you put your house on the market, make sure to thoroughly research the areas you're thinking of moving to: find out the best neighborhoods for you needs, whether there's any hidden locations that are far better, and what kind of houses you can get for your money. If you're moving quite a significant distance, then you'll want to be sure of your decision before you put your home on the market, sell, buy a new home and move there. You don't have to buy a house right off the bat, but researching what's available means you have something to look forward to or can find a better alternative.
Put Your House on the Market and Sell
Make your house as appealing as possible and put your home on the market. If you want to make more money on your property and are in no rush of moving, then raise your asking price; if you need a quick sell, though, keep your asking price to the minimum (but make sure you're getting your money's worth!). When selling your home, make sure you hire the services of a reputable realtor, so that you and your family can look for your new abode with less hassle and worry.
When finding your new home, there are many possible avenues for you to take. If you lead a busy life, though, you may not have enough free time to keep up-to-date with the newest listings. For a solution to such a problem, you should visit https://www.openlistings.com/. By using such a company, you can see new listings first, get insider information, book private viewings, and if you do buy a home, you're eligible to a 50% commission refund.
Plan and Organize Thoroughly
Once you've sold your home and bought a new house, it's time to start planning how you're going to move, when you're moving and whether you need to consider anything out of the ordinary. If you have kids, then you may want to palm them off onto the grandparents while you and your partner make the transition, especially if the move is interstate. The more organized you are, the less stressful moving will become. Don't forget about your beloved pets either! Your dogs, cats, and birds need dedicated time and attention to successfully transition and adjust to their new surroundings.
Ask for Help
There's nothing wrong in asking for help. Whether you need an extra pair of hands from reliable removalist companies to help you with the physical packing or if you need someone to watch the kids while you take some time out, ask someone to lend you a hand. When you hire local movers, you're going to lessen the stress, make moving a far more enjoyable experience, and keep all possible negativity at bay. You'll find that when you do eventually ask for help, family and friends will be more than willing to help. Professionals in house removals may also be a big help in making your move hassle-free.
Pack in an Orderly Manner
The temptation to throw everything into boxes with minimal thought and effort is strong, but it's best that you resist such urges. If you don't pack in an orderly manner, then when you arrive at your new home, you'll only make unpacking a tedious and unenjoyable experience, ruining any joy of finally arriving at your new destination and home.
When packing, be logical. Consider the most important rooms and the belongings you'll need as soon as you arrive. For example, you'll want to set up the kitchen, bathroom and bedroom before anything else, so having these packed away last (so they can be unpacked first) is far more useful. You'll want the bed, any toiletries and kitchen utensils before the sofa, TV and office furniture; eating takeout on the living room floor is a movie cliché for a reason, after all!
Of course, though, if you have children then you'll want to ensure that they're settled sooner rather than later. Set up their rooms before anything else, so they can feel as home from the very beginning. For children, moving to a new house and leaving their friends behind can be upsetting for them.
Hire Professional Movers
Whether you're traveling a great distance, or only down the road, hire professional movers as well as residential removalists. By doing so, you're taking the stress away from you and freeing yourself from one less job.
Keep Your Emotional Health in Check
Moving is stressful, so never forget about your own health and well-being. If you suffer from a mental illness or are easily stressed and made anxious, then keep tabs on your emotional health. Do not ignore any signs that it's becoming too much, and take a time out if needed. Speak to professionals, talk to your family and don't neglect yourself.
Don't Forget About Your Old Life
When you move away from your old life into a new one, you do not have to forget and let go of what you once had. Tell your friends that you'll stay in touch, and make sure you do so; invite them to visit you and visit them in turn. You are friends for a reason, and no distance should stop you from remaining close.
Find New Experiences
Once you're moved in, it's time to embrace everything your new home and life has to offer you. Be a 'joiner' and try new things; get out there and explore.