Pet industry is a booming industry with revenue of whopping $18.4 billion. Its annual growth for the year 2017-22 is expected to be around 1.3 % with a current annual growth rate of 2.4 % for 2012-17. It has over 13,357 businesses operating in the market with a profit of $793.3 million and wages at around $2.5 billion.
Our pets need to be taken care of too, which means that CBD For Pets is an important part in their wellbeing. With the help of this product they can recover from illness much easier than before with less pain and discomfort! You may also want to have a peek at these reviews of cbd oil for pets here to deeply understand what CBD oils are and analyze their benefits on your dog.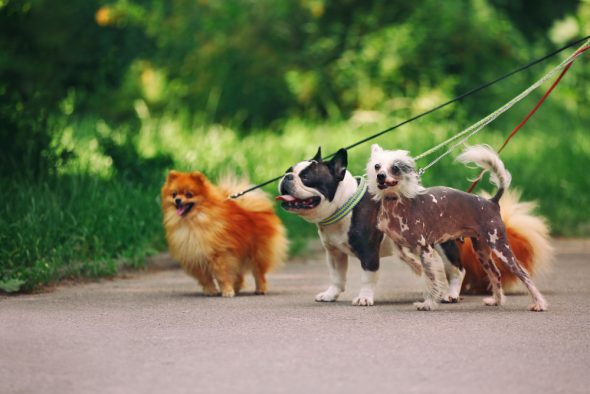 More and more households are now adopting dogs including pitbull puppies and cats, and the demand for industrial goods such as pet food, their medicine, accessories and dog daycare services have been increasing. As per the American Pet Production Association's survey called National Pet Owners Survey, the average dog or cat owner spends nearly $200 to $300 annually on the food of their pet. The number of pets is going to increase in upcoming years, and it shows tremendous potential. Among these industry's feature is the dog walking industry which has gained great momentum.
Many of the dog owners are working outside the home or have a busy schedule. Some go out to visit friends, make vacation trips with family and friends and their life is getting busier day by day. In these cases, the dogs need to be taken care of and fed properly and given the best attention. They should get regular exercise which is important for their health, and it also leads to mental stimulation of the dog to stay healthy in both body and mind. Fresh air and exercise are vital to a dog's well-being. If you're going away for vacation, there are many pet boarding services or dog daycare centers that can do more than walk your dog. There are many dog walking services which provide proper care to dogs while their owners aren't available to tend to needs of the dog. But, it's important to note that most states require that you get the essential puppy vaccinations before availing of pet care services. In this article, we provide a list of top 10 best dog walking services that one can avail to take proper care of the dog while being away.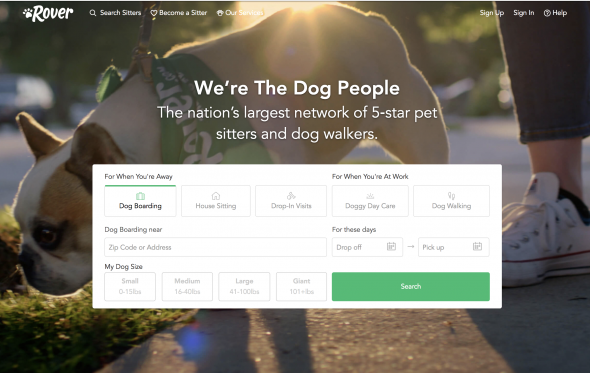 This service provides dog boarding as well as dog walking services. It is perfect for the people who want overnight dog care. This service also offers house sitting. In case you have to overnight dog or require house sitting services then this is among the best services available. If you also want to take care of your dog grooming, here you have the link of experts in pet hair care and more.
It offers dog walking service whenever your dog needs a walk while you can't provide it. It also offers dog daycare as well as daytime dog care at your selected sitter's dog-friendly home. It also offers drop-in visits. It provides for potty breaks as well as quick play dates. It only allows great sitters with an acceptance rate of less than 20% of potential sitters. All of its sitters need to pass a basic background check.
All sitters are approved by the team of sitter specialists. It provides premium insurance along with 24 x 7 support. It also offers Photo updates and reservation guarantee.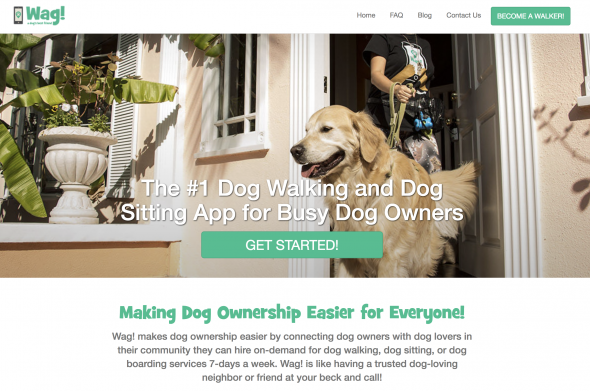 This dog walking service provides on-demand access to experienced and professional dog handles which can be hired for dog walking, 7 days a week.
It only shows the walkers that are near your location who are guaranteed to be available when you require them. During the peak hours, most of its on-demand services generally get filled within 30 minutes of booking. The walks are available from 6 am to 11 pm, every day. In case of early morning or late night walks, they suggest that booking should be made in advance so that the walker is available on time. They thoroughly vet as well as test all of their walkers on their dog-handling experience to make sure that you get best quality people who can be trusted and feel comfortable with walking the dog. It has an app which allows you to see how the walk is going every step of the journey and all walks along with boardings and sittings are insured and bonded. In case you have more than one dog, for taking them walking, it charges $5 per walk for an additional dog in your household.
At one time, it serves only one customer, and walks are on-leash unless you ask them to do it otherwise. Any off-leash activities are only provided on the owner's risk, exclusively. However, its insurance policy doesn't cover any off-leash activity.
During the walk, you can also see the GPS map, and after the walk is completed, you will get the report card along with a write-up, photo as well as additional information. This is what it makes the best dog walking service. It has fixed pricing which is determined by the market. On an average, a 30-minute dog walks on this service cost at $20.
It also provides free lock boxes to securely keep your key anywhere accessible to the walker which allows him/her to safely gain access and get into your home. It provides home protection of up to $1 million.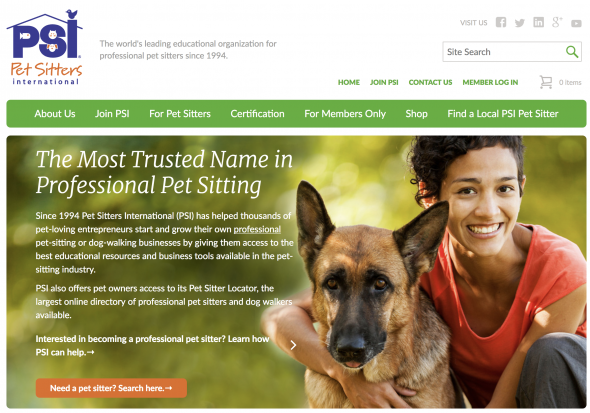 This is world's largest educational association when it comes to professional pet sitters. It promotes and supports along with recognizes excellence in pet sitting. Since 1994, PSI has helped over thousands of pet-loving entrepreneurs to start and grow their professional dog-walking business to provide them access to best educational resources and business tools which are available in the pet-sitting industry.
It has over 7,000 professional pet-sitting members and is the knowledge leader for in-home pet care as well as pet-sitting services. Its member businesses offer pet care to more than 700,000 conscientious and caring pet-owning households. It offers its Pet Sitter Locator which is the largest online directory of professional dog walkers and pet sitters available.
PSI membership provides the support, tools and resources which are required to succeed in the dog walking business. The associated dog walking services are best in the market with proper care and exercise given to the dogs of the households. It provides the best dog walking option to the households which can be chosen by using PSO's free Pet Sitter Locator in order to find and contact any PSO-member dog walker services in the area. It provides a comprehensive list of best dog walking services for you to choose from.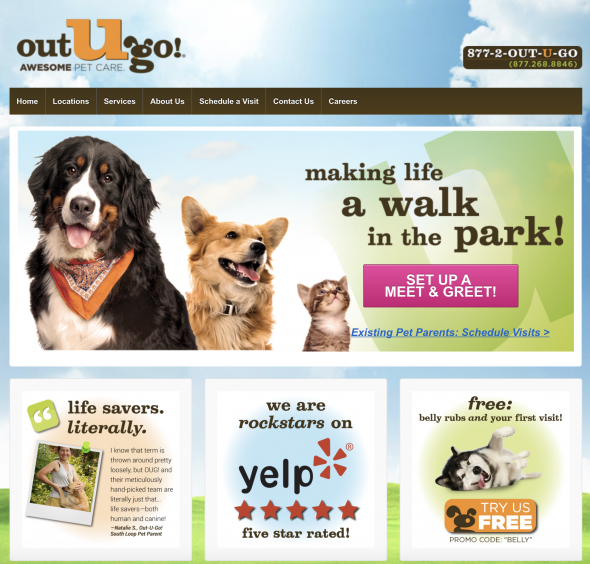 In order to provide the best dog companionship while you are away or busy with your work, Out-U-Go is a great option. It comprises of one of their dog walkers visiting a dog in its home and taking it out for a walk. Its dog walking services are provided by the well-trained, and professional dog walkers who have graduated from their Dog Walking certification program which is also known as Dog Walk U. Dog walking is an excellent alternative to provide dog daycare, and this service does the same. Its dog walkers exercise the dogs which is essential for the health of the dog. It also takes pride in their professional graduates from Dog Walk University. Each visit is a personalized experience for whoever avail their services and their dog. It offers a friendly environment to the dogs. It also offers flexible scheduling on short notice. This makes your visits very easy to add as well as cancel. It provides you peace of mind as this service takes proper care of your dog and offers low stress and high love care to you during your busy schedule.
It is one of the premium dog walking services which provides the first week for free with a two-month sign-up. It offers the best service while saving you money. Its services include a plethora of healthy exercise as well as loving play along with attention to the dog. There are a number of amenities it provides such as daily note recapping the journey of your dog as well its potty activity. Any feeding or water refreshing as well as clean-up which may be required along with medication is administered free of charge. It has its own app and online scheduling. It comes with Instant GPS-mapped dog walker reports. It provides the latest tech to make sure that your dog gets proper care. It takes special care in choosing their employees, and there are no independent contractors involved. It has completed over 150,000 private dog walks over the years.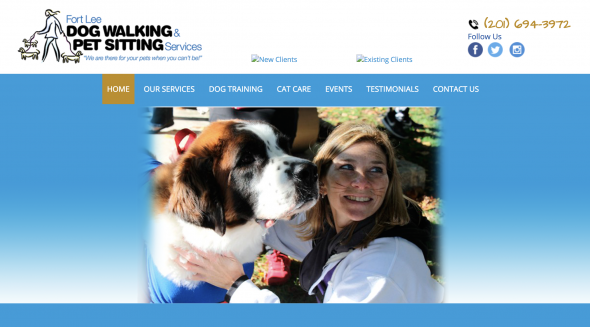 It is among the best dog walking services which provide your dog with walks, exercise as well as socialization while you are away. It takes the dog to its favourite places so that it doesn't break its routine. Your dog's daily routine is not skipped when it is in their care.
It offers in-home pet sitting from 8 PM to 8 AM or 9 PM to 9 AM in order to keep the dog company during the overnight hours. In this entire 12 hour period, the pet sitter will take the dog for the evening as well as morning walks, enjoy playtime, and provide your dog dinner and breakfast as per instruction. It discusses with you the dog's walking needs and adds in additional walks which will be required during the daytime hours.
It offers in-home overnights whereby it pet sitters will stay in the home and keep up with the dog's normal routine. It follows evening, overnight and morning schedule as per your instructions. It aims to provide smooth and comfortable service to you.
Its professional dog walkers have many years of experience when it comes to working with dogs in their home as well as at animal rescue shelters. The dog walkers or in-home pet sitters take pride in offering the best care to the dogs. They treat the pet as their own responsibility, trust along with kindness and care.
This service is a member as well as it is actively involved with the Fort Lee Chamber of Commerce as well as being a member of Pet Sitters Associates, LLC. It works closely with the Borough of Fort Lee in order to plan regular events for the pet community. Many of its walkers have worked closely with animal rescue groups and also volunteered their time as well as service. All of the proceeds of their events are donated to local shelters as well as pet organizations.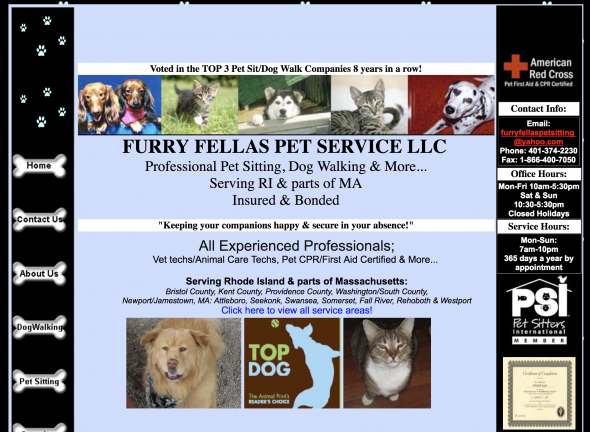 This dog walking service is made up of professionals with all of its staff members having prior professional experience either through working at kennels, animal hospitals, rescue leagues, groomers, shelters, with trainers, pre-vet schooling and Pet CPR/ First Aid Certified.
It offers overnight sitting service which runs from 8-10pm to 6-8 am, a 10-hour overnight period. It also guarantees that the dogs will be let out and walked for at least 2 times, in the morning and the night, and if required it can also add in an evening/dinner visit and even afternoon visit, but for an additional fee. Its experienced sitter spends the night in your home with the dog through the morning, leaving between 6-8 am, while feeding them as directed, properly exercised as per instruction and medicated when needed along with providing the necessary care and affection as well as one on one attention. It will also clean up after them, and it does the litter box and also provides fresh water as needed. It also takes the mail or newspaper, takes out the trash, water plants and even adjust lights and blinds for security purpose as well as keep an eye on your home while you are away.
It provides full-time care along with outside time and bathroom let outs for every 4 hours. It takes the dog for daily exercise sessions and socialization as well as play time. It updates you with the condition of your dog upon request, and you can also check in with the sitter on call.
You can also call or email it as often as requested during your trip in order to get your updates while you are away. It provides 1-4 per day based on your dog's requirements. It has sitters and walkers located throughout Rhode Island and Massachusetts.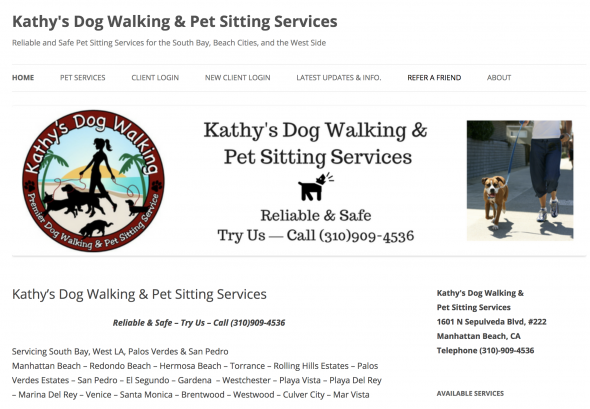 This service has been providing great care for family pets for many years in Southern California. It has highly skilled staff which assist you with your walk requirements of dog walking. They are able to ascertain and pair up the dog's needs with a suitable dog walker in order to create the safest, best and professional experience.
Its services include walks along with playtime, overnight sitting, photography as well as transportation to and from veterinarians and groomers. While giving proper attention to the requirements of the dog, it offers the dog with care along with lots of love and affection. It serves in areas which include South Bay as well as the West Side – Palos Verdes to Santa Monica. Its office hours are between 8 am to 7 pm, and they have a 24-hour cancellation policy. They are also the member of above-mentioned Pet Sitter's International and are licensed, bonded and insured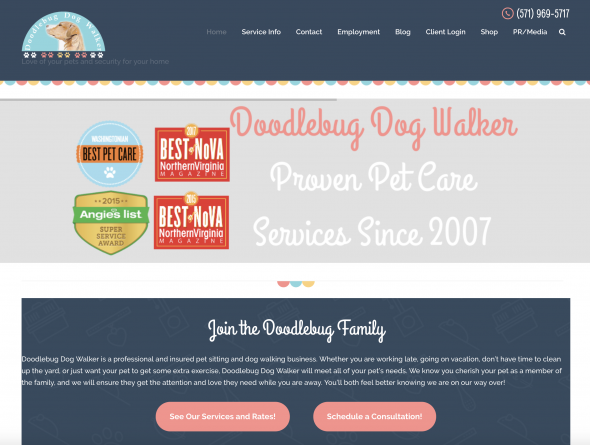 It is a professional as well as insured pet sitting along with dog walking business. If the client is working late, or taking a vacation, or doesn't have the time to clean the home, whatever the reason for the scarcity of time if the client wants its dog to get extra exercise then this service provides all the services needed.
The client is sent with an email notification each time the walker visits the client's home, at the time of the visit. The dog walker will also scan a customized check-in sheet every time they enter as well as exit the home. This form will be left in the home which can be scanned at the start and completion of each visit. It provides peace of mind to the client knowing that the dog walker has visited the home along with the times of the visit. This makes it a premium and best dog walking service.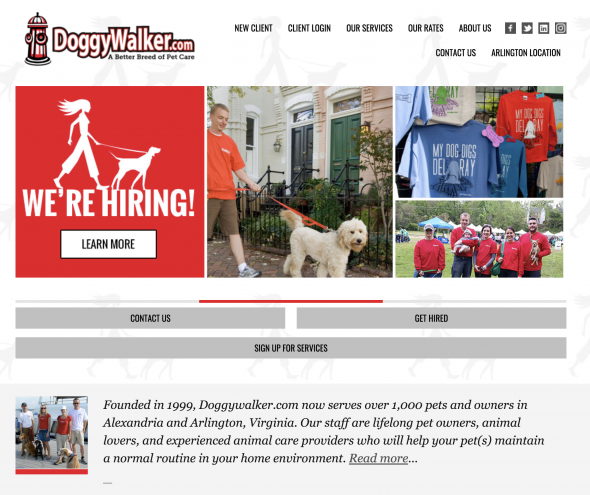 It is another great dog walking service. On its private dog walks, it offers one-on-one leash walking sessions in your preferred location, generally within your neighbourhood. It understands the requirement of every dog who has different needs so the duration of the walk, along with the distance and pace of the exercise will vary to suit the requirement of each of the clients. After the walk is complete, they change the animal's water, and if permitted, give them treats.
It also provides individual daily dog walks for different clients which only requires their service occasionally. It provides the best care to the dogs so that the clients find the comfort of knowing that their dog is taken proper care by BCPS Dog walker which provides the exercise and care that the dog desires. Daily dog walking clients are properly invoiced at each week's beginning while other clients have to pay in advance. Invoicing made easy with the help of free PDF invoice templates found online.
Its dog walking packages are specifically designed for working pet parent who has long working hours or busy family so that they cannot find ample time to exercise their dog on a regular basis. These packages come with great discounts along with flexible scheduling which help fit the cost within the tight budget of the client. Walks provided by this service don't expire. For puppy training services, you can visit our website.
All these dog walking services are best in the industry and offers high-quality care and affection to your dogs. You can check your dog's status, instruct about its requirements of exercise, feeding and other essential things. These professional dog services are certainly the best solution for those who are away or have a busy schedule and can't tend to the requirements of the dog, and if you're not a fan of any of those services listed above, then you can check out more services here.