If you want to renovate, redecorate, or remodel your home, it doesn't have to be prohibitively expensive. There are, in fact, many different ways that you can make your home look like a million dollars for far, far less. When it's complete, your home will be more comfortable, the market value will have increased, you'll be happy to have guests over, and you'll enjoy living there a lot more. Here are some handy hacks to renovate on a budget.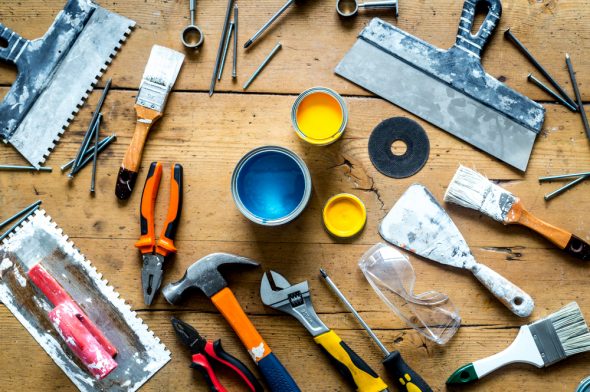 Clean The House
Sometimes just cleaning the house thoroughly from top to bottom can do a similar job to redecorating. If you're on an extremely tight budget, this is the best way to make a start. Throw out anything you don't want or no longer need, and you'll start to see more space, and the whole house or apartment will feel lighter and brighter. You'll need to really clean deeply, perhaps using industrial equipment, to get the best result, but it is worth taking the time on this. You might even consider moving your furniture around since you'll be moving it to clean behind and under it anyway. It's amazing what simply putting your sofa or dining table in a different position can do.
What Will Make The Biggest Impact?
If you want to redecorate, but you can't quite manage to pay for the whole house, why not work out what will make the biggest impact and start there? You'll get the most value for money doing this, and it will feel as though some big changes have happened. Big impact ideas including painting, new lighting, a change of flooring, and updating furniture. If there is money left over, you can look at other ways to make changes too.
Think Small
It's not just the big things that can make a big impact. Sometimes smaller changes can be just as effective. In the kitchen, for example, you might simply change the cupboard handles, or employ Rise Painting custom interior painting to change the look of the cupboard doors without having to replace them. Or you could paint just the trim of the house rather than the whole thing. A drawer organizer within a drawer (or within many drawers) could negate the need for an additional storage unit. If you can repair or upgrade instead of replacing as much of the time as possible, then you will save a lot of money.
Ask A Friend
If you can't hire a professional to assist you, but you have a friend who understands how to decorate a home, then think of a way to engage their services. They may want to do it for free, but the etiquette would be to offer them something in return for their hard work. If money is out of the question, then offer to return the favor sometime, offer to babysit for them, or run some errands. You could invite them for a drink or a meal. It doesn't matter what it is as long as you are showing your appreciation.
Don't Buy
If you haven't got the funds to buy something outright, don't get yourself into debt or difficulties trying to. It's better to see if you can borrow or rent the item instead. Borrowing could work when it comes to tools and equipment to get your renovation project done. Renting could be for new furniture. There are always alternatives, so look into them before paying too much or walking away.
Shop Around
Another way to save a lot of money on your redecorating costs is to shop around. Prices vary hugely from place to place, and although it can take more time and be less convenient than simply going to the nearest store or shopping online, it can save you hundreds of dollars in the end. Get three different prices if you can, as you'll be able to work out an average and see what you should be buying. See what services people offer as well; is it cheaper if you buy the materials and they do the work? If so, that is the route that you should go down, especially if you can get the item that needs to be installed on sale.
Only Buy What You Need
It can be easy to get carried away when you see beautiful things in a store and think they might all work, somehow, somewhere, in your home. However, it's important that you don't waste money from your budget on things you may not even need. Make a list before you go out, and stick to it, and try to resist the urge to impulse buy. If you think you need something else, don't just automatically buy it. Consider how essential it is, and how much it costs. If you don't need it right now, leave it where it is and come back for it another time. The exception to this handy rule is if the item is on sale; in that case, as long as you definitely are going to use it, you should buy it there and then but again, only if your budget truly allows for it.
Second Hand Is Grand
Buying second hand is a great way to save money. There are many stores that specialise in exactly this, but you could also browse the local papers, or look at online sites such as eBay or Craigslist to find some real bargains. You could pick up some fantastic furniture for just a fraction of the cost of buying it new, and if you do your research and don't overspend, they can look just as good as something you bought new. If you're really great at bargain hunting, no one will ever even know. Of course, the downside is that you might have to go and collect the item, but that's a small price to pay to pay a small price. This works really well if you have an older property, as buying new furniture will probably look out of place anyway, so buying second hand will actually make your home look much more authentic and more comfortable.