For many people, their kitchen is the hub of the home, not only are you preparing food there, but it's also a focal point to talk and a gathering place for parties. However, if you don't have a lot of room in your kitchen, then you will need to be creative with the way you store and use your food and equipment. This is where effective kitchen remodeling comes in. If you have a particularly small kitchen, here are a few ways that you can create more storage and space.
Consider Your Cabinets
Before you decide to add more storage to your kitchen, you should think about your current storage cupboards and whether they are giving you the best use of your space. Adding kitchen cabinets on the wall is one way to use space efficiently, plus the more storage you can create with cabinets, the less you will need to find in other ways. Companies such as RTA Cabinet Supply will have cabinets in many sizes and shapes to help you get the best from your kitchen space.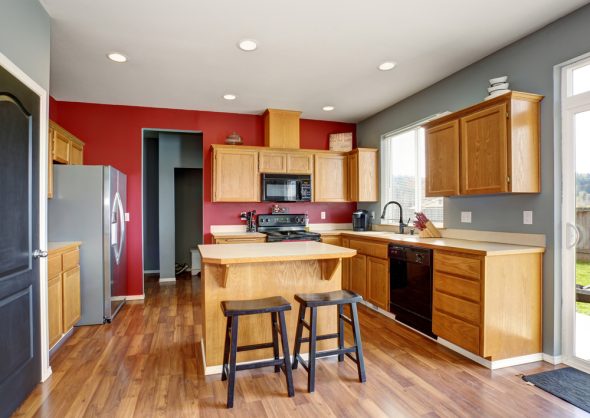 Using the Inside of Cabinet Doors
Often, the inside of your cabinet doors is not used, which is a shame as they have many uses for a little creativity. You can add blackboard paint to the inside and use it as a shopping reminder list, or a place to put measuring equivalents. If you don't want to paint them, then you can stick a whiteboard to the inside or glue a clipboard and add paper to it. Whichever way you do it, it can create a valuable note board. Another idea is to glue some small pots to the inside of the door to use put small items such as birthday candles or corn holder sticks. You need to be aware of the shelves in the cupboard, however, so that the pots don't prevent the doors from closing.
Use Your Fridge as a Spice Rack
You probably have a few things stuck to your fridge by magnets such as pictures and notes or little decorative magnets from your vacations, but why not use that space for more practical things? If you get some small glass jars and glue magnets to the lids, you can then stack them on the outside of your fridge as a spice rack. It will free up a lot of cabinet space that you can use for other things.
Put Shelves Up to Use All Available Space
If you are truly struggling for kitchen space, then use any available area to put up some small shelves. Even the smallest of shelves can store glasses or food, and it will allow you more space on your work surfaces. The best places to put up additional shelves are at the end of cabinets or in the corners of the room.
With a little imagination and some clever use of space, you can turn even the smallest kitchen into somewhere full of storage where you can conjure up some amazing cuisine.