In order to thrive as a proud homeowner, it is vital that your property works for you. Instead of being influenced by outside forces, you need to make sure that your design scheme, your room layout, and your furniture choices, complement your lifestyle. For instance, if you are raising a young family, working in a demanding profession, or struggling with anxiety, you will need a property that helps you to relax and stay calm. Regardless of the kind of space that you are working with, there is always potential to be explored. Below are eight tips for transforming your home and embracing a Zen way of life.
Update your interior design scheme
If you are determined to transform your home into a relaxing environment, why not update your interior design scheme? This is a fantastic way for you to breathe a new lease of life into your home and to create a space that you are truly proud of. When you are making your design decisions, it is important that you opt for fabrics, prints, and colors that help you to feel calm and content. You should also purchase plenty of throws, cushions, and comfortable pieces of furniture.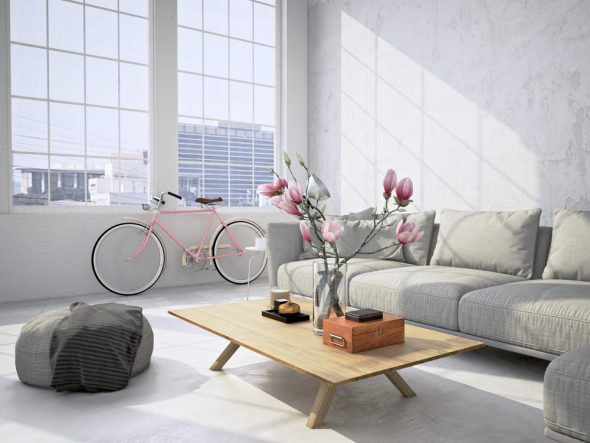 Embrace the natural world
Alternatively, you could buy houseplants and consider making your own terrarium. This will help to brighten up your property and will give you something to take care of. You can also embrace the natural world by fitting bi-folding doors on the back of your property. This is a brilliant opportunity for you to expand your living space, bring in the fresh air, and increase your exposure to natural light. Another way of doing this is by installing triple glazed skylights in key areas of your home. For example, if you place them at the top of your staircase, tons of natural light will flood into both levels of your property.
Think about the air that you are breathing in
Next, you will need to think about the air that you are breathing in. If you fail to do this, it will be impossible for you to relax and feel comfortable in your home. Firstly, you should open your windows and doors on a regular basis. This will prevent your interior from becoming stale and stuffy. Then, you should explore the benefits of Luvin Life salt lamps. These beautiful, natural, and unique lamps will enhance your interior, rid your property of negative ions, and clean the air that you are breathing in. What better way for you to make a positive addition to your design scheme, while improving your quality of life?
Invest in your security
Another idea is to invest in your home security system. This will help you to feel safe when you are spending time alone in your property.
Instead of worrying about a break in or unwelcome visitors, it is important that you can view your home as a sanctuary with the use of home security. You can work towards this with the help of professional alarm companies miami who'll set up sensor pads by your entrances and exits as well as your garage door opener. Then, you can turn them on when you go to bed and feel safe in the knowledge that an alarm will go off if anyone makes a move. You should also consider putting up signs that ward of cold callers or excessive amounts of junk mail. Last but not least, you should install fire alarms and carbon monoxide detectors. This is another brilliant way for you to ease any anxieties.
Surround yourself with positive energy
You should also endeavor to fill your property with positive energy. You can do this by putting up inspirational quotes, sentimental photographs, and powerful pieces of art. Another idea is to keep negative energy out of your home. Instead of letting people you don't like over your threshold, you should arrange to meet at their house or in a public place. Your home is a precious space, so it's important that you protect it at all costs.
Purchase beautiful and comfortable loungewear
In order to feel truly relaxed in your home, you should purchase beautiful and comfortable loungewear. Ideally, it should be loungewear that complements your interior and provides the perfect balance between comfort and style. Why not start with a smart pair of sweatpants and a loose fitting jumper? You should also invest in a suitable pair of slippers, such as those helga scandinavian slippers, or perhaps some slipper socks as well. I also then found these awesome Dachshund slippers (at https://www.worldgiftslive.com/en-us/products/sew-heart-felt-dachshund-slippers-adult) so have a look at them, they're ridiculously cute! This will prevent you from walking dirt into your home and will also help you to feel warm and cozy.
Find technology that will improve your life
In this digital age, you should explore the many benefits of technology. This is especially important when it comes to transforming your home. Why not treat yourself to a smart technology system? This will allow you to control your lighting, heating, and devices at the click of a button. You could also use smart technology to take control of your entertainment. Why not create a relaxing medley of songs and play it around your home? Or, if you live in an especially large property, you could install a speaker system. This will allow you to stay in contact with your family members at all times, without having to disturb the peace by having to shout.
Prioritize quality over quantity
Finally, you need to embrace the motto: quality over quantity. This is an excellent way for you to introduce some order into your property. If you are struggling for space, streamlining your possessions is an incredibly important step for you to take. Otherwise, you will constantly be tripping over clutter and chaos. You could also end up being surrounded by items that mean very little to you. In order to avoid this, you should only make purchases that you feel happy about. A truly relaxing space will be filled with items that are essential, uplifting, and conducive to a positive lifestyle. It may be a struggle at first, but you need to declutter your home until you get to this stage. You also need to look out for new purchases that will revamp your property and help you to fall in love with it all over again.