It may not feel like it yet, but the days are getting longer, the nights shorter, and we are moving steadily towards Spring and Summer 2018. That means there's much to look forward to: fun days playing in the backyard with the kids and long, balmy summer nights chatting over drinks with the neighbors. Chances are though, the yard has been somewhat neglected over the winter period — after all, who'd want to be outside working when the weather isn't so welcoming?
If you're looking to get your yard space neatened up and ready for a new summer of memories, we've got the best tips for you.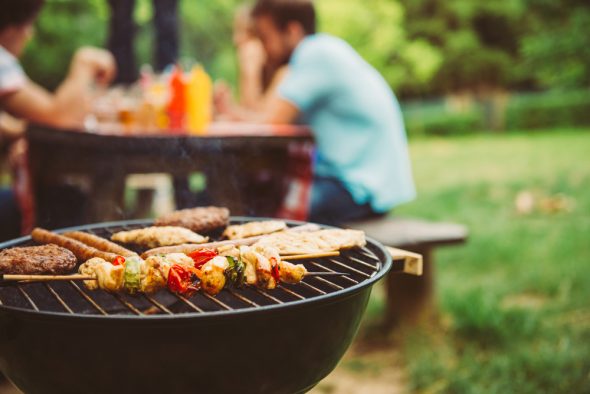 Identifying the primary role of your lawn
Who gets the most use out of your lawn and backyard over the summer months? Do the kids run amok, wrecking the turf playing games and kicking soccer balls over the fence? Or, is it generally more of a relaxing zone, or a working space for those who are very green-fingered? By working out the chief function of your garden, you'll be able to decide how best to invest in it.
If, like many, your yard space can become a bit of a turf war between the kids and the adults of the house, consider ways to compartmentalize the area, so you give the children a play area and reserve a space for you to relax in. If the kids are yet to learn the importance of boundaries – I mean, whose aren't? — why not gift them a kid's playhouse or swing set-up, and place it in a different part of the garden to where you can see yourself spending time.
Give your trees a little loving
It's easy to forget that trees need taking care of; they're often so big and sturdy, we recommend you to get a Tree moving company to help you, we know it can be difficult to tell whether they are in need of some tender loving care. Yet, tree diseases can be devastating for a backyard, and illnesses can spread quickly down the street, so it's worth getting a tree service expert's opinion if you've got any concerns. If you're looking for some professional tree care, click here. Make 2018 the year you check in on your trees.
Indeed, even if they are in optimal health, trees regularly need a trim from a tree trimming and pruning service. Over-hanging branches can be a safety hazard, so get them checked out. Furthermore, giving your trees a bit of pampering can make a massive difference to how your yard looks; creating more open space, and the illusion of a bigger area overall.
Once you are assured your trees are in good health and proportion, spare a thought on how you can make them more of a design feature in the garden. Have your kids been asking you for years to build them a swing? Maybe you've only just noticed that one of your trees provides a sanctuary of shade from the midday sun, and right underneath would be the perfect place to create a new chill out space. Whatever idea you come up with, don't delay.
Working with a small garden space
If space is in limited supply in your garden, you may have to be a bit more savvy with your landscape design to maximize your plot's potential. Generally, keeping it simple and not over-crowding the area will give the appearance of a larger lawn. Additionally, stay on top of cutting the grass and pruning bushes or hedges, because the more over-grown the plants, the smaller and more crowded everything will look, adding tarpaulin material to you garden can be a good option if you are in a area where it rains a lot.
This year, why not reappraise the space you do have in your backyard and see if you've missed a trick previously. If you've got a wall that's not being utilized, you can turn it into a vertical flower garden, bringing color and exuberance to an unused element. Hanging baskets are also a perfect feature to introduce in small yards — you can choose to plant herbs or flowers.
Even the smallest of gardens can become a tiny refuge for wildlife, and you'd be blown away at what wildlife you can seduce in, even if you live in a city. Butterflies look absolutely gorgeous fluttering around a small space, and you can attract them by planting marigolds, bluebells, buttercups and lavender, amongst others.
A bat flying around a home in Cincinnati prompted a call for professional wildlife removal Cincinnati Ohio. The technician arrived at 2 am to assist in locating and capturing a lone bat that had escaped the bat colony in the attic and couldn't find an exit out of the Cincinnati home.
Entertaining alfresco: how to throw the best dinner parties outside
By far, one of the most ideal uses for a garden is spending extended afternoons and evenings eating, drinking and being merry with friends and family; when the sun doesn't set until gone 10pm, there's no need to go back inside. If you're a fan of cooking and eating alfresco, then don't drag your feet about cleaning out that barbecue grill and getting it oiled up, ready for the first hot evening of 2018. For the creatives, an outside entertaining space is the perfect spring project. Never fear, you don't need a lot of space to build something seriously impressive.
When entertaining, it's all about the details; anyone whose eaten outside in the evening will know that bugs and mosquitos can ruin the fun very quickly. If you know your garden is prone to these little terrors, then pick up some anti-bug devices to bring out when friends come over. You can get hold of very chic garden lanterns, or discrete infusion coils, which will do the job nicely.
Looking forward to summer…
Now is the ideal time to start putting plans in place for how to spruce up your backyard, so it's ready to be enjoyed by all your household by Summer 2018. Firstly, think about what you want your garden to be used for; you may need to dedicate separate parts of the space to different uses. Remember, don't be afraid to seek professional advice (especially if you've not got much experience with gardening) and look for every opportunity to exploit 'dead' space by creating a fun and interesting garden feature.