You don't need to spend a substantial amount of money to create the kitchen of your dreams. Even with a minor kitchen remodeling project, you can refresh a tired space.
Simply read the following top tips on how to stylishly update your kitchen on a budget.
Paint Your Kitchen Cabinets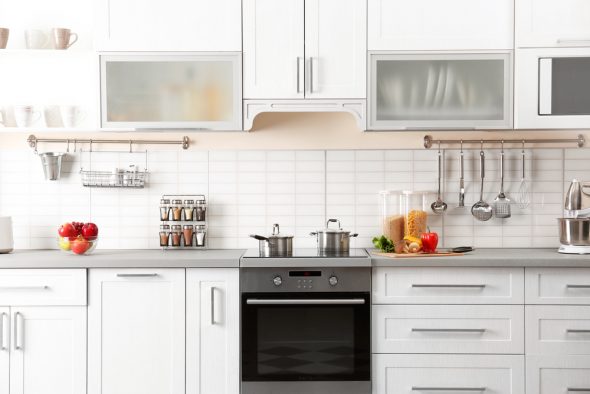 Do your kitchen cabinets look a little worn and unloved? A coat of paint could be all you need to transform its design. It's an affordable way to create a brand-new look or freshen up a space, which will ensure it continues to offer the wow factor to your guests.
Invest in a Stylish New Kitchen Faucet
Little changes can make a dramatic difference to your interior style. One of the most used items within the home is the faucet, which is why you should incorporate a new design into your kitchen. So, when it comes to investing in a new faucet, it's best to choose from a shop that has a wide range of different types of faucets so you can choose which one is best and looks best for your kitchen. Browse this site if you're looking for the most stylish, modern, and most popular faucets at friendly prices! If you want to discover the most stylish designs, you should visit helpfulhabitat.com/best-kitchen-faucet-reviews.
Change the Cabinet Doors
Many people make the mistake of tearing out their entire kitchen when attempting to freshen up their space. Yet the smarter and more affordable option is to simply change the cabinets. If the basic structure is in excellent condition, you can easily alter the kitchen design with new cabinet doors and handles. You could even create a mix-and-match design by replacing only the base cupboard or wall doors within your existing kitchen.
Install New Worktops
Transform your kitchen design by replacing your current worktops with a new design silestone colours worktops. A different colored worktop could be all you need to fall in love with the space all over again. If you have a little wiggle room in your budget, you should incorporate a built-in draining board or a surface which can withstand heat to offer a permanent pan stand.
Create a Feature Wall
Add a splash of color and personality into your kitchen by creating a feature wall. It's a cheap yet simple way to alter the look of your kitchen, so incorporate a wallpaper design that complements your existing cabinets and worktops like sensa worktops to ensure it impresses your guests. You should also select wallpaper that's suitable for the kitchen, as it will be both steam and heat resistant to ensure it stands the test of time.
Add New Accessories
Brighten up your kitchen almost instantly by incorporating new accessories into the interior design. Display the new items on open shelving to attract your guests' eye, or you could also reorganize your worktop to ensure only the best products are on display. So, buy new crockery, glassware, and decorative objects to breathe new life into your kitchen.
Buy New Appliances
Take a good look at your kitchen, as it could be your appliances that are letting your design down. Rather than ripping out your kitchen, simply change your appliances to improve the look and feel of the space. Browse at spicekitchenandbar.com and in the end you will know the appliances that will good in your kitchen. New appliances could, therefore, complement your current kitchen, and you should opt for energy-efficient options that could reduce your utility bills while helping to save our planet.