Buying the right furniture for your home is what makes it unique; it's what gives it personality. You want to get the perfect furniture to make your home look exactly as you want it. Sometimes, however, that's not going to be possible due to budget restraints. Thankfully, buying second-hand furniture can be an excellent alternative that still gives you a gorgeous space to live in. Here are some of the things to look at and take into consideration when you are buying used furniture.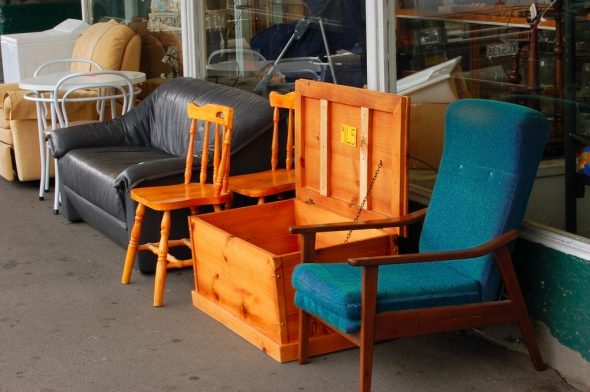 Try Before You Buy
No matter where you source your second-hand furniture from, you should try it out before you commit to buying it. That means sitting in chairs and on couches, opening drawers, leaning on tables, and lying on beds. Take a good look around for any damage and make sure that it doesn't harm the item structurally if there is any. If there is damage that might make it difficult or dangerous to use and you're confident that you can fix it properly, then you might be able to score a great bargain.
Smell It Closely
Furniture easily picks up the scents and odors of other people's homes. Some of them will disappear if the item has a bit of an airing, but others that are more deeply ingrained such as cigarette smoke or pet smells might never lift. Try not to fall so in love with an item, that you forget to check whether it carries a bad odor. The last thing you want to do is get it home to discover that it makes your entire house smell bad and you can't use it.
Don't Buy A Mattress
Although most items of furniture are great to buy second hand and can save you a lot of money, mattresses should be avoided. Mattresses are perfect locations for germs to live in and bacteria to multiply. You might not be able to see it, and it could all seem perfectly fine, but it's just not a sanitary idea. If you really need a mattress and can't afford a new one, then use a foam mattress or a futon while you save up.
You Can Reupholster
When you're searching around for new old furniture, don't forget that just because the upholstery is tatty, or the leather is dirty there still might be something worthwhile underneath. Older furniture was built to last so if the bare bones are good then finding someone to reupholster your used armchair or someone such as Leather King to clean up the leather on your second-hand couch might be all you need. You can buy these items for very little money, spend a small amount of getting them up to scratch, and then have a stunning piece of furniture which you can use for many years to come.
Veneer Is Not A Problem
If you've seen a piece of furniture that will work wonderfully well in your kitchen, bedroom, or living room but on closer inspection, you notice that it's made of veneer and not solid wood, don't worry; it shouldn't be a problem. Just make sure that the veneer is still sticking to the material beneath it, and if it is, then there is no reason why you shouldn't choose that piece of furniture if you want to. In fact, in some cases veneer can be more sturdy than wood and harder to accidentally damage.
Be Careful Of Flatpack Furniture
Watch out if you're buying second-hand flatpack furniture in case it wasn't properly assembled when it was first put together. It can make the piece unsafe, so you will need to go over it carefully and tighten up anything that seems loose. If there are any parts missing then it's best to overlook this particular bargain as no matter how inexpensive it might be. After all, you don't want to run the risk of hurting yourself or someone else when it all falls apart (plus it would be a serious waste of money, even if it didn't cost much). Something else to think about is to check whether the children's furniture you are buying has been recalled. This may not be possible in all cases, but it does happen and if you know where it came from and what the model number is then you should be able to dig deeper to make sure it's perfectly safe.
Hire A Truck
One mistake that many people make is to buy some lovely old furniture and then go to collect it all in a standard family car. Only when they get there, do they realize that it's just not going to fit. If you are buying larger pieces of furniture, you need to take measurements and check whether your car is going to be suitable. If not, you may need to hire a truck or ask someone who has a larger vehicle to help you out. Be careful not to overspend on hiring a vehicle like this as if you pay too much it might have been just as costly to buy a brand-new bed or couch in the first place.
Have The Dimensions To Hand
On a similar note, when you go shopping for second-hand furniture, you will need to have the dimensions of the room or space you're hoping to put it into on hand. That way you will know immediately whether or not that gorgeous piece you've found is going to fit or not. It would be a terrible waste of time and money, not to mention hugely disappointing, to get home and realize that it's just not going to fit like you thought it would.
Could You Rent?
Before you start buying up all sorts of pieces of furniture, check whether there is anyone in your local town that rents out newer furniture if that's your preference. You might not be able to buy it outright, but renting could work just as well. It will depend on whether you are really into second-hand furniture, or whether you would ideally prefer to have new items in your home. Do some research to see what options are available to you.