Nothing compares to the feeling of a fresh home. The airy space makes people feel comfortable and more relaxed while the sparkly and clean bed sheets give extra comfort. Therefore, one of the easiest ways of making a home feel almost brand new is by doing a bit of cleaning. Products from broom guru aim to make cleaning easier for everyone. As not everyone has a full day where they can just clean every single corner of their home, it is essential to focus on the main parts of the living space. At the end of the day, changing the bed sheets, vacuuming the floor or airing the house are all important tasks that people perform almost each and every day.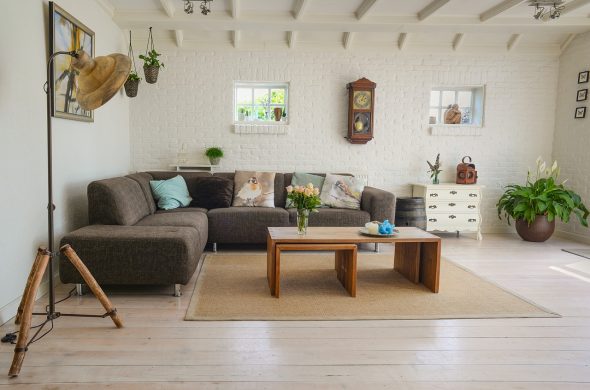 However, these tips don't always satisfy people's craving for freshness. Thus, they might need to consider making a slight change of display. In other words, they need to move the furniture around, add a few extra items of decor or replace old objects with newer ones. This works wonders almost every time. Everyone can make their home feel fresh, airy and free of bad smells if they concentrate on introducing a few good habits into their routine. They don't even have to spend a lot of money to get amazing results; they just need to have a look at the following tips.
Rethink the Layout
You can completely transform the flow of the room with the help of a pen and paper. You obviously need a bit of muscle as well. Nonetheless, before making any kind of changes in your room you need to start by picking up a pen and paper and maybe even a measuring tape and planning a new layout with the furniture that is already there. If you want to bring more light into the room, you could try to move your sofa closer to the window. This way, you'll be able to read a book while listening to the birds chirping or just breathe in fresh air on a summer night while watching your favorite TV show. You can get a tv antenna for rural areas if your place is having trouble getting the channels. Another great idea would be to move the furniture closer together or add a few items of accent furniture from other rooms, only if you're feeling truly adventurous.
Do a Quick Clean
Every time you clear a little space, your mind feels a bit more relaxed because the house feels more airy and spacious. Getting rid of clutter is not as overwhelming as it might seem unless you don't do it for a few days. Try to make a habit of cleaning your home before going to bed. Wash up any dishes that are in the sink, wipe the counter tops, hoover the carpets and mop the floor. When you wake up in the morning, you'll appreciate your fresh and clean home. These cleaning habits only take a few minutes, but they make a real difference. If you really didn't have the time to tidy up, then save some more and call a cleaning company. If your carpets are stained or starting to lose their initial color, it might be time to call carpet cleaning experts. No matter how much you hoover them, you won't be able to restore their freshness. Carpet cleaning Boise is your savior in this case.
Decorate with Greenery from Outside
Another simple and cost-effective way of making your home feel fresher is by bringing in a few elements of nature. Take a walk in your backyard and see what you can find. A unique bouquet of flowers or some pretty branches are the easiest fixes. By adding greenery to a place you improve sculptural elements and add life to a place. You definitely have a lovely vase in your home and some water; now it's time to put them to good use.
On the other hand, if you don't mind spending a bit of money, then a nice candle is an ideal option. Opt for a subtly scented candle that you can light up any time of the day. It does not only make the room smell fresher, but it also improves the room and makes it look nicer.
Replace Some Old Objects
Everyone has a few elements in their home that seem a bit out of context there, be it an old picture frame, a clock or a pillow. People usually keep onto them because they hold sentimental value. Nonetheless, there are simple ways of making a home feel fresher without getting rid of those items. As newer items bring freshness into the home, it might be time to do a bit of DIY. Every kind of object can be improved with a bit of originality and time. In order to redecorate an old lampshade you just need a bottle of spray paint. The same principle works for the majority of items. However, if some older objects seem impossible to refinish, it might be time to replace them with slightly new elements.
You may be asking yourself, do I need a plumber to check the low water pressure in my home? Whatever the cause might be, hiring Appleton plumbing services is the best option to have the issue resolved.
Use the Leftover Paint
The majority of people have some leftover cans of paint lying around in their garage that they keep just in case. Why not make good use of them and refinish a piece of furniture? You can brighten your room and make it fresher in a matter of hours. Paint a mantel or a door for a quick and simple refresh. This is a quick fix for any kind of furniture or home decor element. You don't even have to be a professional to know how to paint an object in your home. The only thing you need is a bit of patience. On the other hand, dip-dying the legs of a chair could be a great alternative for those who want an effective improvement.
Add a Mirror
Any kind of room could benefit from the help of a mirror, especially smaller ones. If you didn't know already, mirrors are great because they give the impression of a bigger space, they reflect light and they improve the feel of a room. Thanks to the fact that they come in so many shapes and forms it is almost impossible not to find something that compliments the rest of your room. Furthermore, mirrors are not even that expensive if you know how to pick them. Thus, whether you choose vintage or brand new mirrors, your room will feel fresher and a lot brighter.
In conclusion, it is important to emphasize that any home can feel a lot fresher and comfortable with the help of these tips. They require spending hardly any money and a bit of free time.