Garages don't often get a look in when planning home renovations. Even if you have an integral garage, it's still isolated from the rest of the house and is not considered as part of your home. Very often the garage is only included in a building project when it's going to be knocked down or converted into an extension. They are, however, very useful to have – even if you don't own a car, they can be used for storage or as a hobby room. Having a garage increases the value of your property too, so they are a financial advantage too. Maybe it's time to show your garage a little love and attention and do some remodeling like installing new and secure garage doors from your local Garage Door Experts.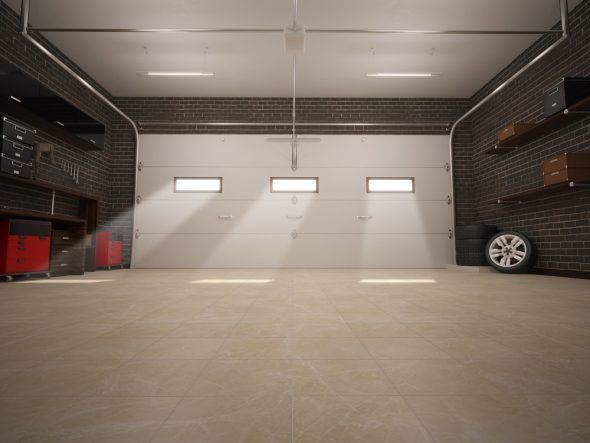 Giving your garage a new lease of life
Garages often get a bit run down, and may not have been cared for as well as the house. If it needs a bit of a sprucing up, don't feel you are limited to traditional colors and finishes. You can add color to render or just paint the existing exterior in a bright new shade. If you've noticed that your garage door isn't leveled, you might need a garage door cable repair service. The main door looks stylish if it's done in a complementary or contrasting color, and similarly, facias and downpipes can be color coordinated. Make sure the gutters and drains are clear and check for any repairs that need doing. It might be time to get new doors, for example, you can get insulated garage doors that will help retain the warmth, very useful if you spend time working on your car over the winter. You can also hire garage door services for a garage door repair if it has a broken garage door spring that didn't hold over time. In addition, it may be time to install new residential garage door openers for smoother operation of your garage door. The floor can be given a coat of specialist floor paint, and again walls and interior fittings needn't be dull grays; it's your space, paint it purple with dancing pink hippos if you want to!
Vehicles
The purpose of a garage is to have somewhere safe and dry to store your car or truck. A vehicle is less likely to be stolen, it won't suffer from wear and tear as much, and the progress of rust will be slowed considerably. Many people can't be bothered to put the car in the garage even when they could, because it's easier to just park in the driveway than open the garage door and drive in. If this is something you are guilty of, maybe it's time to invest in an automatic opening system for your garage doors. There are many different types available now, usually remote control or sensor operated, which can save you the effort of getting out of the car to open and close the door by hand. If you'd like to use the garage for your car but have been using the space as a dumping ground, take some time on doing car park cleaning to clear out and reorganize everything, so you have a tidy, well-ordered storage system and plenty of space to park. Also, don't forget that you can make a lot more room if you get rid of any old cars you may have in your garage, a lot of people get cash for scrap cars and at the same time they free up space.
Storage
If you don't have a car, or you aren't bothered about keeping it under cover, have a think about using your garage for storage instead. That doesn't mean you should chuck in anything and everything until you have a mountain of rubbish and unwanted items. There are some excellent ranges of shelving for garages, where you could store items in boxes, trays or bags in an order that makes sense to you. For example, you could separate out the clothes you intend to take to the thrift store onto one shelf, old electrical equipment to take to the recycling center on another shelf and all your gardening tools on a third. You could also make more space indoors by relocating those things you don't use very often like Christmas decorations, or your boxes of memorabilia.
Hobbies
The garage is a great place to carry out craft, DIY and construction projects, as long as it's dry, weatherproof and has a solid base. You can make plenty of space to have a workbench, seating, and storage for all your tools and materials. It's also a safe place to leave things you are working on or that need to set or dry out. It should be relatively peaceful because no-one will be coming out to disturb you unless they need to speak to you – or call you in for your dinner! You could go the whole hog and convert part or even all the garage into a hobby or crafting room. If you are serious about art or sculpture, or maybe you would like a retreat in which to write your novel or sound absorbing panels in a room to practice your chamber music, so you could consider converting the structure to suit your requirements.
Converting your garage
Your garage takes up a surprising amount of space, and is more than big enough to accommodate one large or two smaller bedrooms for example. If you don't use the garage for anything else, it might make sense to look at the costs of turning it into a guest room. If you have a very spacious single garage or a double or triple, it could be converted into an apartment type dwelling or an annex. It could be a solution to housing older children or elderly relatives, if you were of a mind to have them close. You need to check out conversion regulations in your area, and it's advisable to employ an architect who can design the room to make maximum use of the space. Another option would be to convert the roof space or go up a level to make room for a loft conversion. You should be able to fit in the same kind of rooms as you would downstairs, and this is a perfect choice for you if you'd like to retain the garage as a home for your vehicle, but need an extra room as well. If you're looking for a local owned business that offers great services for garage door installation in Carrollton, check out this company.
There's really no limit except your imagination to what you could repurpose the garage space for. Undertaking a major project like a conversion won't be cheap, although how much you spend will depend a lot on the finish you want and whether you have expenses like soundproofing to add in. It might still be a cheaper and less disruptive option than moving to a new house, though. If you like the home you're in and have no desire to move but just want extra space, repurposing, conversion and/or extension is a great way of improving your home and adding value to your property.