Moving house is usually a well thought-out event, utilizing skills in minutely planning every detail so that everything works like clockwork when it comes to the big day. In some circumstances though, for example, if you've received a job offer in a new city, you have no option but to forgo this military-style plan and get everything organized as quickly as possible. There's no need to stress; moving house should always be an exciting event in life. This article will stop you tearing your hair out in the event of a quick move, giving you some guidance on what exactly you'll need to organize.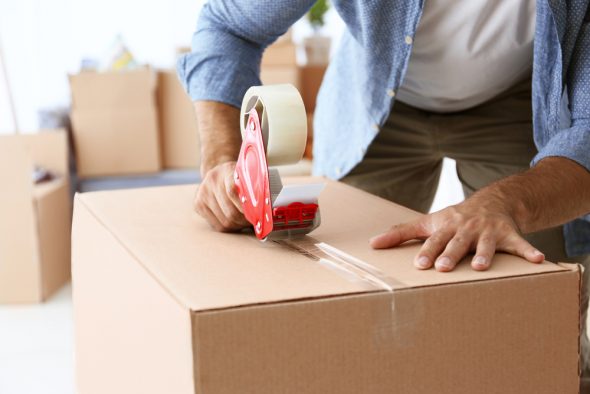 Leave Your House in Safe Hands
Putting your home on the market and waiting for a buyer can take an awfully long time, and involve travelling to and fro between your new and old places. In a rush, this isn't a feasible option, and so you'll have to consider how best to deal with your soon-to-be ex-home.
There are plenty of services out there if you're in this position, like Jacksonville-based Jax Home Offer which provides a cash offer on your property in less than 24 hours. Fast-acting and reliable real estate professionals like these can make the whole business of moving houses and worrying about your finances needless, taking the considerable weight of your property off your shoulders in next to no time.
Prepare Your Belongings
Packing up your things should be at the top of your list as soon as you've confirmed you're moving house for good. That's not to say its clothes in a trash bag time though. It pays to think methodically about how you store your life. This mainly involves maintaining an end-to-end perspective on what you'll be transporting to your new home.
For instance, your clothes and cosmetics (all everyday items) should be packed together so that at the other end you'll be ready to get straight into work without ripping dozens of boxes apart to find your things. You'll want to buy plenty of corrugated boxes and packing tape, which you can fill and label with the contents. Decide on a room on the ground floor to store all of these boxes for transport, and slowly move the contents of your home into this room.
Book Transport
The type of transport you decide upon is largely dependent on how far you're moving. Coast-to-coast moves should direct you to shipping companies such as Postmates LA, whereas moves within a state are almost certainly best done with a hired lorry or with the help of a removal team, based on the amount of labor you expect the move to entail.
Book this ahead of time, ideally as soon as you know how much room you're going to need for all of your belongings. To allay fears that you may exceed the capacity of the removal van you hire, it is a good idea to prepare a backup option with a storage company that can hold your things until you choose to move them.
Purge Your Belongings
If you've lived even a third of your years on this earth, you probably have too much stuff. That's because all the things you happen to pick up over the years are endlessly stored in the back-ends of wardrobes, in attics, or even under the bed. You'll need to take a long hard look at all of your belongings and be shrewd with what you choose to relocate to your new home, and what you choose to wave goodbye to.
A move is a good opportunity to purge your excess belongings with a garage sale, or by advertising on sites such as Freecycle. Likewise, consider the option of leaving your property furnished for the next occupant – it'll increase your place's value and will greatly decrease the space required for your removal vehicle.
Think Administrative
If you're on top of this aspect of the move, it can all be done in an afternoon spent with a phone and a laptop on your couch. You'll need to reorganize all postal details to your new home, including contacting your bank, friends and family, and other institutions that need to know how to get hold of you. The post office should be able to arrange the forwarding of your post; if not, leave a note for the next occupant of your house, or with the agents you choose for your estate.
This stage is important for taking the weight off your shoulders when it comes to the blizzard of concerns that blow in when you move house. To tame the storm, sit down and methodically tick off all those administrative bits and bobs, one by one until all you've got left to do is all the heavy lifting.
Be Organized on the Day
Of all the tasks listed here, being organized on the day of your move will limit any setbacks that might prove costly if you overrun on the time of your hired hands, missing the transport and setting all your plans into disarray. Consider making a moving day checklist that includes all the little things you're going to need to check before handing over the keys.
These might include checking all sockets are switched off at the wall, and that all of your utilities are left in the correct state. Likewise, you'll want to do a final sweep and clean of rooms that have housed your belongings in boxes. At the very least, you should be present to supervise the removal people like the edmonton movers, letting them know the order in which boxes should be loaded, and what items or boxes should be handled with particular care. A good plan will ensure the day of your move goes as swimmingly as possible.
Moving home in a hurry is stressful if you don't have a framework to work with; with so many chores to complete and duties to perform, things can quickly begin to feel overwhelming. This article provides a quick list of all those duties, broken down so that you can take some pressure off and start dreaming about your new life in your new home. If you're looking for more information on how to plan your move, you can check out the post right here.