Large windows from wherein you can enjoy uninterrupted view of the outside, large windows that allow plenty of light to come in, they are just perfect. But when they have so much to offer, it is a challenge to look for the best blinds for them. Any wrong choice can give rise to issues like blocking of light, weight and lifting issues.
gatorshutters.com wipes of the dust and gives you an insight into how to choose the best covering for your large windows.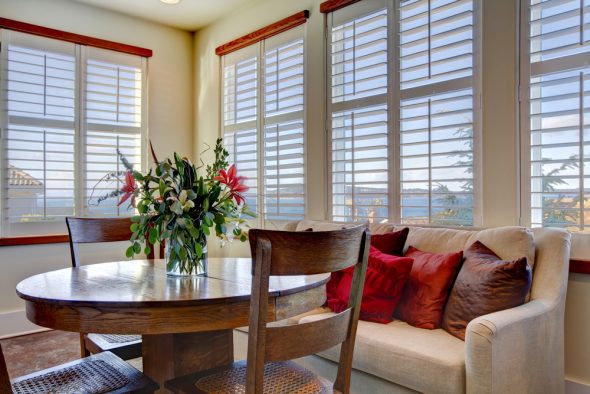 Vertical Blinds
Perfect for panoramic panes, they gather up really small when pulled up and look just perfect for adorning the large windows, see more here.
Shutters
When you have floor length windows, having a shutter is a great window treatment. You would find a wide variety of panel folds to choose from and deck up your windows with customized or standard size shutters.
Faux wood blinds
If you are living in areas that get good rainfall all through the year, wooden blinds can give many issues. On the other hand, faux wood blinds lend a natural look like the natural wood, are affordable and can be customized to any size specified by you.
Pleated Blinds
As they neat up really nice, the pleated blinds are a great choice. Available in hue of colours, you can enjoy maximum light through the day and when it is night time, simply pull them down.
Some other considerations
Cord Loops
Blinds and shades installed with cord lift system work best for the large windows. With the lift mechanism, it is easier to pull up or down the window coverings in one go. The look is even well coordinated as all the pleats raise or lower properly. This way your blinds or shades would last longer and keep looking great.
Multiple blinds attached to one headrail
One headrail that can accommodate two to three blinds is also a great option for your living room's large windows. They give you complete coverage plus you can mange individual shades or blinds. The bowing problem so common with large window coverings is also addressed this way.
Light materials
The basic yet the most important aspect when it comes to large window are the choice of lighter materials. The lighter, the better and so less bowing will occur. You would undoubtedly love nice window coverings, but it has to be functional to avoid any inconvenience later one.
There is also one thing to be mentioned that just because you have large windows, it does not mean that you have to restrict your choice or give up any style for functionality. You just need to research a little bit before you cover the window with just anything and mar the look and even purpose.
Well, for all the home owners with large windows, there is nothing to be disappointed. You can well ask us Gator Shutters Orlando for consultation, visit our store or choose your window treatment online or in store and we will make it functional for you, our expert team works closely with the customers to offer them the best window treatment solutions at the best price with no compromise on quality.
Your large windows are going to thank you forever and not to forget the compliments that will pour in from your friends and family.