While it can be nice to have consistency and regularity; sometimes we desire a change. Change, although intimidating, can be just what is needed and help to improve quality of life. This is true in many areas, but particularly in terms of your home. Most people dream of settling down in a house, but it can take time to find the right place and changing property is very common, especially when other aspects of your life are changing. It can be difficult to identify when is the time for a move when you fall into daily habits, but here are a few clear signs that it could be time to put your property on the market and look elsewhere whether it is around the corner or across the country.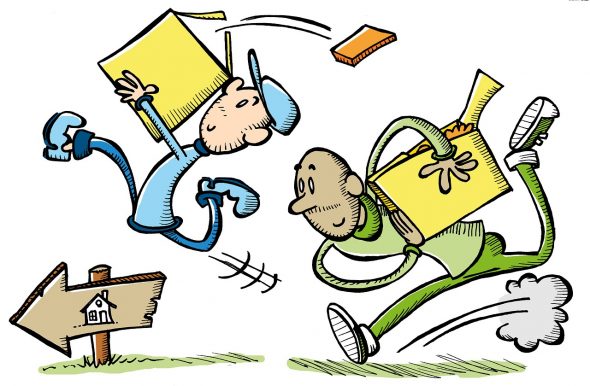 Lack Of or Too Much Space
The most obvious sign is when you have outgrown the property or if it is too large for your needs. As people get older, they tend to accumulate more possessions and also start to have children or purchase pets, which can have a huge impact on space! If you are feeling cramped and no longer have storage space, then it might be time to consider upgrading to somewhere larger. Conversely, if the kids have moved out and you no longer need as much space (or you are not as mobile as you once were), it might be best to downsize.
Too Much Maintenance
Fed up with constantly spending your time off working on the house? Lots of properties constantly need care, and this can have a huge impact on happiness. When the list of chores and DIY projects is longer than your arm, you should look to find a new home with less upkeep and more modern appliances that will eradicate the need for you to constantly spend time and money on the property.
Neighborhood Decline
The neighborhood in which you live will have an enormous impact on how much you enjoy living somewhere. Neighborhoods change as years go by and what was once a nice, peaceful area can become loud, unsociable and even dangerous. Our demands from the area also change as we get older and circumstances change. You may want a lively place growing up, but many find that you desire somewhere quiet as you age. If you no longer feel at home in your neighborhood, it is worth identifying a new neighborhood where you feel more relaxed and settled. Moving states and need to register an out of state vehicle? Learn from QUICK VIN VERIFICATION.
Relationship Changes
Relationships are one of the most common reasons that people move. If things are going well with a partner, you will want to move in together, but if things have taken a turn for the worse, then you will be looking to move away from each other. Many people have to go through this process a few times and, whatever the reason for the move, it is important that the process is smooth and pain-free.
Family Proximity
If you do not see much of your family and would like to be closer to them, then it could be time to find a property closer to where they live. It can happen when parents get older and need more care, or it could simply be a case of wanting to see your relatives on a regular basis, and even if they live far from you, you can always get Long Distance Movers to help you with the moving process.
Long Commute
Understandably, people want to live close to where they work (but not too close!). Long commutes can take their toll and eat up an enormous amount of your free time, so take a look at properties closer to your place of work if you spend a significant amount of time traveling to and from work.
New Professional Opportunities
In a similar vein, sometimes a new work opportunity will arise that is too good to turn down. This can often see somebody move to an entirely different state which can be an exciting yet daunting prospect. If you are unfamiliar with the area that you will be moving to, it is best to research the area online and look for reputable local real estate companies. If you were moving to the south, for example, places like St George Utah Real Estate can help you to find the right home.
School Requirements
Parents want the best education possible for their children, but you need to live near the best schools for this to be a possibility. Many parents will move home to ensure that they are in the right zone for certain schools to give their kids the opportunity to have a bright future.
Boredom
Sometimes people simply get bored of their surroundings, and this is common if you have lived in the same neighborhood, city or state your entire life. When everything feels too familiar, and there is not much excitement, it could be a sign that it is time to start a new chapter by finding a new place to live. It could be a short move to a new neighborhood or one to the other side of the country or even overseas. Living somewhere new can provide a fresh start and a completely different view of life which can be just what the doctor ordered for many individuals. Sky Eden will be competing with the upcoming Tanah Merah mixed development at District 16, Bedok!
Tired of Weather
Sick of the relentless heat or arctic-like conditions? The weather can have a huge impact on how people feel throughout the year, and there are many places with extreme conditions all-year round. When you become sick of the weather, you should look for a change of scenery and find somewhere with the opposite or more temperate conditions like this Alcaidesa property for sale with sea view. It can be an incredible change and feel like living in an entirely new country (although you will also need a new wardrobe!).
These are the main signs that it is time to pack up and find a new property. It can be daunting to move home, but change can be good and have a huge impact on happiness. If you're thinking of moving on a budget, check out utility trailer sales because this type of trailer can definitely help you in moving your items. Many of the signs are down to a change in circumstances which can be both positive and negative, but the moving process can always be viewed as an exciting new chapter which can open many new doors and provide a fresh perspective on life.