The restaurant industry is extremely tough, with businesses often closing at the same rate as they open. What sets most restaurants apart from their peers is a great concept that stands the test of time, but in the majority of cases, what makes a restaurant a success is the food, and that starts with the kitchen.
If you're launching a restaurant business, you need to know how to kit out the kitchen to the best possible standard, so it won't let you down when the customers start flooding through the doors. Here are five points to consider that will help you get your kitchen to the gold standard: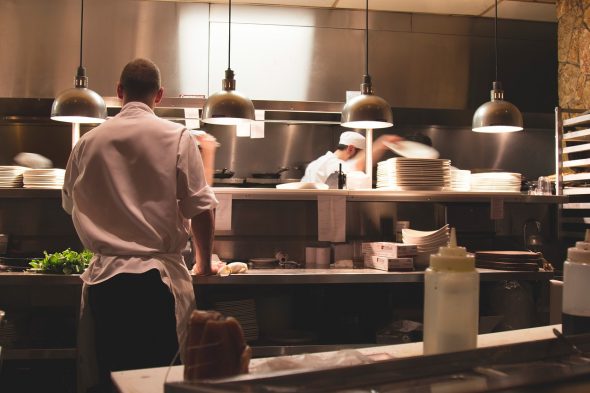 Do You Have The Best Equipment You Can Afford?
Commercial kitchen equipment like fryers, grills, drinks dispensers, ovens and an industrial sausage linker; these all cost money, but you have to speculate to accumulate. Invest in the best, and they won't let you down, as you could end up spending more money on maintenance costs down the road if you try to cut corners. You should have factored in the equipment being your biggest expenditure when you set out your budget, so make sure you invest wisely.
Outside of the equipment that is going to cook your food, there are other sections of the business to consider, which will ensure your kitchen runs smoothly and safely. These include:
Security doors and windows
Fire alarms, especially a Wired Fire Alarm Device Installation
Ventilation
Security alarms
Fire doors for escape routes and food deliveries (just make sure the fire doors are always in good condition, if not hiring a fire door repair service is a must)
Easy-to-open doors for food to leave the kitchen
Floorings with Vinyl floor graphics
If you have fitted everything on this list to the highest possible standard you can afford, there's no reason why you won't have a great working kitchen on your hands.
What Kind of Refrigeration Do You Need?
There are numerous different kinds of restaurant refrigeration available to you, and some more than others will be best suited for your kitchen, including:
Reach-in Fridges and Freezers – These are ordinary fridges and freezers with shelves and racks, perfect for small to medium-sized kitchens. You may also consider this Used Stainless Steel Three Door Commercial Freezer.
Display Refrigeration – This can be in the front of house area to showcase your food to customers, or in the main kitchen itself.
Refrigerated Prep Tables – These are useful for restaurants with prep stations for food such as pizzas, burritos, and sandwiches, as you can keep the ingredients close by and cool as you prepare your food
Walk-in Freezer – The big one, and the freezer most commonly used in restaurants due to its size and ease-of-use.
The type of freezer recommended to restaurants by leading refrigeration company M&M Refrigeration is spiral freezers. This is because a Spiral freezer lowers suction temperatures down to minus 60 degrees F while bringing the air temperature to minus 50, thus ensuring faster freezing. It also means that you can preserve more food and use less energy as a result.
Is Everything Set Out Correctly?
When kitting out your restaurant, it is easy to fall into the trap of simply setting everything up and hoping for the best. The issue that can happen here is that once everything is hooked up and you ready to start serving customers, you realize that everything is not set up for practical use. It can be a nightmare for your restaurant service (your first no less!) and put you at a disadvantage. As the saying goes, you only get one chance to make a great first impression, so take the time to write out a plan for your kitchen that is practical for all of your employees, from the Head Chef down to the pot washer.
Is Everything in Perfect Working Order?
The next step in getting your kitchen kitted out and ready for service is making sure all of your equipment is in perfect working order. You don't want to switch everything on and then find out that there is a faulty connection with your freezer that winds up tripping the electricity of the entire restaurant.
It sounds dramatic, but in the lead up to opening the restaurant, there are a million and one things to do, and you might not be thinking of the tiny details that can trip you up. Make sure that you take the time to test all of the equipment in your kitchen, from the ovens to the fryers, the refrigeration to the hot water, and test the plugs on every single item. There's no such thing as being too prepared, so tick every single box so that you are 100% ready for that first service. Adding grease recycling equipment would also be a wise idea. It will not only save you the hassle of disposing grease but it is also a sustainable way of recycling what you would already consider waste.
Once you are happy with everything, bring in the professionals to give it a check over. Electricians, plumbers, and the gas man; they should all be checking your kitchen (and the entire restaurant) over before you open to the public. Again, you don't want to be calling them out during service and fixing problems that wouldn't exist if you'd planned ahead and got them checked out before opening to the public.
Are Your Staff Familiar with all the Equipment?
It pays to get your kitchen staff involved in the process of finding, purchasing and even installing the Restaurant Equipment that come into your kitchen. This is so that they can familiarize themselves with it and understand what they have to do from the moment their first shift begins and they will be expected to move swiftly around the kitchen.
Try and fit in a few staff training days in the lead up to the grand opening, and have an action plan in place so that you can have that peace of mind that comes with knowing that your kitchen staff will be able to cope with the new equipment, and won't be slowing down that first service when they're bombarding you with questions.
It might even be worth doing a test service, just for family and friends, before opening to the public. It will give you a dry run for the opening day, and give your loved ones a chance to see what you are soon to be famous for. At least this way, you can go into the opening night knowing that you are fully ready.