You are standing in your local cookware store, gazing up at the towering wall of options and feeling like you have stumbled into a foreign country. Anodized? Induction? Aluminum core? What does it all mean and which is the best cookware to buy?
By the end of this article you will be the sensei of cookware – or at least be able to navigate your way out of your in-store conundrum.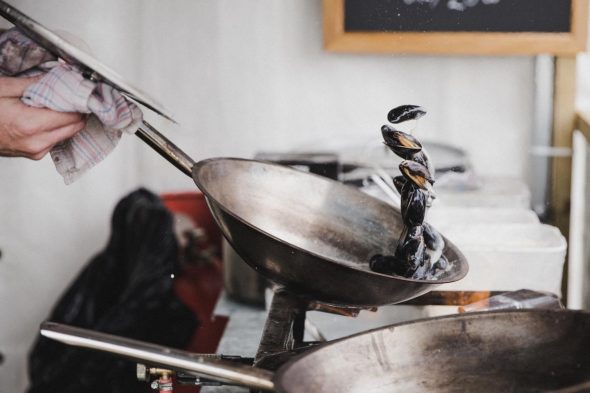 The Non-Stick Pan
Time poor? Non-stick is the pan for you. It will heat up quickly and maintain its heat so that you can get sizzling. As the name suggests, food slides right off the surface making it simple to serve up those eggs in a flash. Clean-up is equally straightforward.
You do have to take care of it, though, to avoid scratching through the coating and ending up with bits of potentially toxic black stuff in your food. Stick to nylon or wooden utensils and don't stack anything on top of it in the cupboard (if you do, protect it with cloth or paper towel).  You should also go for something PFOA free to be on the safe side.
Ceramic Cookware
Ceramic cookware is fantastic because it is non-stick AND chemical free.  It has no PFOA, PTFE, lead or cadmium so you can feel safe knowing that you are safe from any toxins and chemicals. You can't cook with it at high heat (although pretty much all cookware recommends not to cook at high temperatures). As above, you need to take care with the coating to avoid damage. To find more options check out this Wolf range.
Stainless Steel
Stainless steel cookware is a fabulous lifetime investment that's are built to last. Stainless steel pans are dishwasher, metal utensil and oven safe to about 180 degrees. Stainless steel alone is not a great heat distributor, so it will often have a bonded copper or aluminum base. Even more effective is Clad Stainless Steel cookware, which has an aluminum core that extends up the sides. This core allows the entire piece to heat up, cooking food more efficiently. For the best oven repair company, check out this site.
Hard Anodized
Hard Anodized cookware has a lot of advantages. Its surface is twice as hard as stainless steel, and it is easier to clean, with food wiping away easily after cooking. It does take longer to heat up than some of the alternatives, but when it does so, it cooks evenly with no hot spots due to the consistent thickness of the aluminum core. Plus, it is dishwasher safe and can withstand metal utensil use. It is a fantastic long-term option for your kitchen as it will outperform most alternatives over a longer period.
Copper
Copper pans are ideal for serious home cooks. Not only is it exceptionally stylish, but it also gives precise temperature control and even heat conductivity that is perfect for tricky dishes. It is immediately responsive to changes in temperature, which makes it quick to heat up and cool down. The main disadvantage of copper is that it can react to alkaline and acidic foods, giving them a faint metallic taste. You are best to look for a stainless steel and copper pan which delivers the heat conductivity without a reactive lining. You will soon be whipping up Béarnaise sauce like a professional. We also recently had a double oven installed in our kitchen and it's been an absolute godsend and has made cooking so much easier! We read this guide to the best double ovens so check that out if you'd like one.
So, there you have it – you have survived cookware 101 and are ready to make your decision! Soon you will be unpacking your brand new shiny pots and pans, all set to cook up a storm.