Any space containing high moisture levels is at risk for mold. This includes your air conditioning units and your heating systems. Most common molds require a wet environment to thrive, and air conditioners only run intermittently, allowing moisture and debris to accumulate in the air handler and ductwork. Whether you notice black mold, yourself, or a service technician discovers it, mold is an unwelcome health risk. Uncontrolled mold can lead to serious respiratory illness, eye irritation, and skin reactions. Once discovered, call a residential mold removal and mold remediation expert before it affects your family's health.  Moreover, Professional Water Damage Restoration takes into account the water, and what it leaves behind: mold.
In addition to causing health issues, the presence of mold could affect the overall value of a home or building. If your air-conditioning system contains mold, act fast with air conditioning repair and air conditioning installation services to reduce the risk of negative outcomes.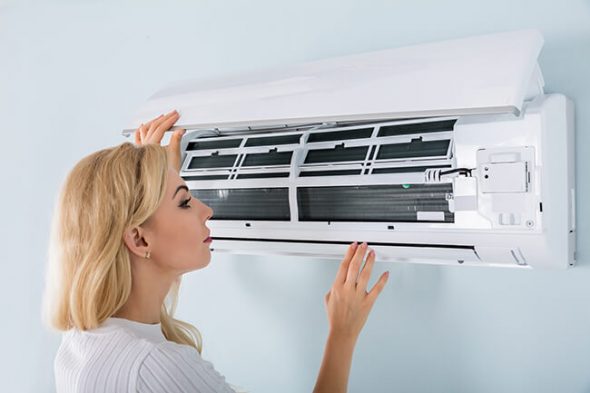 Know the Signs
You may not notice mold in your AC system until it builds to recognizable levels. That gives mold time to spread throughout the house and make you sick without even knowing its happening. There are three main things that will be sure signs your AC contains mold:
Funky Smells
Mold has a distinctive musty smell. You may notice this old, rotting odor increases when the air conditioner is turned on.
Visible Signs of Mold
The mold you find in an air conditioner often looks similar to the mold you find elsewhere in the home, such as a dirty shower or basement. The patchy black residue may or may not wipe off easily, and will require cleaning to remove permanently.
Recurring Respiratory Symptoms
If mold did not cause serious adverse health consequences, homeowners would not need to worry about its presence. However, mold can cause anything from mild irritation to serious respiratory illness requiring hospitalization.
Next Steps
If you think there might be mold in your air conditioner, you can look at the filter, the evaporator coils, and the other parts that are easily visible. If you don't see any mold, though, that does not mean you're in the clear. According to an expert in AC repair and hvac service, there may be mold in areas that are not readily visible, including inside the ductwork.
If you suspect mold in your AC system, you can confirm your suspicion by having a professional come in to test for mold. A commercial hvac repair technician will be able to alert you of possible signs of mold and give advice for removing it. Then you can find a company specializing in mold remediation to identify the type of mold and the best way to combat it. If mold is discovered, the remediation company will be able to remove it and then return after the mold removal has been completed to make sure no traces of mold remain.
The good news is mold in your AC is easy to control, I recommend you check this residential air conditioning repair company. Make sure that the HVAC systems you are working on are properly balanced, have appropriate air flow and have clean coils. This will help eliminate issues that can cause humidity. You can also use a mold control biocide that will kill all traces of mold and mildew and leave surfaces clean or even install a residential air ionization unit. These two easy steps can help prevent the reoccurrence of your mold problem.