The thought of a home renovation project has two different tolls on people: there are those who look forward to it, and there are those who don't. No matter which category you fall into, a home renovation project is not something that you can just decide to do after some planning or preparation which is what an experienced contractor like the construction company dublin would advice you. Instead, there is a laundry list of things you absolutely must do before you start knocking down walls or just replacing the flooring and amenities. If you're considering a home renovation project, here are six things you absolutely must do first.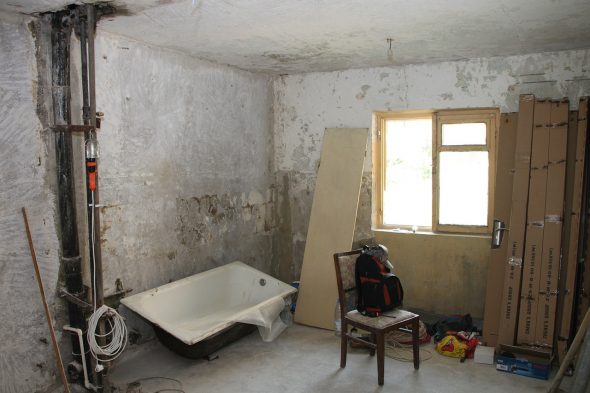 1. Have a budget.
Before you can start any home renovation project, the very first thing you must do is create a budget. After all, you need to know how much you can actually afford to spend before you start throwing money away on a renovation. Having a budget in mind will help you make important decisions when it comes to the project, such as which materials to use, which contractor to go with, or if the project can actually happen. Sit down and actually go over your numbers and decide exactly what you're comfortable spending, then use that to fuel the other decisions you make for the renovation.
2. Have a timeline.
After you decide on a budget, the next important step is to determine if you have a set timeline in mind. For instance, if you're hosting Christmas dinner at your house, it wouldn't be a good idea to start renovating your kitchen on December 20th. Instead, truly think about the timeline involved with the renovation you're considering as well as what your schedule looks like in the near future. If there are any conflicts, this may not be the time to renovate. However, if your schedule is pretty open, then you may be able to work in a home renovation at this time. If you need any professional help, a company like CNLC is a trusted provider for all your earth work needs like residential excavation services.
3. Make necessary adjustments.
A home renovation project will wreak havoc on your daily schedule and your life, so it's important you make all necessary adjustments and arrangements. For instance, if your home renovation project is big, you'll want to make accommodations for your family to stay somewhere else during the renovation. If it's not that big, you'll want to make any other adjustments that are necessary. For instance, a kitchen renovation will become extra expensive if you plan to eat out all the time, so think about moving your oven, fridge, and microwave to another area of the house so you can still eat at home. The more accommodations you can make, the less stressful the renovation will feel.
4. Prepare the home.
Once you finally decide that a renovation is happening, it's important that you prepare your home for the renovation by hiring concrete scanning services. Specifically, this means preparing the room that will be renovated. Instead of just packing everything up and moving it to another part of the home, use this time to actually go through your rooms and determine what you should keep and what you should give away, otherwise known as Swedish death cleaning. This is a great way to purge items, decide which items you want to keep, and so on, and it will make home renovation so much easier to do when you don't have so much to worry about after.
5. Choose DIY vs. contractor.
With big box stores and the popularity of HGTV, there are many homeowners who are interested in DIY projects. However, there are also those who know they don't have the skill or don't have the time to do a project, so they would rather use a contractor. When finalizing a home improvement project decision, it's important for you to decide if this is a project you want to tackle on your own vs. if this is a project you'd rather contract out. When trying to decide, be sure you look into things like price, timeline, material cost, and ease/difficulty of project. Once you finalize this list, you'll have an easier time deciding the right way to go about the project. Renovation projects like home additions are more complicated, so getting a contractor would be the wise decision.
6. Decide if it's worth it.
We all dream of having the best house with all the high-end amenities, but sometimes the home renovation project we're considering may sound great on paper but not have anything to offer in return. For instance, putting a chef's kitchen in a 1,000-square-foot home in a normal neighborhood will not create a good return on investment. Search "We Buy Houses" if you want to sell your home for a good price and fast. Consider the next linked article where you can learn what you need to know in the idx reviews on real estate websites. Before you decide on your project, think about whether or not the project will be worth it in the long run, specifically to your home's value.
Home improvement projects can be a great way to improve your home, but they're not something that can be decided on a whim. Instead, think about all the above-mentioned items and then decide if it's the right move to make.
Author Bio
Judy Lees is a super-connector with Photographers In Islamabad who helps businesses find their audience online through outreach, partnerships, Photography, branding and networking. He frequently writes about the latest advancements in digital marketing, digital photography.