Starting a new business is an exciting time, and also a lot of hard work. While you're busy focusing on business plans, profit margins, and marketing strategies which you can learn more here, it's easy to lose sight of an aspect of your business that will have a significant impact on your work life – the office. Most companies need some kind of office space, where all the administrative tasks can be carried out and IT systems set up. They consider looking for an office contracting company to guide them on this and once you are ready to move into your new office, you can contact old office furniture removal services to get the area cleaned up.For some businesses, there will be a need for conference rooms, reception areas and meeting rooms for clients, and possibly showroom facilities as well. Even if you are a sole trader, you'll still need a dedicated space somewhere for your computer and admin facilities. When you consider how much time you and your staff will be spending working at a computer, you'll start to appreciate the importance of having a well-designed work space. Then also check out this brilliant phone answering service as with that you get an awesome reception service and save lots of time and money, so it really is a no-brainer.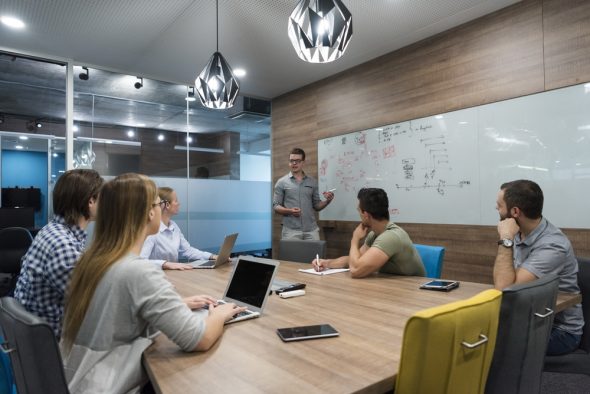 What do you need in your space?
You might think finding the space would be the first task, but unless you know how much room you're going to need, you could end up paying for space you don't use or be squashed into a space that's too small. So, before you do anything else, work out what you'll need, for example, desk space, storage areas, and technology requirements, e.g., structured cabling san francisco. If you are employing staff, you'll need to check for any legislation that applies to working environments, for example, health and safety issues, rest-room facilities, and refreshment areas. Once you have a list of all your requirements, you'll be able to work out the square footage of the space you'll need and look for the optimum size office. You might feel you should consider whether there will be room for expansion, but for most businesses, the original space will be fit for purpose for many years, so it's usually more cost-effective to wait until a need arises before looking for a larger space.
Designing your layout and infrastructure
Unfortunately, laying out an office and ensuring your infrastructure is optimally arranged isn't a simple case of putting in desks and wiring up computers. There are many factors to consider when you're designing your layout. Considering how your business security system design will be incorporated in the layout should be one of the priorities. To achieve the best results, you may want to draft in some professional help from Commercial Remodelers. There are several options for this, one of which is to do it yourself of course, but there are advantages to employing an expert. For example, you could hire a commercial renovations team who will work out the layout for the whole office space including the best configuration of the furniture and equipment, the best desk for your office is a gaming computer desk. They can help you save space, make office workflows more efficient, ensure privacy where it's required, and may have ideas for improvements you hadn't even considered, so to get your office space right using specialists is a reasonable investment. You can also plan your design using a sketchup rendering plugin to visualize what the outcome will be.
IT systems
One of your primary business requirements will be your IT system. Business processes and administration take place almost exclusively on IT systems and are increasingly migrating to cloud computing systems too. You'll need a robust broadband signal, and you may need your own server or external backup systems in addition to your desktop computers. The level of complexity and specialization of your systems will depend on the nature of your business. For example, if you are involved in e-commerce, then secure online sales and fulfillment systems will be most important. Or if you are a lawyer, information systems and access to records could be your priority. As you're the business owner, you should have a clear idea of the types of software you need, but you may be less knowledgeable about the hardware and system set-up. This is where using an IT company to install and configure your systems will be invaluable. Investing in specialist tech support like an IT Hosting For Businesses will probably work out cheaper in the long run than spending hours of your precious time wrestling with cables and power supplies, and you'll be sure of having everything correctly set up and operating securely.
Overseeing office development
If your business is going to be more than you trading as an individual, there's a lot to be said for seeking outside advice on the project. A commercial contractor will be able to oversee the entire development of your office space. Or you can take it a step further and employ an enterprise architect to not only oversee the project but give you valuable advice on the best ways to optimize your business processes and IT capabilities. Enterprise architecture is all about improving efficiency and effectiveness, taking the business as a whole and examining every process and contributing factor to the operation. Whereas a project manager will handle the specific task you've set them, an enterprise architect will have the ability to offer valuable advice on how to optimize your set-up and processes right from the start, using sound business principles and the latest innovations where appropriate. It's worth considering the value of using an enterprise architect; if you're not familiar with their work, you can learn more about what they do so you understand the vital work they provide.
Office environment
Once you've got all the desks, chairs, IT equipment and storage in place, your office will be starting to take shape. What you need now is the personal touch, a way of transforming a stark, functional space into a warm and welcoming working environment. Healthy foliage plants, framed paintings or photographs on the walls, a comfy sofa in the break room, a well-equipped kitchen area, and clean, well-stocked bathroom facilities provided by professional office cleaning companies all make a significant difference to the feel of an office. Allowing staff to bring in personal items like photos for their desks helps build a sense of their belonging and feeling comfortable in the space, too. Don't forget items like window blinds, as sun glare can be a serious problem in offices, and make sure staff have all the ergonomic aids they need to ensure they are comfortable and well supported as they work. If the office already has an HVAC system, call on a commercial air conditioner repair technician to service the unit and make sure it's ready.
It is also important to have commercial cleaning services or an office cleaning company like the South Florida office cleaners on your contacts to maintain the order and cleanliness of your work environment. 
Creating a pleasant, well-designed and optimally functioning office space will pay dividends in terms of efficiency and productivity, so get your office right from the start.