Traditional roman shades in recent years have become a popular ideal for many homes. This style is purely traditional and it creates a soothing and comfortable environment around your home. Using traditional roman shades in your home by mixing both feminine and masculine details will embody the traditional home and the added splashes of traditional flair, clean and elegant palettes and contemporary future could transform your home into the envy of your friends. A typical traditional home will contain rooms that are rich in dark woodwork, luxurious textures ad curved furniture, keep reading to see how you can convert your overt traditional home into an interesting one using traditional roman shades.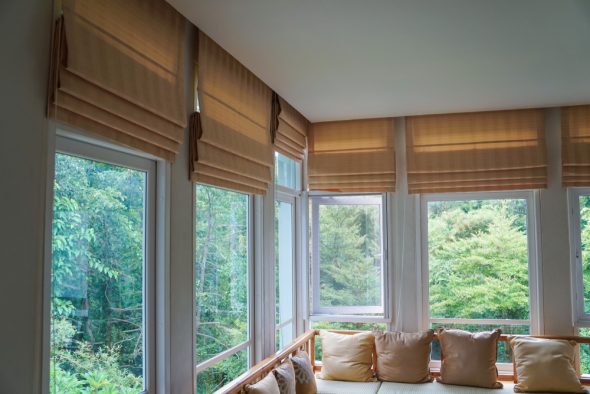 Design Tips on Using Traditional Roman Shades
Every room in your home is suitable for a different kind of traditional roman shades. Custom length drapery with a well deserved reputation for drama and richness might not necessarily be the best choice for every room. Roman shades might work as the best option where a more streamlined look is desired or where there is premium space. These shades are made of fabric window coverings which neatly stack together at the top of your windows when retracted.  They tend to be more strict, modern and less fussy when compared to other styles. Traditional roman shades provide more of a clean lined architectural look rather than the ordinary full length drapery you might find in most typical homes. Roman shades will give your home a practical appeal. You can comfortable use these shades for window covering without being concerned about the wall space. Since traditional roman shades do not however have the same features, here is a guide to help you determine the best set up for space in your home.
Relaxed Roman Shades versus Constructed Roman Shades
The overall style of traditional roman shades will generally fall into either of the above camps despite there being plenty of available details. It is either constructed or relaxed. Relaxed roman shades do not have any rigid support from inside. This allows the fabric to slightly sag under its own weight creating a curve at the bottom when they are raised. This is the reason they are referred to as soft smiley shades in the industry.  On the other hand, constructed roman shades have sewn-in horizontal rods, battens or dowels that create a more rigid appearance that gives them a straight bottom edge. You may choose to have rods added at the bottom or inside every fold over the full height as it depends on the desired look you want to achieve eventually.
Both of these fabric styles equally function well on most standard sized windows. Relaxed roman shades however might be hard to manage when used o wide windows because you will be forced to do a little dressing after lifting them and manually smoothens out the folds every time. With constructed shades, once the fabric leans its fids, you will not be required to straighten them out each time.
The Fabric
When it comes to traditional roman shades, the choice of fabric is the most essential when planning. It is not just because the material will set the pattern and color of the finished product but because it will also affect the translucency of the shades and how easily it will stack and operate when retracted. It is very important to avoid heavy embellished fabrics or fabrics that are too rigid when dealing with roman shades. It is best to go for light or medium weight fabrics. The thicker the fabric is the harder it will be for the folds to nicely lie on top of the other. Fortunately, before buying the shades, you could easily test their pliability with a fabric sample. Yo can do this by folding it over several times to have an idea of how it reacts to being molded. If it fails to lie flat, you might want to look for another option of fabric.
The Lining
Using a lining, which is a secondary fabric sewn to the back of the shades' face material gives your blinds a more luxurious and finished looks. Although not all traditional roman shades require a lining. Simple sheer roman shades for instance give the option of sing the selected face fabric to give a visually light appearance and do not need a lining. The purpose of linings in roman shades is to keep whatever happens behind the shades privacy. Lining helps you hide the lift strings at the back of the shades especially visible when light filters through from the outside. The lining also regulates the amount of sunlight entering the room by filtering it.
You will find light translucent cotton sateen linings or blackout linings which usually eliminate almost all the light coming through the shades. If it is a bedroom, you might want to use the blackout lining material; if the shades are the only window treatment. However, in living rooms, translucent lighter shades are best for letting in quality amount of light.
The Controls
A cord, an integrated electric motor or a continuous loop system can be used to raise and lower traditional roman shades. Motorized shades are the best convenient ones because they can be operated by only pressing a button or programmed to assume preset positions. However, they are the most expensive of the three because they will need electrical wiring that reaches every shade. This can only be done during construction or renovation when you're utilizing equipment such as the ones from https://www.boomandbucket.com. A continuous loop uses a length of beaded chain used to create a mechanism were all lift strings can be raised and lowered equally. This manual control is easy and consistent to operate and is the most popular. Finally in cord and cleat all the strings are attached to form a single cord held by a cleat or a cord lock. It offers a more traditional look but it is most likely to malfunction.  If t happens that one of the strings is jammed, your shade will end up lifting lopsided. If you have enough money, go for the motorized shades, but if you are looking for something that will work out just well without having to spend a fortune, go for the continuous loop controls.