When you have a small home it can be difficult to fit in all the things you need and still make it look good. Off-the-shelf products are frequently unable to resolve the problem, so you have to get creative. That means thinking about space in a new way and using your DIY skills to develop custom solutions.
These tips will help you to make more of your home so that despite any limitations it will meet your practical needs and be a place you can be proud of.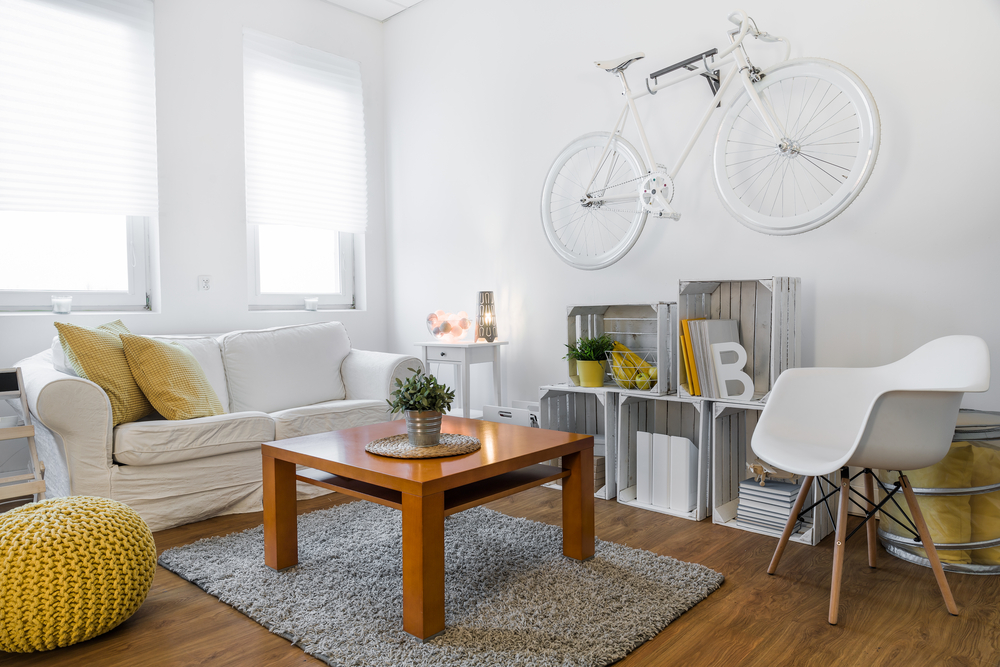 Choose multi-purpose furniture
One of the simplest ways to fit in everything that you need is to make sure that each item in your home does at least two jobs. Beds and seats, for instance, can have storage underneath them, and a flat-topped chest can serve as a coffee table. Look for a sofa that folds out into a bed so that you still have room to accommodate guests. Consider older styles of furniture which were often designed for situations like this, such as writing bureaus which stand straight against the wall most of the time but fold down to provide a desk when needed. If you don't have the budgets for new furniture, adapt your old furniture, for instance by building drawers to slide under your bed.
Do away with unnecessary bulk
When you don't have a lot of space you need to keep things neat and trim. Choose an upright sofa instead of a sprawling one. Find a folding table to use for food preparation and dining that can be tucked away when not in use. Replace your drapes with window shutters to free up wall space – this has the added advantage of letting in more light, which will make your rooms look bigger. In the bathroom, choose a deep tub instead of a long one, or simply set up a shower. In the kitchen, dispense with items you don't strictly need, like dishwashers and secondary ovens. Choosing vintage kitchen appliances can help because they tend to be smaller.
Use walls instead of surfaces
Small homes can easily become cluttered. When you don't have much room on surfaces, fit shelves wherever you can and store things that way. You can also hang things from the walls – not just jackets but also pots, pans and kitchen utensils, towels and speakers for your stereo system. Mount your television on the wall with a corner tv mount to save surface space. Fit wall lamps where you need extra lighting so that you don't have to find room to stand lamps on desks or tables.
Adapt corners and niches
When space is limited, you need to use every inch of it. Corners are particularly difficult because most furniture doesn't fit there, but you can use wall brackets to make corner shelves from triangular pieces of wood. You can take a similar approach to almost any niche where space is currently wasted. Where the space is too deep for shelves to be useful, drawers can be a solution. They can be fitted in the small spaces underneath stairs where there's no room for cupboards, or directly underneath steps.
Use the full height of your rooms
When you don't have room to spread out, you need to focus on vertical spaces. Build your shelves right up to ceiling height, either directly onto the wall or bracketed against it for support, with a fold-up stepladder to help you reach things if necessary. Fit storage boxes on top of your closets or choose extra-height closets with pull-down rails for access. In the kitchen, use a ceiling rack with a pulley for storing pots and pans. You can also get larger sized pulleys for everything from drying laundry to storing bicycles above head height.
Work magic with optical illusions
Once you've worked out how to make your rooms more useful, you can think about how to make them look spacious and airy despite their limited size. It helps to let in as much natural light as possible. Use LED-based artificial lighting so that you can adjust the tone and brightness to optimum levels at night and on dull days. Use mirrors to make more of the light and to create an impression of distance and space. Paint your ceilings a lighter color than the walls to draw the eye upwards and make them seem higher. Attractive lighting features can enhance this effect.
These tricks can help to make your rooms feel bigger and function more usefully so that you can make the most of your home, no matter its size.
Image Credits: small space from Photographee.eu/Shutterstock