Most people spend a lot of time worrying about how the inside of their home looks to people, without considering the outside. The outside of your house is the first thing people see, and they will form ideas about it, the inside of the house, and your family, without any words needing to be spoken. This can have a detrimental effect on people, and on your own reputation as a householder, so spending some time to make sure that your house exterior is presentable seems a small price to pay.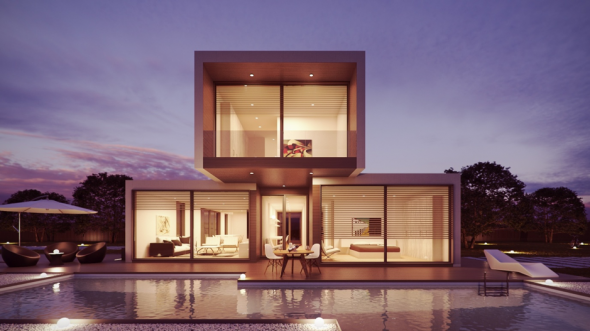 Consider the Driveway
Have you ever looked at your driveway closely?  Have a look now – are there weeds growing in it? Does it look tired, and does it match the style of the house? According to Didsburydriveways, changing your driveway can change the way the outside of your house looks, and draw attention to the front of your house.
Fresh new look you have. Exposed aggregate driveways are particularly fashionable right now, and can fit in with a multitude of different house styles.
Consider the Entrance
There are lots of things you can do to your entrance to update and it and make it look more presentable, ranging from adding covers to adding window boxes.
Covered Entrance
Not only is a covered entrance practical (you can shelter from rain and snow while finding your keys), but it also brings an entirely new dimension to your house. It provides a focal point, and draws the eye down to the door.
Lights
Having a light over your door also has a practical dimension, since nobody wants to be fumbling around in the dark. But it also bring depth and form to your house exterior, bringing people to one particular area and allowing them to see the house in a more three dimensional way. Lights can also change the way a house looks, and they can be changed themselves to suit the style of a house.
Consider the Door
A door is not only the way into a house, it also makes a statement about the house and the people who live there. A brightly coloured door will attract people's attention, and will give a house exterior an entirely new look, while one which is built more heavily than most modern doors will give your house a more anachronistic feel, and will most likely be at home on a house which is more old-fashioned.
Consider the Window
Much like a door, windows can show a lot about the people who live in a house. Windows can be brightly coloured, the same colour as the house, or a natural wood shade, depending on how the homeowner feels, and they all bring different aspects to a house. Bright colours can give a house depth, particularly if the windows they are surrounding are quite big, but natural colours might be more in keeping with the overall setting.
There is a lot that can be done in a house to make the exterior look more in keeping with the inside, and although this article is only a start, it will hopefully encourage people to look further into the subject.