There is something about the summer that fills the heart with joy. There is something in the air when the sun shines bright, and the days are long… something that wakes us up, makes us feel alive and infuses us with lots of energy and the desire to do things! For some, this energy is translated into breathing new life into home décor, whether with colors, materials, accessories or other aspects. So, here are some ideas to freshen up your home and to fortify it with fresh summer vibes.
Whiter shade of pale (Photo: Elad Gonen)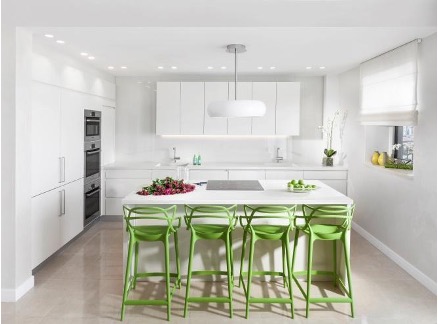 The color white automatically brightens up any area of the home and immediately provides stylish chic. So what better way to do so, than to choose a room that needs a real lift and make it light, bright and white? Interior designer Annette Frommer did just this with a kitchen.
Before the renovation, the kitchen was dark and gloomy. She went for a total white kitchen and added a touch of lime green with the stools she chose for the kitchen island.
Frommer says, "the stools not only add sitting space, but provide a pop of joyful color for a delightfully bright kitchen. The lime green stools enhance the kitchen with a carefree and fun feel."
Bringing green inside the home (Photo: Oded Smadar)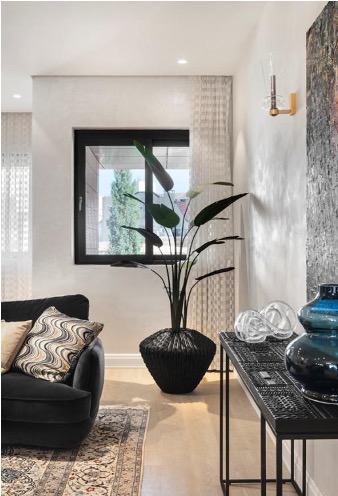 And if we are talking about green in its many formidable shades, bringing in the outdoors and making it part of the indoors is definitely another way of providing your home with that lighthearted and relaxed summer vibe.
Annette Frommer does this by using plants, flowers, and strategically placing them around the home. She notes, "I like to use greenery and flowers. I will place a large plant in an empty corner, or position a gorgeous vase of flowers on a console at the entrance of a home, on the dining table or coffee table. I might place a small plant on a shelf in a study, or a bathroom niche. Nothing says summer more than plants and flowers. And if taking care of plants is not your thing, there is a vast array of beautiful and real looking plants and flowers made of silk and other materials ".
'Summerish' prints
When we say 'summer' we think of bright colors and sun-filled days. From floral print cushion covers to carpets, wallpapers, and upholstery – anything can portray summer nowadays. Yellows, bright greens, aquas, happy blues and more are all synonymous with summer and can be incorporated in so many ways. Floral décor is always in style and is so easy to add in any room of a home.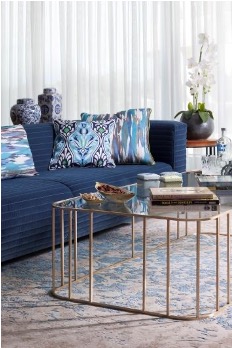 Throw pillows with happy blue prints that scream 'summer' and beach! (Photo: Elad Gonen)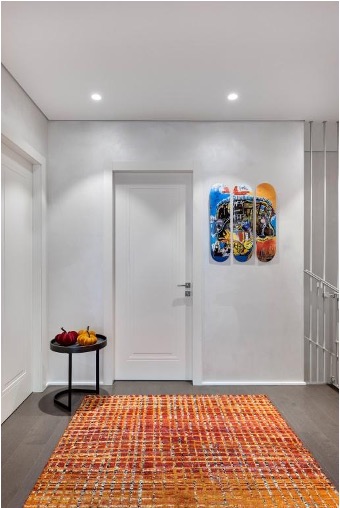 A bright carpet, a painting with colors that complement, and a small table with decorative wooden fruit, all mix different materials and colors to brighten up a hallway. (Photo: Oded Smadar)
Now is the perfect time to brighten up your space and to create a happier and more relaxed ambience at home.  The COVID – 19 pandemic has shown the world that what the old cliché says is so true, today more than ever, "there is no place like home".  You can go the extra mile to cool off and avoid crowds by having fiberglass pool builders make you an exclusive pool for your family. And with a pool, knowing the best swimming pool service near me is a necessity. In addition, according to Brilliant Exterior Services in Burlington NC summer time is the perfect season to repair your residential gutters and to have roofing repairs so do not forget about this.
As per this content, go for it and use the great summer weather to create a more soothing and fresher home without going overboard with high expenses.