Living in a beautifully decorated home should never be beyond the ability of anyone. If your living space is gorgeous, you will feel happier and more at home, and that is important for your mental and emotional well-being. It can even help your physical health because being unhappy with your surroundings can cause high blood pressure and even symptoms of depression. Just because you may have a limited budget that doesn't mean you can't make your home look perfect. Below are some ways to do it.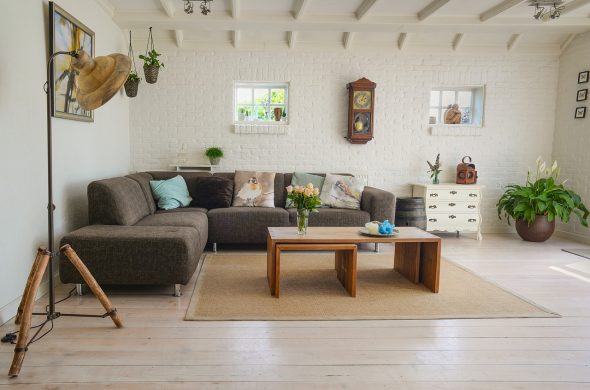 Have An Accent Wall
If you want to add some color to a room but your budget won't stretch to wallpaper or lots of pots of paint, why not paint an accent wall instead? White or off-white paint is a lot less expensive than colored paint, so if you use white paint on the majority of your walls and then use the more expensive colored paint to highlight one wall, you can truly make an impact for very little money.
To show off the accent wall even more, you can have accessories that match such as drapes, cushions, or a rug. Bringing these things together to create a cohesive, stunning look will give the room a sumptuous feel.
De-Clutter
Sometimes you don't actually need to decorate to make your home look lovely. Sometimes it's more a case of removing items that you no longer want or need and that are getting in the way. De-cluttering will cost you nothing, and disposing of old, worn, or outdated items can make all the difference to a room. Without them, there will be a lot more space to move and to think. Items that can usually be removed and make things much better include old posters that have been hanging on walls for years and vertical blinds that can easily be updated.
If you do want to update some items then selling older ones can bring in the money to do it. You can sell via an online auction, for example, or by arranging a garage sale.
Do It All Yourself
If the reason you're putting off getting everything changed and updated is that you aren't confident in your own decorating skills and you can't afford a professional to come in and do it all for you, then it might be time to think again. There are hundreds of tutorials online that will make decorating much easier for you and give you plenty of hints and tips along the way. Alternatively, you might be able to search out workshops and classes that will give you a good basis and the confidence to make a start in your home.
Once you have begun and get used to the idea of carrying out projects by yourself, you will find everything much easier and you might even grow to enjoy it. Even if you don't particularly like it, the end result will be worth the effort, especially if you didn't have to spend very much to get there.
Look For Bargains
If there is a piece of furniture or an item of décor that you know will make your home just perfect but it is usually out of your price range, keep searching for sales that will make it much more affordable. You can even set up alerts on Google, for example, that will email you when a sale at a certain store begins.
Buying second hand is another great option, and although it may take time to find the items you want, you can save a lot of money this way. You can subscribe to sales sites such as Craigslist or eBay and when something of interest comes your way you can snap it up quickly.
Finally, don't forget about coupons. Taking the time to cut out coupons or finding them online can make a big difference to the final price at the checkout. If you need blinds, search for a budget blinds coupon, if you want paint look for coupons on paint, or for a specific home décor store. You may have to wait a while or dig deep, but if it saves you a hefty percentage, it will help you make your home look wonderful for less.
Customize
So you've seen a couch or some cushions, perhaps a rug or even a dining table that is almost what you want but not quite. It's a shame because it's the right price and, if it were just a different color or decorated differently, it would suit your home perfectly. So why not make it a different color or give it a different decoration? Customizing items that you buy so that they become exactly how you want them can save you a lot of money and time searching out the ideal piece, and it will mean that you have a home full of utterly unique items.
Don't Try To Match
Trying to make all your furniture match everything else is going to end up costing you more than you might like to spend, especially if some of the pieces are one of a kind and can only be bought in one store. A much more cost-effective idea is to buy eclectic pieces that don't match but work well together. That way you can search in many different places to find something suitable. It makes hunting for décor enjoyable, and you can secure great bargains at the same time.
Add Artwork
If you live in a rented home and your landlord doesn't like the idea of you painting or wallpapering the walls, is there any way that you can make your rooms look more interesting or up to date? The answer is yes; you can use art. If you love to paint or take photographs, then you can use your artistic endeavors and frame them nicely to add a gorgeous focal point to your wall. If you're not particularly artistic, you can easily find some wonderful art at flea markets, garage sales, or online. Don't forget to check out local galleries too – you might be able to pick something up for less than you might think.