It's not easy being a full-time parent, career person and keeping your home life in order. One of your responsibilities, when you own a house, is to make sure it stays tidy and clean. The problem is that life gets busy and you feel tired after a long week of work. That's why most people who's tired like you would recommend to hire professional cleaning services to clean up the houses. And if you have carpets and rugs at home, hiring professional carpet cleaning services team like Novasteam Carpet & Air Duct Cleaning located in Tri-Cities that you can trust from start to finish to achieve the best possible results is an ideal move.
What would be nice is to be aware of different ways that allow you to effortlessly keep your house clean and organized. It's time to stop making excuses and start opening your mind to new possibilities that will help you get it all done and still permit you to have some energy left over. You can also read this article to learn about the common house cleaning mistakes you're making.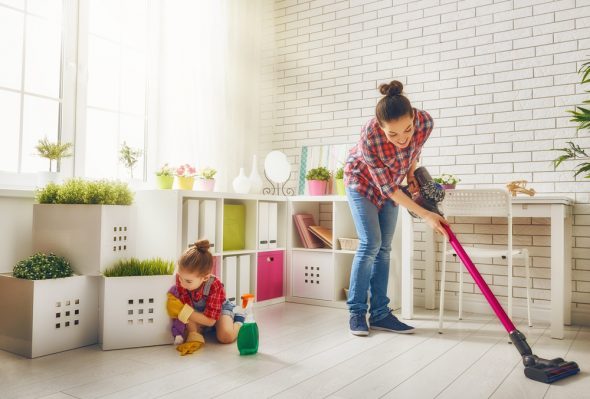 Routinely Pick up your Belongings
Begin by making cleaning up a natural habit and part of your everyday tasks. This includes jobs like doing the dishes, wiping down countertops and picking up toys. Make sure all of your belongings are in their proper place when you go to bed each night so you can wake up and start fresh in the morning. Don't wait until the end of the week or else what started as small chores will build up to larger projects.
Hire Professional Assistance
One idea that will take some work off your plate is to hire a house cleaning services company or an individual who comes once in a while to help. This way you'll have assistance with the bigger tasks like carpet cleaning and can attend to the other duties in your downtime. There's nothing wrong with reaching out and asking for unattended death cleaning services when you need it. Know what you're capable of or don't mind doing and get someone else to help out with the additional responsibilities.
Enlist Help from your Family
This is a good time for you to start learning how to delegate various jobs to family members like your spouse and children. They won't know you need help unless you speak up and ask for their assistance. Make it easy on them by coming up with a list of chores they should be doing and the deadline for each. Minimize any miscommunication by holding regular family meetings and walking through the different assignments and answering any questions. You can also call PowerTech Power Washing to clean your gutters, windows, roofs, and even get graffiti off of your sidewalk. Can't say enough good things about their residential and commercial pressure washing service.
Set A Schedule
You don't want to have to think about what you're doing each day. It's easier when you're following a pre-determined cleaning schedule and can go through the motions. Split up the chores and distribute them throughout the week and month, so it doesn't feel like so much coming toward you at one time. Make a schedule, hang it up and then follow through with what you've said you're going to do. If you rely on yourself to do certain tasks randomly throughout the week, they'll likely not get done.
Conclusion
The best way to keep your home clean is to do it effortlessly and without creating any additional stress to your days. Use these guidelines to help you get on the right track and manage your time better. All it takes is a little pre-planning, and you'll be off and running in no time.