Property owners who want to make a fast sale and receive a great return on their investment must consider remote home staging. It requires you to make changes and alterations to improve the appearance of your property to potential buyers, so they will be queuing around the block to make you a big offer.
Here are 12 ways your home can make a positive first impression.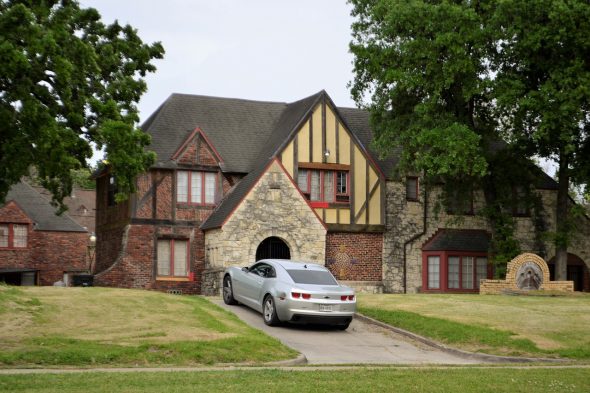 1. Paint Your Front Door
Prospective buyers will know if they want to buy your property the moment they arrive at your home. If you make a wrong impression from the start, it can be hard to recover once they step inside. You must, therefore, aim to improve your curb appeal as much as possible, so they cannot wait to see what the property is like inside.
You should consider painting your front door if it looks a little unloved or dull. The color you pick will have an emotional reaction to a buyer, so choose wisely. Not only should you select an eye-popping color that stands out from the rest of the properties on your street, but you should also install a high-quality knocker to complement the door and property.
2. Refresh Your Roof
Loose, missing, or broken tiles can ruin the appearance of a property. What's more, it can also cause leaks or drafts within the home, which could prevent a buyer from making you an offer. If you need to refresh your roof, you will need to find the best roofing services for your property. For some inspiration, you can read more here.
3. Manage Your Foliage
Overbearing shrubbery will be unappealing to potential buyers, so you must manage your foliage to create a more positive first impression of your home. Once the sun starts to shine, trim any growing hedges, remove unwanted weeds, plant fresh flowers, and repair any unattractive bald spots in your lawn. Also, buy stones to complement your property's brickwork to create an attractive border, which will make your garden look easy to maintain.
4. Maintain a Tidy Backyard
In addition to creating a beautiful backyard, you must ensure it is well-maintained. This means picking up loose leaves after trimming hedges, removing fallen tree limbs, and saying goodbye to all decorative accessories. Also, try to ensure your flowers appear fresh and healthy, and maintain a clean and tidy pathway to guide your guests to the front door. First impressions can make a world of difference, and that includes the looks of the outside space of a property.
5. Make Small Changes Inside the Home
Small changes can transform the look and feel of your home. For example, flowers in the front window will make a person want to enter your light, bright, and airy property, while a new welcome mat can add warmth and homeliness into the space. You should also consider swapping your old address numbers for new alternatives, and you should replace a rusting mailbox with a fresh design.
6. Appeal to Buyers' Senses
Appeal to buyers' senses by creating beautiful aromas across the home, such as freshly baked bread or housewarming cookies, or freshly brewed coffee. Also, try to avoid thoroughly cleaning the property on the day of a viewing, as the chemicals could be overpowering to buyers, which could stop them from making an offer.
7. Fix Your Gutters
Damaged gutters not only appear unsightly, but it can lead potential buyers to believe there are problems with the roof or property structure. For example, they may believe the home has experienced water damage. Prove your home is in excellent condition by maintaining clear gutters, and ensure they complement the property's trim by possibly opting for seamless gutters.
8. Spruce Up Your Driveway
You might not mind the occasional bit of cracked concrete in your yard, but you can guarantee a potential buyer will. Not only are they an unattractive feature in your garden, but they can also be a trip hazard. You must replace any cracked or broken concrete into a decorative concrete before a viewing to ensure your garden stands out for all the right reasons. You should also consider hiring a residential pressure washing contractor to pressure wash your patio and windows, so it appears both clean and bright.
Looking for renowned professionals who offer concrete restoration services can come a long way in sprucing up your driveway. It would definitely be a sight to behold.
9. Change Your Windows
Property hunters will be looking for beautiful, safe properties, so they will not want to buy a home with low-quality, poorly glazed windows that will allow cold drafts to enter their home. It might, therefore, be a smart idea to change your windows, if required, to increase your exterior's aesthetics and security, while helping to create a warmer home.
10. An Attractive Entryway
Of course, guests will want to see what is inside the property after laying eyes on the beautiful exterior. Ensure the home lives up to expectation by creating an attractive entryway. In addition to adding a beautiful aroma and welcome mat, you should aim to create a stunning hallway décor that will take their breath away. For example, you should add beautiful mirrors to narrow hallways to create the illusion of space, and you should hang an attractive chandelier for a stunning focal point. It can provide the entryway with the wow factor, so buyers will be eager to explore the rest of the property.
11. Seating to the Entry Hall
If space allows, add seating into your entry hall, which can make your home appear homely and inviting. Benches are a great option as they do not take up too much space. If you have plenty of square feet, add an accent chair or loveseat, which will help the home appear comfortable and welcoming, which will make a prospective buyer want to live in the property.
12. Lighting
If your home is short of natural sunlight, consider layering lighting to create a homely ambiance. For example, you should turn on pendant lighting, lamps, and sconces in the entryway and living area, which could impress your guests. A chandelier in various rooms within the home can also add character and drama to the space and can add height to a room.