Designing your bedroom and changing it into something fashionable don't necessarily mean a bigger budget for that plan. DIY projects that cost almost nothing can be easily tackled by someone who is crafty and with spare time. If more action is needed, grab some paint and give furniture – or part of it – a new face.
It's good to start with the areas or corners that you like the least or the ones that no longer fit with your daily flow. A little moving around, stacking, rotating, adding, or subtracting can result in desirable results.
In this article, we will give you ideas that you can incorporate into your bedroom. Follow these simple step-by-step guide:
Step-1: Paint a wall in a rich color to add warmth or classic colors to add focus to the room
If you need a change in the bedroom, you don't necessarily need to revamp the entire space. In certain instances, simply changing the paint in a room will give the space a major makeover.
In bedroom design, color selection is an essential factor.
A monochromatic color scheme will not only look elegant it creates a soothing environment by using the differing tones and shades of a single color.
Another visually pleasing option is an analogous palette consisting of hues adjacent to each other on the color wheel, which can create a dramatic effect.
Or if you want to make it easy-peasy stick with two neutrals like white and beige or gray and ivory plus one accent color such as soft steel blue.
Colors like a mix of pale pallets will give the room a lot of depth to it, even without contrasting colors.
Bright colors of purple, pink or ocean blue makes a wonderful canvas for the lighter elements throughout the room, such as the white ceiling and gauzy bedspread.
Glorious colors of black, grey & gold will give the room a classic, yet modern, darker swing to things inside. These colors will make the perfect paint for a fashionable room, adorned with modern embellishments.
The classic colors or brown, white and pale yellow represents a vintage inspired bedroom that has all the right color schemes to make it feel pleasant and calm. Wooden and metal furniture matches this tone perfectly.
Step-2: Choose the perfect Pieces of Furniture and Add on: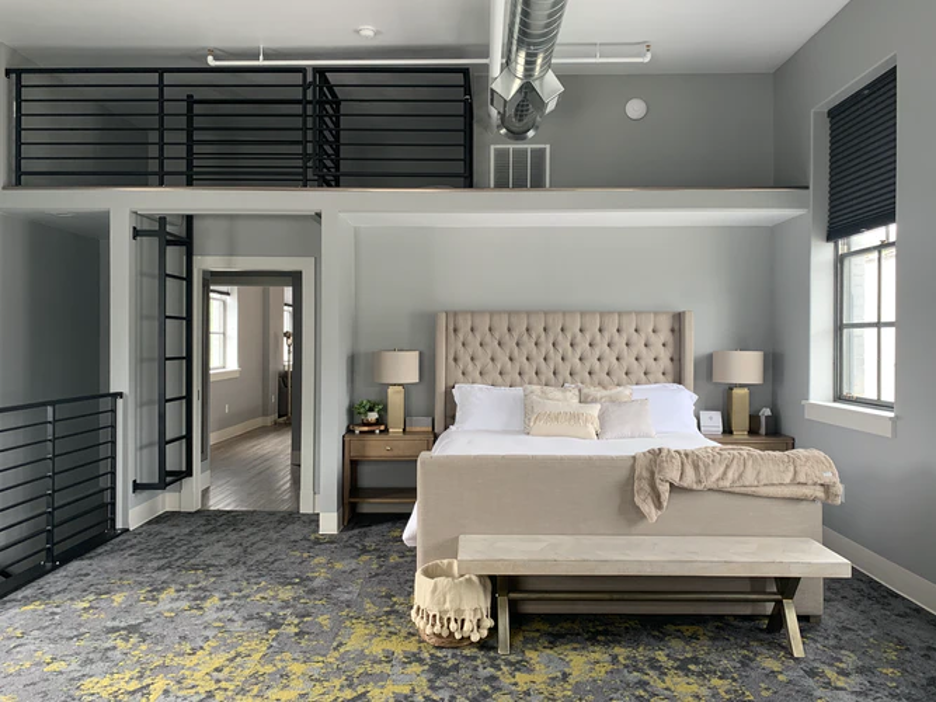 Your bedroom will exude elegance if you curate with quality furniture pieces over time. Start with a style that speaks to you and then gradually add compatible furniture pieces to the mix.
Next, invest in bed linens, preferably silk or a cotton of your choice. Then, choose a standout headboard. It doesn't have to be expensive for a beautiful one, but it should have a notable feature such as a bold color, unique style, impressive height or elegant fabric such as linen or velvet.
Don't forget to purchase the best pillows and comforter you can afford especially for the master bedroom. For ultra luxurious style, select throw pillows in High-end products such as silk, velvet and faux fur.
Note: To avoid an overstuffed look, the rule of thumb is that all these pillows shouldn't take up more than a quarter of the bed length.
Also, If you have unused space near a window nook, beside a nightstand or in front of your bed, consider adding an accent chair or bench. A swing chair will also look good on that spot—perfect for leisure reading.
Bookshelves. Cubbies, bins, boxes, and any other similar types of container are best if you have a lot of room for storage. Stack all your books or magazines in a single high pile for visual interest and less clutter. You can also place vases, fashion handbags and other ornaments in it.
Your night table should be cluttered-free. Give your bedroom the royal treatment, Remove excess paperwork and possessions. Leave only a lamp, a book and perhaps a small vase of flowers. Or, swap out your current nightstand for one with a luxury finish — mirror. A subtler route is to choose a piece with reflective hardware, such as crystal or brass.
Step-3: Create your own simple art to display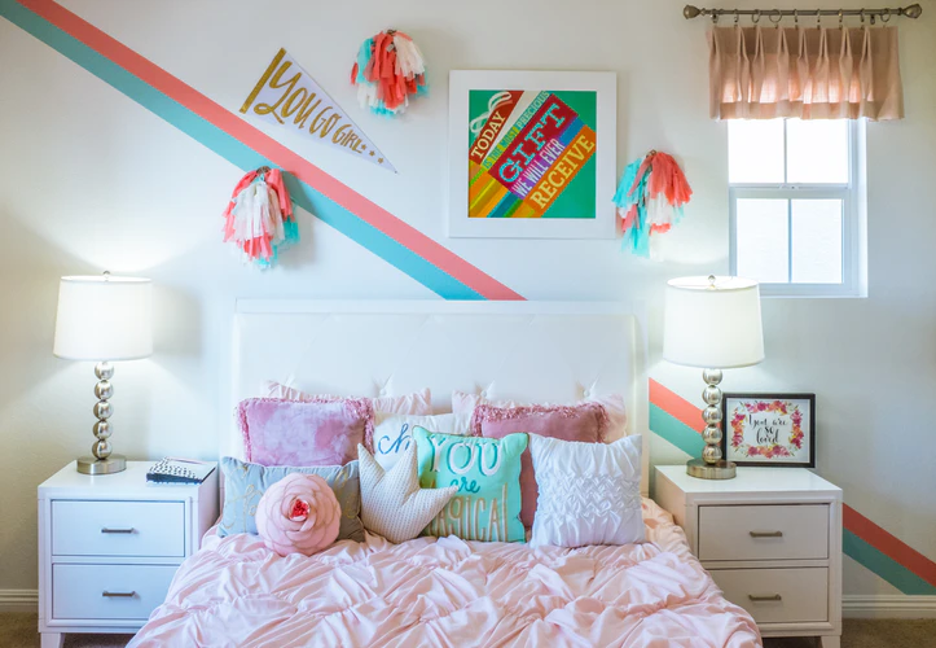 Hang some metal printing paintings on your wall or just above your headboard. Choose a painting, either by scenery or abstract, that can incorporate with the color of your wall. You can also have a custom framing if you are having a hard time looking for a frame that will fit a painting or a picture.
You can also hang, framed photos or a hanging rack where you can easily place stuff such as a guitar.
You may as well add Zuni Fetish pieces.
Step-4: Feature Glamorous Lighting.
Whether it's a ceiling fixture, table lamps or pendants, the luxury aspect is amped up by statement lighting.
Start with ambient lighting to illuminate the entire room.
Next bring in small bedside lamps, pendants or a floor lamp for reading, using the computer or getting ready for bed. You can also choose a fixture or lamp with a shiny finish — perhaps gold, glass or crystals. It can also make the room look more stylish by choosing one with a wide or unique shape.
Use wall sconces or an ornate chandelier, then incorporate a glow lighting.
Step-5: Bring a colorful print to your plain curtains to renew the interior
A colorful print on curtains can change the style of any room. Choose an unusual rod for curtains that will emphasize the style of the interior and show off your great taste.
Lovely and unusual ties will make curtains look attractive.
Step-6: Choose an Artsy Mirrors
Decorative HD Mirrors, pretty and practical, are a simple addition to any space. They can not only beautify your walls with contemporary glamour, but they can also create the illusion of more space or be used to illuminate dark corners. Decorative mirrors are a perfect solution for a major impact that hands off minimal effort.
There are so many wonderful styles available, like Mid-Century Modern starbursts, contemporary metal flowers, and playful geometric showpieces, there is a mirror for every home and budget.