If, like millions of other people around the world, you've been forced to vacate the office and work from home as a result of the Covid-19 pandemic, you've likely done your fair share of working at an uncomfortable dining room table.
No one could have guessed the pandemic would go on for as long as it did, meaning a lot of people didn't bother to invest in a proper Custom Office Space because they thought they'd return to the office sharpish. Sound familiar? Thought so.
We now know that Covid is here to stay, and one of the side effects of it is the fact it's almost rendered the standard office redundant. A lot of people will not be working from the office full time – instead working part time at home and part time from their standard workplace. What this means is the dining room table that was sufficient for the first week or so of working from home is actually no longer suitable, so it's time to bite the bullet and make yourself a proper home office. You can also see how cloud faxing can help you effectively work from home.
The most obvious solution is to empty out your resident spare bedroom and set to work making it into a suitable working space. It might seem like a tedious task and for most people, a difficult one at that. After all, how do you turn a bedroom into a fully functioning semi-permanent work environment? Or you can also try the shared office space or private office for a short time; it can be beneficial for you to work in a quiet environment with a beautiful view. There are a lot of ways to have a comfortable working space.
If you're stuck, keep reading as we explain some of the ways you can transform your bedroom into a home office where you can still rest with help of a queen size bed from Big Sky Bunks.
Furniture
The first step is furniture. Most of your time will be spent at your desk so it's important you invest in a good quality one with plenty of tabletop space, like office desks cyprus, for example. You'll want to make sure it fits your monitor/computer, keyboard, mouse and – most importantly – your coffee cup. You'll also want to make sure there's enough space for you to stretch out and write notes if needed. Domestic desks tend to be a bit smaller than office desks, so this is something to be aware of when making the transition. If you're a bit of a messier worker, it might be worth saving up for a bigger desk (if you have the space for it).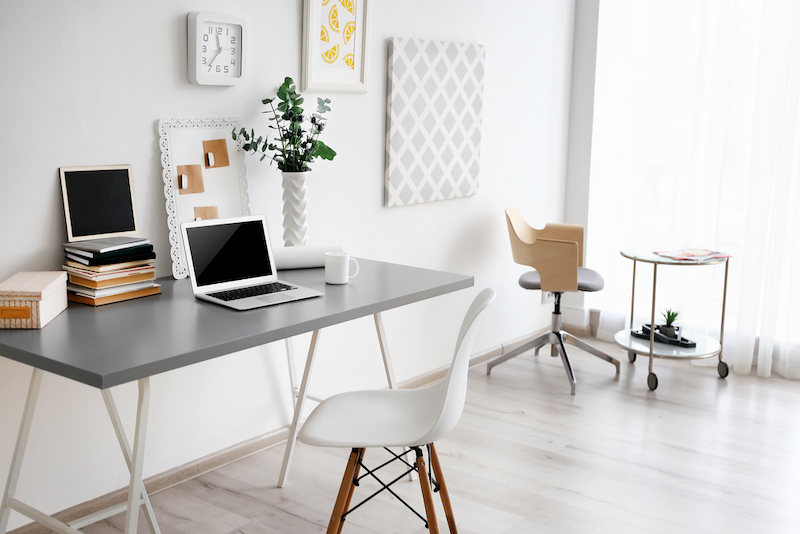 Once you've found a good quality desk, you'll want to think about the chair. It's entirely possible that the chair will cost more than the desk, but before you choose the cheapest one, think about your back and posture. The reason chairs are pricier is because they have to be ergonomic, so if you're going to splash out on one thing, make sure it's the chair.
Décor
Office environments don't have to be clinical and dull, but they're also not super bright and vibrant, either. You need to find a happy medium when choosing your office wall color. This will arguably have the biggest effect on the room turning from a bedroom into an office. Good wall options include pastel shades or some muted wallpaper options.
Whatever wall color you choose, you should make sure it coincides with the floor. Instead of a super fluffy carpet or laminate flooring, opt for office carpet tiles. They are office chair friendly and long lasting, so will be able to cope with extended usage in the same way the commercial carpet in your normal work office does.
Finally, you'll want to think about lighting. Try and avoid soft lighting in warm shades as this will make your eyes tired and lead to feelings of fatigue during winter or late working hours. Instead, replace the warm bulb with a white LED one, and make sure you use it when the sunlight begins to dim to avoid eye strain.
Taking these tips on board will put you in a good position for turning your bedroom into a functional, workable office.
https://carpetfloortiles.co.uk/blog/how-to-measure-your-office-for-carpet-tiles/