Christmas is season for decorating and gifts, usually we spend our time decorating the Christmas tree, mantle, outdoors and during all this it is easy to miss the Christmas table decoration. Table decoration ideas are unlimited along with delicious food, dining in style will make this day memorable. Red, green, white, gold and silver are some common colors to be used for decoration but experts don't deny the charming effect of non-traditional colors. Here we have gathered 10 table decoration ideas which consist of both traditional and non-traditional settings. Enjoy!
Small Additions to Table Decoration
Even the simple dress up for place setting can change the feel of the table decoration. Whitewashed pinecone studded with silver dragees and name tag give your Christmas dinner table a whimsical feel. Pic Courtesy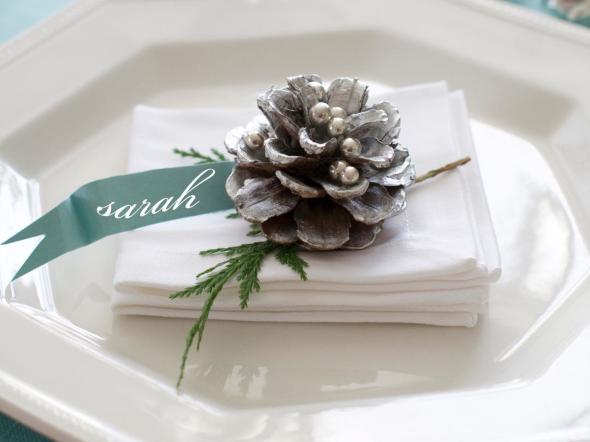 Antique sheet music makes a chic, unconventional base for this white-and-silver place setting. Top the music with a silver charger, an ironstone dinner plate and a silver bread plate. Then, roll up a monogrammed linen napkin in a simple silver ring. Pic Courtesy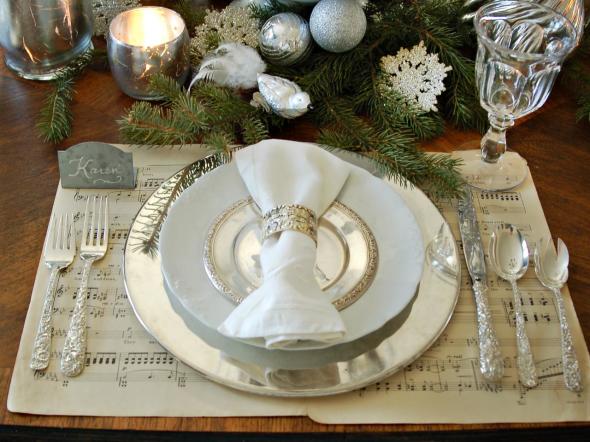 You want your dinner guests to be transformed into the holiday season mood immediately upon entering the dining room. This simple yet elegant table decoration idea will walk your guests into the rustic and nature inspired  setting. Pic Courtesy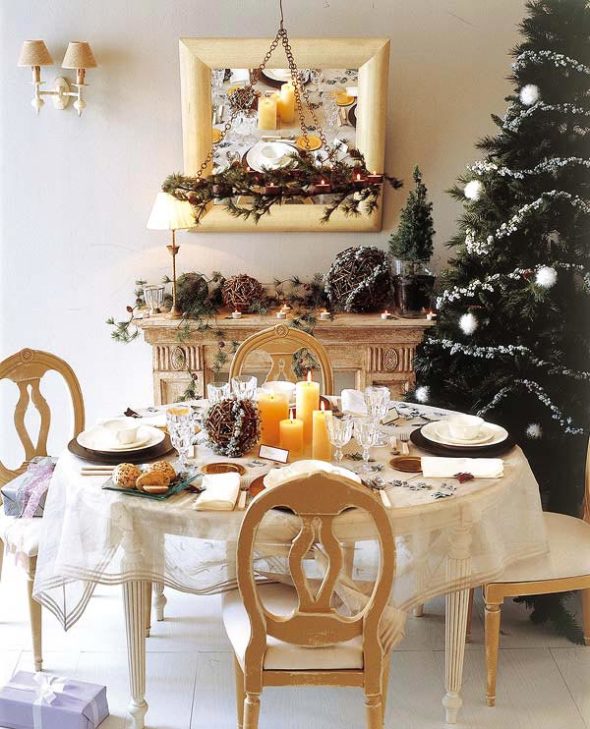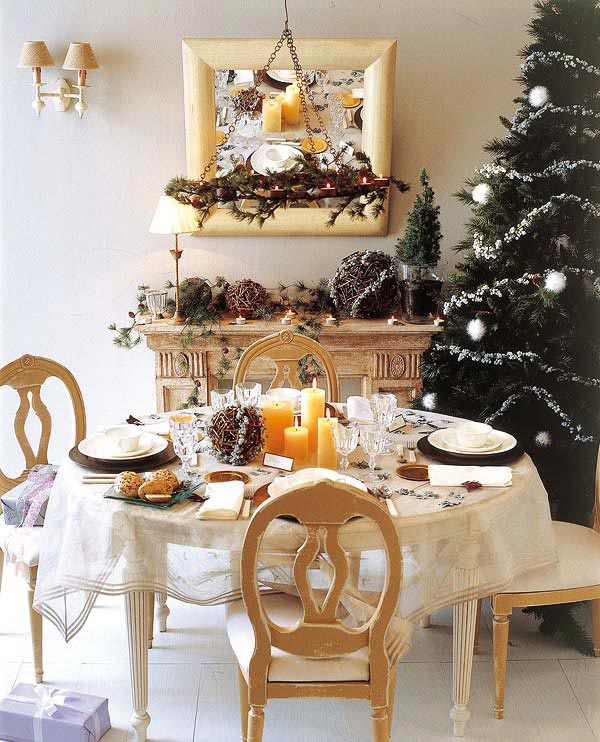 Less is more! This simple table setting says it loud. Host has elegantly combined flowers and candles for the table setting, unlike usual Christmas table which is expected to be cluttered, this setting will surprise your guests. Pic Courtesy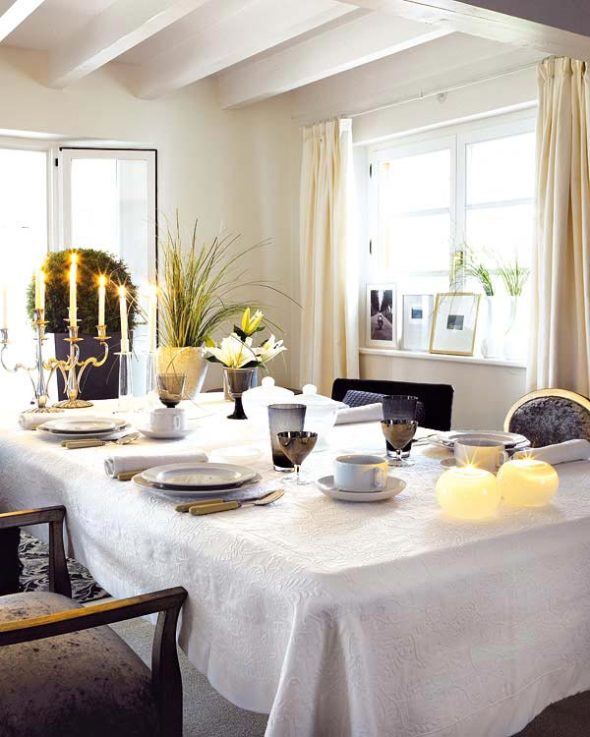 Purple has a royal touch to it and what better way to treat your guests for Christmas meal. Silver votives and natural elements painted in silver matches the overall look of the setting. Pic Courtesy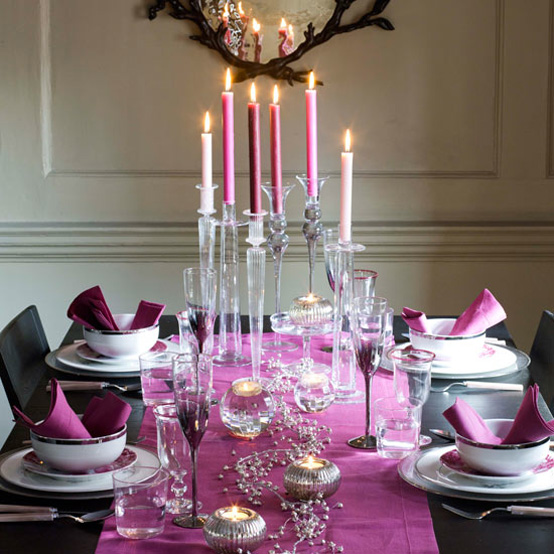 Centerpieces may vary from Christmas decorations to your Thanksgiving decor, you can use Thanksgiving wreath as centerpiece, but you would need to make fresh additions such as flowers and ornaments to give it a Christmas touch. Pic Courtesy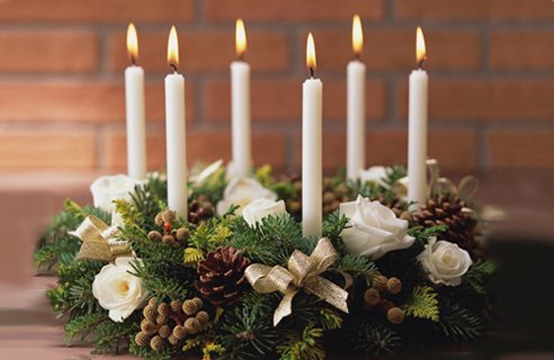 Balls are traditional and no Christmas can do without them. Colorful and  beautiful winter patterns can be used on them, put them in a frame, hang them, put your Christmas balls into some knitted covers or even fur. No matter what colors or design you like – use Christmas balls to make your table decoration memorable and exclusive. Pic Courtesy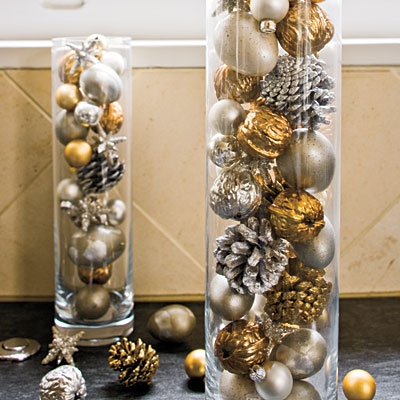 DIY Table Decoration Ideas
These DIY table decoration ideas are easy to do, you don't have to run around for supplies at the last moment, most of the essentials can be gained in-house. Candles, votives, flowers, paper flowers and other craft material assembled together creates beautiful table decoration. Pic Courtesy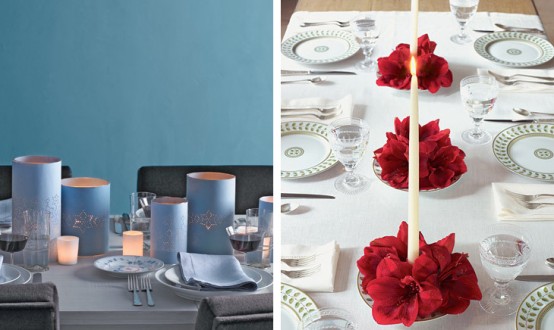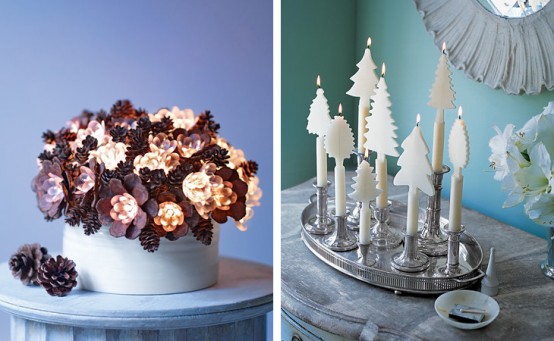 Lets Decorate Impressive!!