For today we would like to show these charming and best small apartment renovations design ideas, they are tasteful, captivating and alluring appearance. We all look for clever ways to enhance space and even though there is no fixed way there are few keys to success. Bright colors, unconventional storage, multi-functional furniture can smooth the way. If you're looking for an apartment that boasts all of these with elegance, then Accommodation vienna is the one for you.
Decorating small apartments is interesting, subtle paintings, graphic art and flower arrangements will personalize the space. Separate the spaces with dividers that acts as storage units, hidden spaces come in handy and don't forget about an eye-catching color palette. Here are 10 small apartment design ideas for you to get inspired. Source Once you have a design, hire a reputable remodeling company to help you execute what you have in mind.
Best Small Apartment Design Ideas – Creative & Practical
1. Charming Red & White Interior: This charming crib has no more than 25 square meters and consists of a single room, intelligently split into a bedroom and a living space. "Hidden" bathroom  and higher level of natural light throughout the day and the color palette is particularly eye-catching and is responsible for the mesmerizing contrast between the wooden floors and the furniture.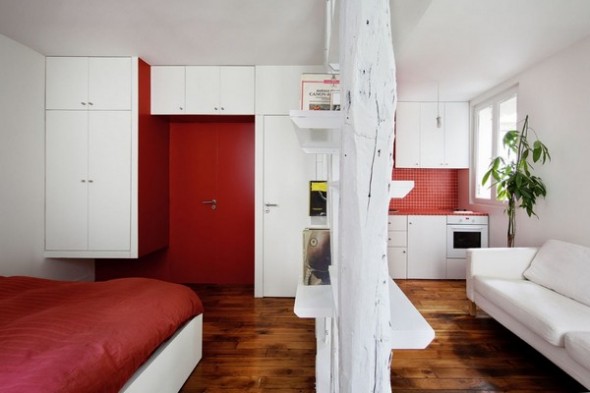 2. Small Apartment with Wall Graphics: This one-bedroom home with geometric provides necessary storage space. White and Grey color help make room look more open, purple accent and wall art gives a vivid look. It is full energy, a good start for an exciting day. An excellent paint job from Express Quality Painting can also make a room look brand new.
3. Ingenious Layout: This beautiful small apartment design features beautiful woodwork, tall paned windows and black electrical outlets, reminiscent of the area's historical background. The apartment has a practical layout, with an open plan living room and kitchen area and a flood of daylight from the six windows.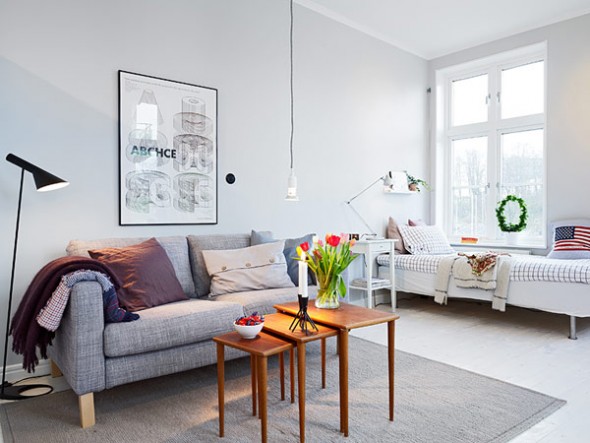 4. Candid Small Loft: Well partitioned and vividly bright spaces adorned with colors and patterns can transform a boring space into a youthful, elegant loft. The beautiful small apartment design seems larger due to the height of the ceilings and elongated stylish spiral staircase.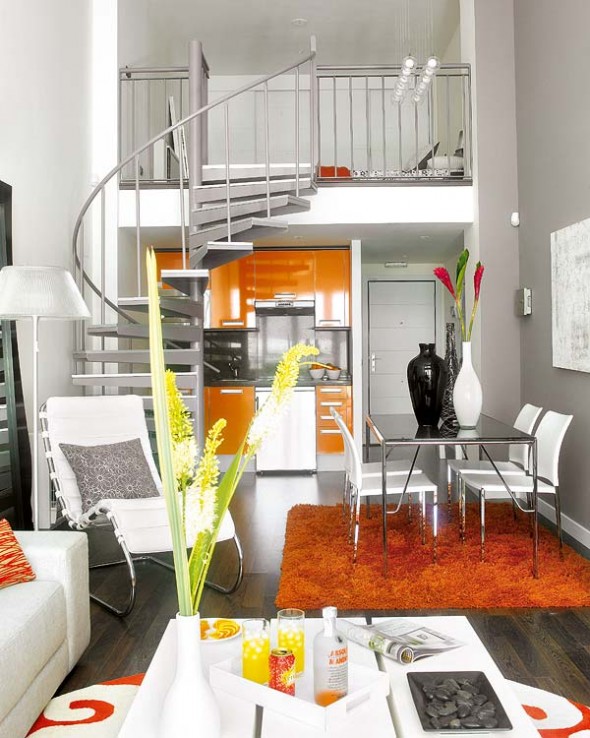 5. Clever Design Solutions: Designed for living needs of two, this apartment is filled with personality and original design elements. . Tall ceilings, exposed beams, pipes and plenty of color-all these elements reinvent the sober industrial style and contribute to a fresh atmosphere.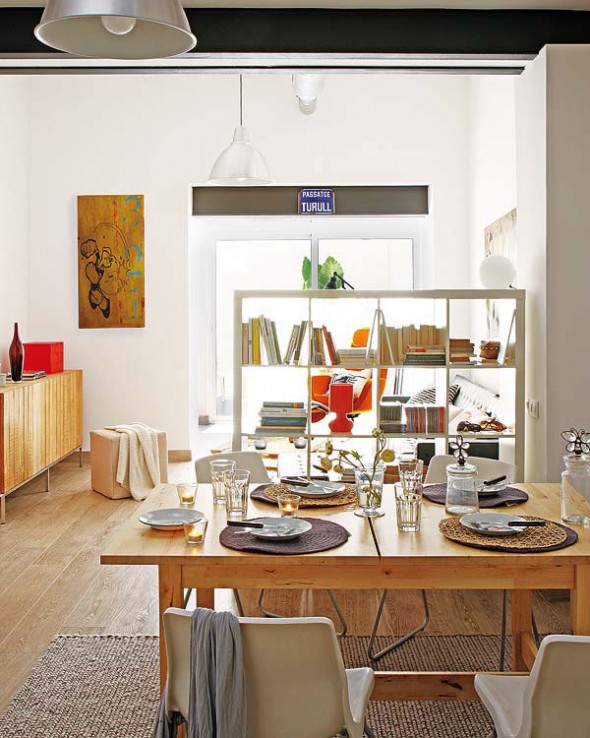 6. Paned Windows and Parquet Floors: This small apartment is a chic urban crib. The small floor plan only allows for the bed to occupy an alcove near the kitchen, but this features makes it that more interesting and light coming from large paned windows visually heightens the interiors.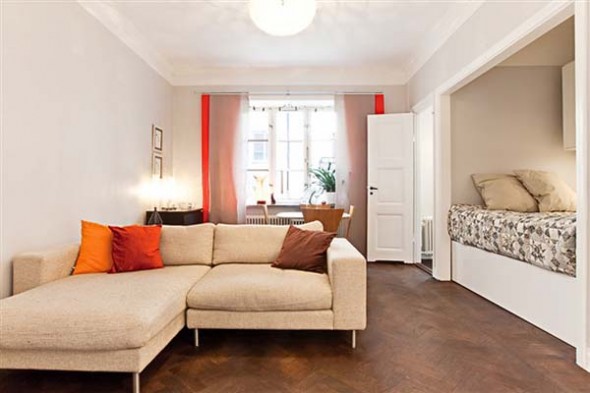 Best Small Apartment Design Ideas- Interiors
7. Inspiring All-in-One- Room Apartment: This Scandinavian crib offers bright and cozy feel. The living room is a bright and social space with openness and large glass walls dissolve the border allowing natural light to reign.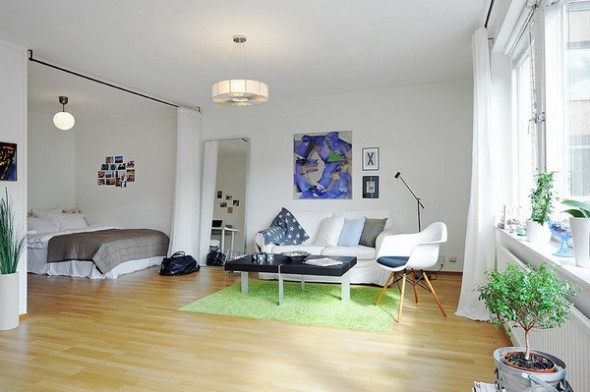 8. How to Make the Most of Small Apartment Design: This highly functional crib stretches over a surface of only 42 square meters, the living room is airy and bright with windows looking out. A rustic brick wall acts as a "decorative" border between the two rooms and ensures a high level of originality.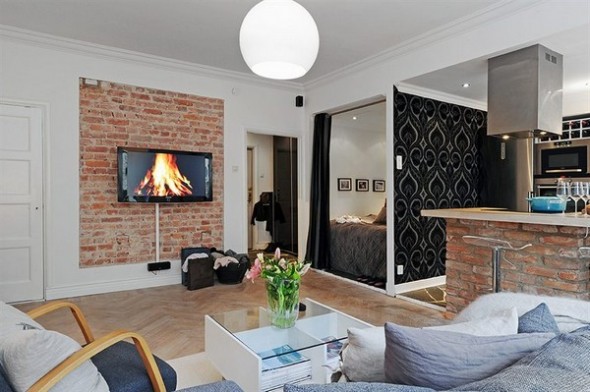 9. Small Apartment with Inviting Interior Design: Tasteful, space and functionality describes this modest small apartment design. The openness and direct contact with the kitchen makes this apartment the obvious place for entertaining and socializing.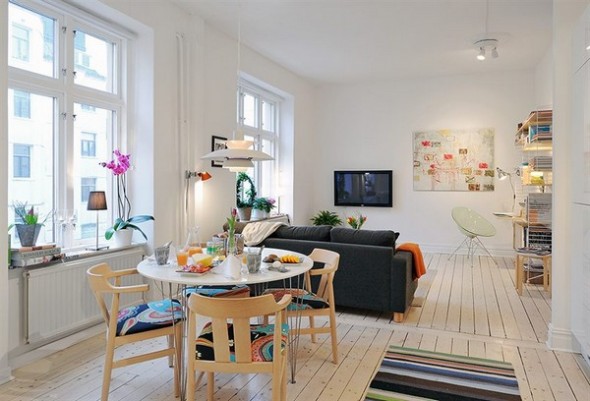 10. Beautiful & Practical: One of the Best Small Apartment Design, welcomes you to bright and well planned apartments. The apartment rooms are well planned and each square meter used in the best possible way and looks awesome.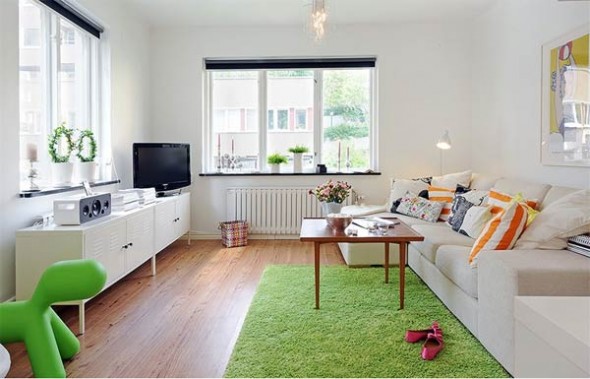 Lets Live Impressive!!