SYL is a canal that would connect two rivers called Sutlej and Yamuna. Both these rivers will then become source of water for states and smaller cities in and around Punjab and Haryana.
Many obstacles have been seen by this project over the time and even after 90% work completion the canal will not be built as per the current state assembly order.
The dispute of SYL canal is not new and in October 1966 when Haryana was created the controversies started to show up time again.
Haryana was separated from Punjab on October 31, 1966 and in 1976 PM Indira Gandhi intervened in the situation and she came to a conclusion that both state will share the water equally, which was 3.5 million acre feet of each state.
Punjab was not in favor of this water sharing and in 1979 Haryana took the issue to Supreme court.
Right now the issue has taken a political emotional war situation in the Punjab state as the elections are being awaited.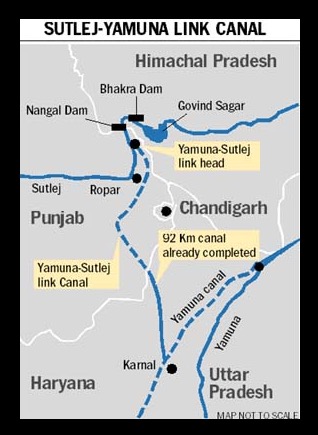 And every other party wants to grab the piece of cake by emotionally using the SYL issue. It will interesting to see which party in this assembly poll will win and who loses.
The current CM Parkash Singh Badal has not left any coin flipped and has made his statements clear that no canal will be build and no water will be shared out of Punjab.
He has also asked Arvind Kejriwal, the leader of AAP to disclose the real stand on SYL Canal dispute. As politically Arvind Kejriwal has made some blunders in recent times in Punjab.
The political party has produced the manifesto with Golden temple picture in background, Kejriwal in front and Jhadu (Broom) together and it has hurt the sentiments of people in Punjab.
Many people have filed cases against AAP leaders that have committed this mistake either it was intentional or not, but the AAP party has to face all the consequences of the issue.
With more news from Delhi came out recently where outside a Gurudwara a Piao was demolished and then after SAD intervened in the matter, AAP party made the "Piao" to be again relocated there. Showing the insecurities and immature decisions.