We all love that time of the year – when the air gets warmer, drinks get colder, nights get longer, laughter became louder, simply said, life gets better! As much as we all love to go out and have the time of our lives in clubs and beach parties, nothing beats a family and friend get-together or BBQ within the comfort of your own backyard.
So, if you're thinking about sprucing up your outdoor space and outdoor dining setting for dinners and cocktails in the open air, a dining set that provides comfortable seating and enough table top surface is crucial for all those nights to turn into memories to remember.
But how do you escape the boring and dull ambiance of just using a few random tables and a few chairs, and instead create a dreamy setting that will make you look forward to laying back in the comfort of your oasis? Well, style is everything, and choosing the dining set in accordance to the overall design scheme in your backyard is imperative to bringing the atmosphere to a superior level. Now let's get to work and help you choose a dining set to get your outdoors ready for friends and family as everyone gets keen to get outdoors and soak up the sun.
The style of dining tables and chairs you choose for your outdoor area is crucial for determining the overall mood in that space. Of course, it all comes down to your needs and style preferences. Are you a person who enjoys the appearance of rustic and vintage pieces? Do you love the minimalism that contemporary design schemes consist of, or, are you more into creating a small, cozy and chic space that pops with all your favourite colours? No worries, when it comes to the stylish choices in the world of outdoor furniture designs, the sky's the limit!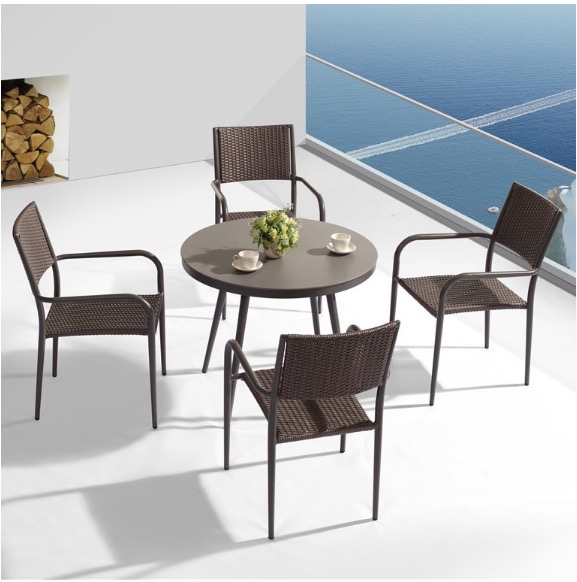 Classic – Wood is a timeless and traditional choice. So if your aim is to give your space a more traditional touch, you can go for outdoor dining tables and chairs made from eucalyptus, teak, mahogany, oak or walnut wood as these can withstand the harshness of the Australian climate. If you're short of space, consider purchasing reclining chairs which you can fold and store in cases when you're not using them. They're such great space savers! Add cushions to the chairs to make them more comfortable to sit on well through the night and embrace la dolce vita in style.
Contemporary – Sunshine and eternal elegance. If minimalism is the first thing that come to your mind when you think of a nicely decorated outdoor space, metal dining tables and chairs should be your top choice. Metal dining sets, particularly iron ones, are among the most durable ones on the market today. They can be quite heavy which makes them the ideal choice for windy locations, yet they're light enough to be easily rearranged and possess an urban look and fine detailing. Do not forget to add some touches of warmth with the help of colourful cushions and table flowers for the ultimate modern look. You know what they say, sometimes less is more, and in this case, minimalism definitely speaks tons about the sophistication of your style. Kuddos for your taste.
A chic nook – Oh, the charms of wicker! Besides being a stylish decoration of its own, wicker dining sets can be mixed with any style which puts them on the pedestal of outdoor furniture. Styled up with an endless possibility of fluffy cushions, wicker dining sets can easily become your favourite part of the home. Yes, the details are not the details – they make the design. High quality aluminum casting dining tables and chairs of this kind are made from durable all-weather resin wicker specially made for outdoor use. These pieces of furniture are UV and weather resistant and are almost maintenance-free. Just rinse them clean with a mild cleanser and a hose.
To sum it up, whichever style you may choose to go with in your outdoor space, make sure to add a dose of personality to it. It's never a bad idea to follow the trends but don't forget to add your personal touch. It is your home after all. The goal here is not to reduce the complexity, but to create the illusion of simplicity.
Design is so simple, and as you go deeper into the whole decorative process you'll realize that its simplicity is actually what makes it so complicated.