Whether you are looking to sell your property, or feel that you need to give some much-needed attention to your home, it's important that you don't forget the exterior too. Structural damage, chipped paintwork and old garage doors can all affect the value of your house, not to mention it will make it appear tired and shabby. If you have just spent a large amount of money on improving the interior of your home, then it's essential that you put aside some of your budget to improve the exterior of your property too, if you want to enjoy your house for years to come. Your roof is a large part of your home's exterior so this would be the best place to start. Get a roofing contractor that can provide roofing repairs to increase the value of your home and improve its curb appeal.
A lick of paint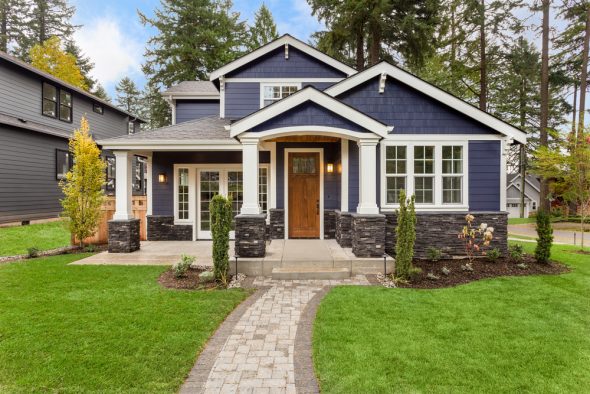 If you are stuck for time or budget, then an essential quick fix for the exterior of your home is fixing any chipped paintwork on the walls or door and window frames. Make sure you choose a paint that is designed for use outside, as it will provide your home with an extra layer of protection from the weather. Be sure to choose neutral tones if you are looking to sell your property or put it on the real estate market – as not every future buyer will appreciate a pink home. Apart from exterior painting, this may be the best time to do siding repair as well. This will definitely make your house more appealing to potential buyers.
Improve your Garage
Do you currently use your garage as a store, leaving your car outside? Perhaps you feel that your garage is full of junk and long to get rid of your clutter so that you can make full use of this space? Well, now's the time to make a change for the better. Clear your garage and get cash for junk cars. If you have been putting off clearing out your garage, then pick a weekend to start clearing out any boxes or items that you have in store and no longer use. You could even consider having a garage sale to make some extra cash from the items that you don't need. Next, if your garage doors are broken or damaged, you should make sure to have a garage door repair. Sites including http://www.allaboutdoors.net/ offer a range of styles and colors for you to choose from, to complement the rest of your property. Your garage is an important addition to your home, so it's time to start making good use of it.
Garage doors can make or break the look of your home. With so many options on the market, how do you choose a style that makes the most impact? Aluminum and steel garage doors have long been a popular choice, but are they really the best choice for your home? If your garage doors are still relatively new, calling a garage door repair technician for a maintenance service would be sufficient.
Green fingers
Finally, a quick fix for the outside of your property is planting out some seasonal plants or flowers to inject some color and a new lease of life to the exterior of your property. Begin, by buying a few pots for herbs or flowers that you can put on your porch or in the backyard. If you have issues with mosquitos or pests, then you can even choose a type of plant that acts as a natural repellent. Planting out your backyard is also a great way to get your kids interested in gardening and home improvement also, so be sure to include them when buying and planting out.
Improving the exterior of your home is easy. Consider giving your home a lick of paint, improve your garage and finally add some seasonal plants and flowers for some color.