Owning a home can be the most wonderful experience, especially when it reflects you from the inside and out. If you enjoy working arts and crafts into your life, or you want to inject more of your personality into your home, then trying your hand at DIY is a great idea. From the more challenging tips to those that can be completed within a few short minutes, there is nothing to stop you from turning your home into a haven with these innovative ideas. Not only will they bring new life to your home furnishing, but they will create a welcoming and warm environment for everybody to enjoy.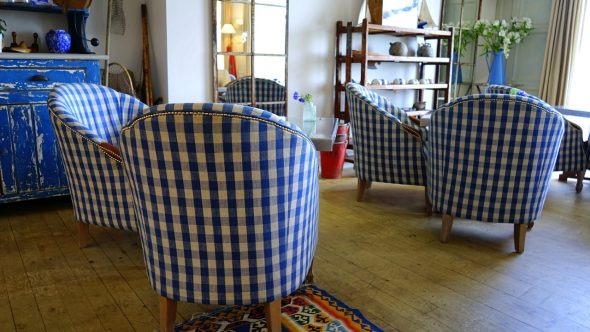 Refinish driftwood
Bringing a part of the outside world into your home is easy when you have exotic plants and colorful nature prints decorating your living space. However, if you want to go one step further and combine your creative flow with nature, then you can always go on the hunt for a piece of driftwood from the nearby coast to refinish. After sanding and treating the wood, you can varnish it before turning it into a bench, a table, or even a unique bookshelf. To make sure you are using the best scroll saw to etch your design into the wood, visit scroll saw reviews to research so that you end up with the best one.
Buy vintage fabrics
Whether you want to reupholster some furniture, or you want to create your own plush cushions with a vintage twist, you can put a truly unique stamp on your home by purchasing some vintage fabrics. These are usually cheap when you know where to find them, and you can find anything from old silks to heavy velvets at thrift stores or online. Make sure you don't damage the quality of such fabrics by treating them regularly, and by saving them for special items within your home.
Don't be afraid of fabric dye
The mess fabric dyes can cause sometimes make their end results less than worth it. If you know how to dye fabrics without damaging your home, you can create your own bed linen and blankets that have your own personal touch. The best tip is to do all your dye work using cotton or polycotton, working outside in plastic tubs that can be found at most main stores. Trying out tie-dye techniques and traditional methods such as Batik enable you to make patterns on the fabric with different colors.
Make a stained-glass window
To make a stained-glass window, you can either go down to a bespoke window fitter yourself, which will cost a lot, or you can make your own plates at home. Laying shattered glass pieces in bright colors onto a sheet of paper first will help you make sense of your design. You can then glue these pieces on top of an internal window in your home to cast a soft glow on your living space, which the natural light will catch.
Create your own artwork
Some of the rooms in your house may be lacking a feature for their walls. If you are an avid photographer or artist, then you should consider using these spaces as a blank canvas for your work. you could scatter small prints around your home or enlarge one to sit proudly on a bare wall. In any case, these artist features will look impressive and will also create a homely feel.
Use spray paint
You might have a lot of old furniture around your house that has started to look dull and lifeless. Rather than spending lots of money to update them, you can always buy a few spray paint cans to give them a quick paint job. To add a metallic sheen to your furniture, gold and silver are great colors to go for, but if you are looking to add a pop of color to a room, then you should give bright, primary colors a go.
Make your own wallpaper
Creating a personal space is effective when you think of new ways to have your personality light up a room. Though having your own artwork on the walls is a great idea, you can make one wall the feature of a room if you make your own wallpaper. This is especially great for children's rooms, where you can ask your kids to unleash their creativity on a wallpaper base before pasting it onto the wall. However, you can also use special software to make your own designs online.
Build a backsplash
For many people, their kitchen is where they feel most at home in their house. It is somewhere that is often shied away from when people think of decorating their home, but which can bring an inviting touch to an open plan space if it is decorated accordingly. One of the best ways to bring DIY into space is to spend time making your own backsplash. This could be using hand-picked tiles arranged in a pattern, or it could be that you want to replace your backsplash with a protected photograph to give you something beautiful to look at when you are cooking.
Utilize glassware
Most households will have jars and wine glasses waiting to be recycled at the end of the week, but these are items that can be re-used to create candles. Bags of soy wax can be bought online or in hardware shops for a good price, as can food coloring to help color the wax. You can decorate the glass using special pens or other craft ideas, some of which will help the firelight cast an inviting glow into any room. To make them even more luxurious, make sure you add some drops of essential oils to create your own home fragrance.
Handmade lighting
Such glass items can also be made into bespoke lighting. For example, you can put a bundle of string lights into different colored wine glasses to create a warm glow in any room, or you can buy some basic light fixtures to make your own mason jar lampshades. These can not only add a splash of subtle color to a room but create patterns on the walls even when the lights aren't on.