The kitchen is the heart of every home. No matter the size of your house or apartment, consider for a moment just how much time you spend in your kitchen, even if you have a perfectly good living room for you to enjoy. From entertaining friends to helping your kids with the homework and even enjoying a few glasses of wine, the kitchen is the life and soul of your home, regardless of how practical its current design and layout. As the weather gets warmer, you may even be considering planning a kitchen remodel. Residential kitchen renovations are ideal if you are looking to make the most of your space, without planning a costly extension to your property.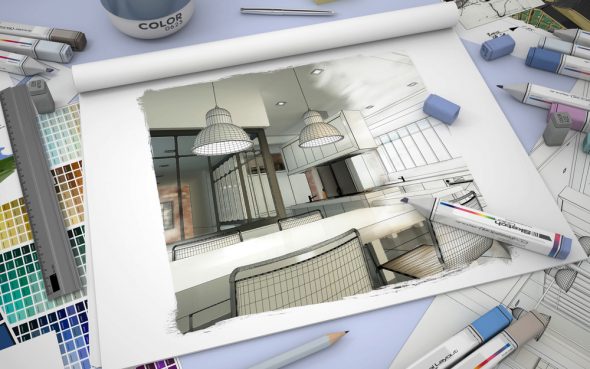 Before you go ahead and start the actual kitchen remodeling project, it is important that you sit down with your partner and discuss what it is you want to achieve. You could even visit a few home make-over shows and stock up on magazines to help you feel inspired or get some new ideas. Remember to list out your key priorities. Do you want to create a space to make your growing family feel more at home? Perhaps you long to have more work surfaces for cooking and food preparation? Be sure to keep these at the forefront of your mind before consulting any kitchen remodeling designers or kitchen companies. It can be easy to feel enticed by products or add-ons that you do not need, even if they seem like a great idea when you are visiting the furniture showroom, so make sure that you stick to your plan and remain realistic.
Consider your layout
You might want to plan the most beautiful kitchen for your home, but if you don't take time to plan your layout correctly, then you could be left with a spring makeover nightmare. Remember, that an effective layout is key if you want to make the most of your space, not to mention ensuring that your kitchen is a safe and practical space where you can work. Be sure to include the classic work triangle layout in your kitchen – keeping your sink, oven, and refrigerator in a triangle layout to ensure easy and functional access. You could also consider adding a breakfast bar or island to your layout if you don't have enough space for a full-size dining table. Luckily, you can even invest in options that are on wheels, if you want to create more space at different points during the day. Once you have made a basic plan for your kitchen layout, you can begin to research the different designs and space-saving options that you may want to incorporate into this room of your home.
Plan your space
Unless you radically makeover your home, you will not be able to increase the amount of floor space available in your kitchen. However, planning effective use of space can make a once dark and cramped room feel open and airy. Make sure that you begin by measuring up just how much space you need for your work surfaces. If you have a large family, then these areas may get cluttered and covered very easily, so it is vital that you give yourself enough space for food preparation and cooking. If you are installing new appliances, which are not built into your units, then you will also need to factor in enough space to open doors and make safe use of these. Do not be pressured into choosing a design that is not practical for you and your family. Remember that you will need enough space to live in, and make sure that you can safely walk across all areas of your kitchen without feeling squashed or putting your family members at risk
Choose your materials
Once your plan and designs are in place, now you can begin to start choosing the materials and color scheme that you want to use in your new spring kitchen. When it comes to painting your walls, opt for neutral, light tones if the space is dark. Colder rooms will benefit from warm, autumnal tones such as terracotta. While if you want to inject a new lease of life into a tired space, then consider creating a feature wall, covered with family photographs or drawings. Next, you should consider the type of material that you want to use for your kitchen worktops. Be sure to choose a material that is hard-wearing and heat resistant, as cheaper manmade materials may burn or damage more easily. Countertops made from quartzite are a worthwhile investment, as the material used for quartzite countertops provides similar durability to marble. If you find yourself asking, 'what is quartzite,' then companies such as International Granite and Stone can provide with full information as to the benefits of choosing this material for your kitchen. Remember that replacing your countertops can be an expensive and time-consuming process, so be sure to choose a material that remains within your budget and is designed to last a lifetime – so that you can make the most of your kitchen. Be sure to choose materials that are the right fit for you and your family, rather than being influenced by pushy designers or the latest trends. Remember that your kitchen is a room to be used, enjoyed and lived in for many years to come.
Spring is the ideal time to plan a kitchen makeover. Before beginning any work, sit down and list out your key priorities and needs for this space. Next, make sure that you attend shows and buy magazines to get inspiration. Be sure to design a layout that is both practical and functional for you and your family, and plan how you intend to use this space. Finally, make sure that you take your time when choosing which materials, you want to include in your new kitchen. It can be easy to let others influence your decisions but remember that it is your time and money you are investing in this project. Once the work is all completed, enjoy your wonderful new spring kitchen.